Uma Thurman, star producer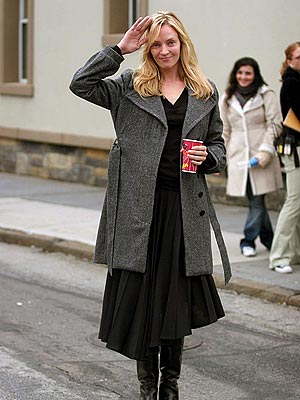 "It's funny," beams Uma Thurman, "but in Hollywood, you don't hear the word 'bitch' as much as you used to. Up until recently, if ever a woman was doing well or achieving something, that term was liberally applied. Women were called all sorts of names." Sitting in the comfortable confines of London's Dorchester hotel, looking remarkably fresh in her earth-coloured trousers and top, and acting especially chirpy for someone who stepped off a transatlantic flight just four hours earlier, Thurman is musing on Hollywood's perception of female writers and directors. A trio of women screenwriters crafted her latest movie, The Accidental Husband.
"I think female writers and directors have been getting more work in recent years," she continues, her slender fingers fiddling with the fine blonde hair scraped back from her face. "The slow move towards Hollywood accepting women in the employer and leadership positions is getting better. I think we're all growing up more and more. There is some positive movement, and that makes me happy."
An undoubtedly happy Thurman – she giggles throughout the interview – has hopped into the realm of leadership herself. She is credited as a producer on her new film, buying the rights to the story in early 2001 and spending the succeeding years working with writers, financiers and her first-choice director, her long-standing friend Griffin Dunne, who is perhaps best known for his work as an actor, starring in John Landis's An American Werewolf in London and Martin Scorsese's After Hours before graduating to the director's chair.
(Source: Times Online UK)