The FedEx Guy, and 2 Movie Producers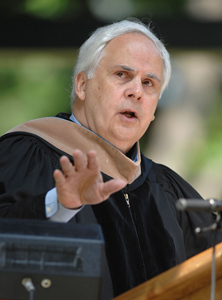 As the founder of FedEx, Frederick W. Smith has been celebrated as one of the smartest minds in business. So why, at a time when American investors are avoiding Hollywood, does he keep pouring millions into movies?
Mr. Smith, who continues to serve as chief executive of FedEx, recently agreed to be the equity partner — the riskiest position in movie financing arrangements, as the last to be paid — in a $550 million, 15-movie deal with Alcon Entertainment. The small production company, which has a long-term distribution deal with Warner Brothers, is supposed to deliver the films over the next five years.
(New York Times)