The decline of the romantic comedy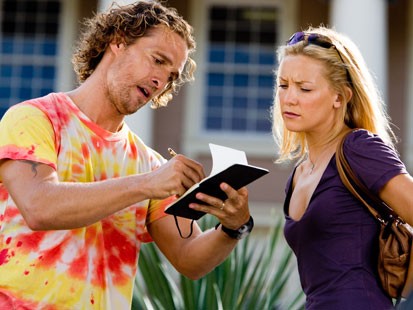 It might be Kate Hudson, or maybe Mandy Moore, or possibly Rachel Weisz, Lindsay Lohan or a Jennifer. (Lopez? Aniston? Garner?) But if it's February, you can be pretty sure that some pretty, plucky actress will be traipsing around some glamorous and photogenic American city (or its Canadian double) in search of the dimple-chinned fellow who embodies her one true love.
Katherine Heigl, the star of "27 Dresses," has already rushed to the altar — or rather the beach, which is where so many movie weddings take place these days — ahead of a crew that will include Ms. Hudson, Uma Thurman and Paul Rudd. (Not all of them are getting married; some are avoiding divorce.) A few specimens of the genre, usually the better ones, can be counted on to sneak in during the summer or fall, as "In Her Shoes" or "The Devil Wears Prada" did.
But in general the trough of late winter and early spring is Hollywood's designated season of mediocrity, a time for predictable, unchallenging genre movies. Horror and action for the teenagers, sappy family comedies for the kids, and, for grown women and their companions, stories of dating and mating decked out with tame Mars-and-Venus jokes and preordained happy endings.
(Source: New York Times)