Robert Downey Jr is the new Sherlock Holmes in Warner Bros. production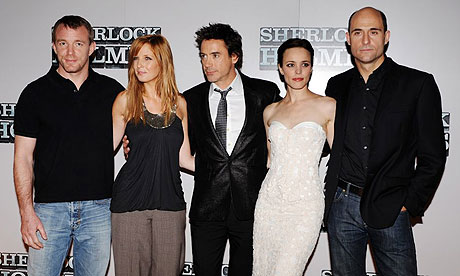 It will not be the Sherlock Holmes on film many remember - the suave Basil Rathbone to the bumbling Nigel Bruce - but a new big budget action movie will be faithful to Arthur Conan Doyle's original stories, its director Guy Ritchie said yesterday.
Shooting is about to begin in London on the Warner Bros movie with Robert Downey Jr taking the lead alongside Jude Law, now confirmed as Dr Watson. Kelly Reilly will play Watson's love interest, Mary, Rachel McAdams has signed on to play the traditional object of Holmes' affections, Irene Adler, while Mark Strong is Blackwood, the "unremittingly evil" baddie.
Yesterday those involved gathered in London's Freemason's Hall - where scenes will also be shot - to talk about the movie, one of two rival planned productions
(The Guardian UK)