Producer says 'Bull Durham' sequel in works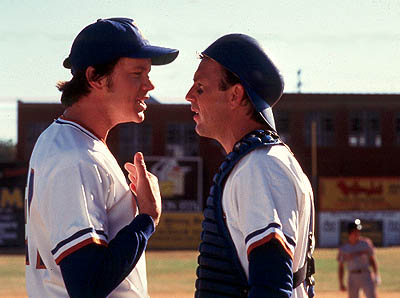 He desn't have a script and shooting could be more than a year away, but producer Thom Mount seems optimistic that the original cast could return for a sequel to "Bull Durham," the movie that made minor league baseball stadiums the place to be on a hot summer night.
Asked Wednesday if he would make the movie without the original cast from the 1988 movie of Kevin Costner, Susan Sarandon and Tim Robbins, Mount said: "I think we can work it out once we have a script."
When viewers last saw Crash Davis (Costner) and Annie Savoy (Sarandon), they had finally become a couple, and Nuke LaLoosh (Robbins) was off to the big leagues.
But the New York Post, which first reported the possibility of a sequel Monday on its Page Six gossip column, said that in the follow-up, LaLoosh and Savoy are the married owners of a Major League baseball team that Davis manages.
(Baltimore Sun)