Preview: HBO's John Adams Proves That Founding Father Knows Best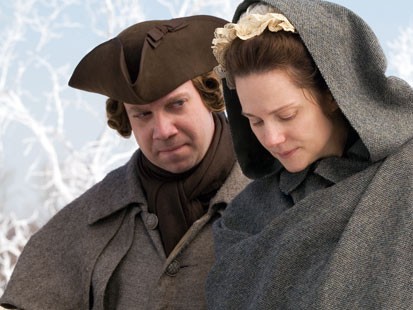 Why isn't John Adams more famous? His face isn't on Mount Rushmore or any dollar bill. Even the popular Boston beer company passed him over in favor of his rabble-rousing cousin, Sam. Turns out the legacy of our second president — and arguably most significant Founding Father — has languished in the shadows of his predecessor, George Washington, and successor, Thomas Jefferson. But the new, seven-part HBO miniseries John Adams (premiering Sunday at 8 pm/ET, HBO), based on David McCullough's Pulitzer prize-winning biography, could change that. "To me, he was always 'the boring guy,'" says Paul Giamatti, who stars as Adams. "But I found out he wasn't boring at all."
The miniseries opens with 1770's Boston Massacre and Adams' controversial decision to serve as defense attorney for the British soldiers whose attack left five colonists dead. "It really defines his character as a man of principle," screenwriter Kirk Ellis says, "and a man who believed in the rule of law and would stake everything on that principle."
(Source: Seattle Intelligencer)