'New Moon' movie characters get close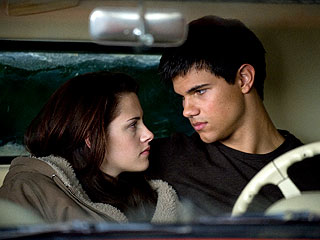 Looks like things are getting mighty steamy in Bella's truck! In a just-released still photo from New Moon, Kristen Stewart – as Twilight's beloved heroine – cozies up to teen hunk Taylor Lautner, who plays Jacob Black. 
In the Twilight sequel, Bella turns to best bud Jacob to lick her wounds after her vampire love Edward (played by Robert Pattinson) flees Forks, Wash., in the hopes of giving her a normal life. But as Bella grapples with her not-so-platonic feelings for Jacob, he transforms into a werewolf. 
The supernatural romance unfolds this fall when New Moon opens Nov. 20
(Source: PEOPLE)