Nameless horror movie gets internet guessing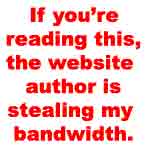 A film with no name, no famous Hollywood stars and no million dollar marketing campaign has captivated bloggers, online forums and film fans in the latest triumph for viral advertising.
Known only as the Cloverfield project, the low-budget 2008 release is shrouded in secrecy. Its plot has been closely guarded, only one trailer has been screened and even its actors are not trusted with the full plotline.
The barest basics are known. Cloverfield is a horror movie. It reportedly cost £15 million to make. It will be released on Jan 18 in the US. It may involve a monster, "the size of a skyscraper", terrorising New York.
(Source: Telegraph UK)