Movie Openings – Oct 19
30 Days of Night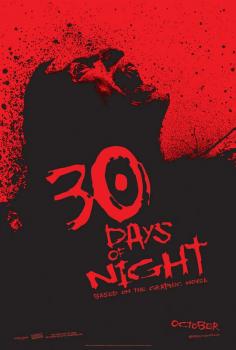 Director: David Slade
Stars: Josh Hartnett, Melissa George.
Studio: Columbia Pictures 
The Plot: A pack of vampires descend upon Barrow, Alaska just as the sun is about to set for 30 days. Two cops, a husband and wife team, rise up to protect their town and its citizens. 
REVIEWS:
Rendition  
Director: Gavin Hood
Stars: Reese Witherspoon, Jake Gyllenhaal, Alan Arkin
Studio: New Line Cinema 
The Plot: A CIA analyst (Gyllenhaal) questions his assignment after witnessing an unorthodox interrogation at a secret detention facility outside the US. 
REVIEWS:
Things We Lost in the Fire   
Director: Susanne Bier
Stars: Halle Berry, Benicio Del Toro, Alison Lohman
Studio: Paramount Pictures 
The Plot: A recent widow (Berry) invites her husband's troubled best friend (Del Toro) to live with her and her two children. As he gradually turns his life around, he helps the family cope and confront their loss. 
REVIEWS:
Reservation Road
Director: Terry George
Stars: Joaquin Phoenix, Mark Ruffalo, Jennifer Connelly
Studio: Focus Features 
The Plot: As Ethan Learner (Phoenix) falls apart after witnessing his son's death, another man, Dwight Arno (Ruffalo), struggles to accept his accountability in the hit-and-run accident that claimed Josh Lerner's life. 
REVIEWS:
Gone Baby Gone   
Director: Ben Affleck
Stars: Morgan Freeman, Ed Harris, Casey Affleck
Studio: Miramax Films 
The Plot: A pair of detectives track down a missing four-year-old girl in one of Boston's toughest neighborhoods.
REVIEWS: