MOVIE OPENINGS – May 30
SEX AND THE CITY
Director: Michael Patrick King
Stars: Sarah Jessica Parker, Kim Cattrall, Cynthia Nixon
Studio: New Line Cinema
The Plot: Set four years after we last saw the ladies, Carrie (Parker), Samantha (Cattrall), Miranda (Nixon), and Charlotte (Davis) negotiate their friendships, romances, and careers in New York City. At the center of it all is Carrie's pending nuptials to Mr. Big (Noth) ...
READ REVIEWS OF 'SEX AND THE CITY' 
THE STRANGERS
Director: Bryan Bertino
Stars: Scott Speedman, Liv Tyler, Gemma Ward
Studio: Rogue Pictures
The Plot: A couple (Speedman and Tyler) cozied up in a vacation home are terrorized by three unknown assailants.
READ REVIEWS OF 'THE STRANGERS' 
THE FOOT FIST WAY
Director: Jody Hill
Stars: Danny R. McBride, Ben Best
Studio: Paramount Vantage
The Plot: A down-and-out Tae Kwon Do instructor looks to turn his life around by going on a pilgrimage with his buddy (Hill) and two of his students to see his hero, the martial arts legend Chuck "The Truck" Wallace (Best), at a kung-fu convention.
READ REVIEWS OF 'THE FOOT FIST WAY' 
SAVAGE GRACE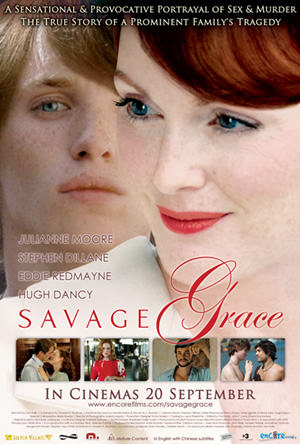 Director: Tom Kalin
Stars: Julianne Moore, Eddie Redmayne, Stephen Dillane
Studio: IFC Films
The Plot: An account of the life of Barbara Daly (Moore), from her marriage to the heir of the Bakelite plastics fortune, the too-close relationship she formed with her son Tony (Redmayne), and her shocking death in 1972.
READ REVIEWS OF 'SAVAGE GRACE' 
BIGGER, STRONGER, FASTER
Director: Chris Bell
Stars: Chris Bell, Mike Bell, Mark Bell
Studio: HD Net
The Plot: A documentary filmmaker examines the popularity of steroids in American culture by focusing on his two brothers and their experiences with different performance-enhancing drugs
READ REVIEWS OF 'BIGGER,STRONGER'