MOVIE OPENINGS – March 6, 2009
WATCHMEN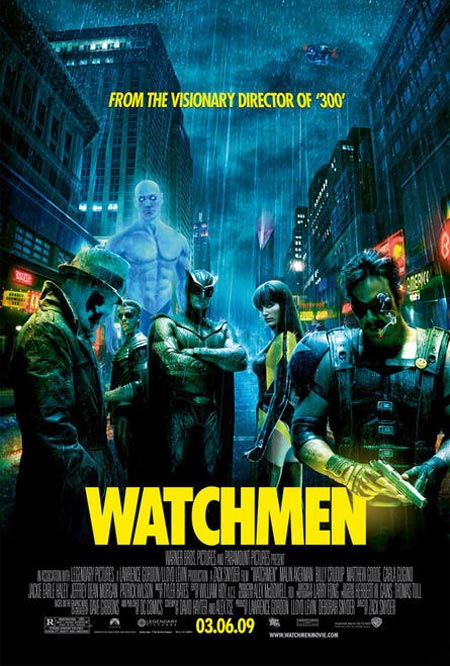 Director: Zack Snyder 
Stars: Jackie Earle Haley, Patrick Wilson, Carla Gugino 
Studio: Warner Bros. Pictures
The Plot: Set in an alternate vision of the year 1985, the murder of an ex-superhero causes a vigilante named Rorshach (Haley) to look into the matter, an investigation that reunites him with his surviving old colleagues -- all of them former superheroes themselves -- and gradually unveils a conspiracy with links to their shared past and catastrophic consequences for the future.
THE HORSEMEN
Director: Jonas Åkerlund 
Stars: Dennis Quaid, Ziyi Zhang, Lou Taylor Pucci 
Studio: Lionsgate
The Plot: A recently widowed detective (Quaid) still grieving over his wife's death discovers a shocking connection between himself and the suspects in a serial killing spree linked to the Four Horsemen of the Apocalypse.
TOKYO
Director: Joon-ho Bong Leos Carax 
Studio: Liberation Entertainment
The Plot: Directors Michel Gondry, Leos Carax, and Joon-ho Bong offer their respective tributes to the Japanese capital city.
PHOEBE IN WONDERLAND
Director: Daniel Barnz 
Stars: Elle Fanning, Patricia Clarkson, Felicity Huffman 
Studio: THINKFilm
The Plot: Confounded by her clashes with the seemingly rule-obsessed world, a little girl (Fanning) seeks enlightenment from her unconventional drama teacher (Clarkson).