MOVIE OPENINGS – March 13, 2009
RACE TO WITCH MOUNTAIN
Director: Andy Fickman 
Stars: Dwayne Johnson, Carla Gugino, AnnaSophia Robb 
Studio: Walt Disney Studios Motion Pictures
The Plot: When a cab driver (Johnson) picks up an unusual fare -- a brother and sister duo with paranormal powers, who are being pursued by a nefarious organization -- he teams up with a discredited astrophysicist (Gugino) to protect the kids and, ultimately, the rest of humankind.
SUNSHINE CLEANING
Director: Christine Jeffs 
Stars: Amy Adams, Emily Blunt, Alan Arkin
Studio: Overture Films
The Plot: Industrious single mother Rose Lorkowski (Adams) starts an unusual business in order to send her son to a private school; alongside her unreliable sister (Blunt), the two women enter the world of biohazard removal and crime scene clean-ups.
THE LAST HOUSE ON THE LEFT
Director: Dennis Iliadis 
Stars: Garret Dillahunt, Monica Potter, Tony Goldwyn
Studio: Rogue Pictures
The Plot: After kidnapping and brutally assaulting two young women, a gang led by a prison escapee (Dillahunt) unknowingly finds refuge at a vacation home belonging the parents of one of the victims -- a mother (Potter) and father (Goldwyn) who devise an increasingly gruesome series of revenge tactics.
MISS MARCH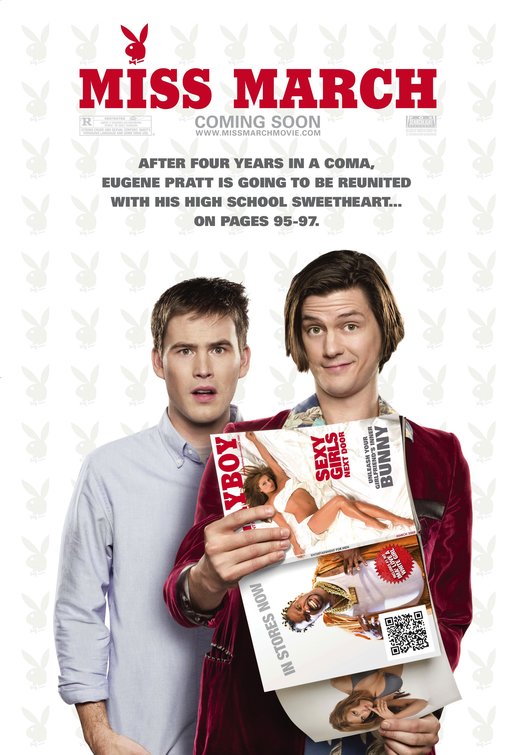 Director: Zach Cregger Trevor Moore 
Stars: Zach Cregger, Trevor Moore, Raquel Alessi 
Studio: Fox Atomic
The Plot: Waking up from a four-year coma, Eugene (Cregger) takes a cross-country trip with his sex-crazed best friend (Moore) in order to crash a party at a famous men's magazine's legendary headquarters so he can win back his former sweetheart -- who is one of the mag's hottest new pin-ups.