Mardik Martin, writer of 'Raging Bull' gets his due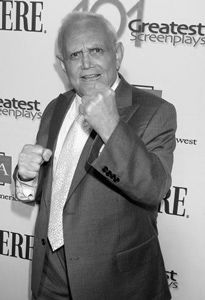 Ask Mardik Martin how tall he is, and the rumpled, white-haired, barrel-chested USC screenwriting professor replies good-naturedly: "5 feet 4. I used to be 5 feet 6 but had back surgery and they shortened me. I'm not joking. I lost a couple of spine rings, or whatever they call them. Look," he pauses, "short isn't exactly the end of the world." Nor, one might add, loss of fame, fortune and having your name on the credits of big Hollywood movies. 
It's been decades since he wrote "Raging Bull" (sharing screenplay credit with Paul Schrader). Yet today, while virtually everyone knows that Martin Scorsese directed the classic 1980 boxing movie starring Robert De Niro, few outside of a certain generation in Hollywood or in the rarefied world of academic cineastes have ever heard of Mardik, the name he is affectionately called by his students and friends. 
(Source: LA Times)