Living Paycheck to Paycheck Was Already a Way of Life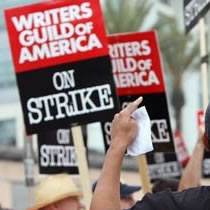 Bradford Winters, a screenwriter who lives and works in New York, came home very animated after walking the picket line last Monday, the first day of the Writers Guild of America's strike against the Alliance of Motion Picture and Television Producers.
"It was actually pretty upbeat," he said as he sat in his third floor walk-up in Brooklyn. "There was music, I saw people I knew and there was a spirit in the air."
But he said that on Monday night, when he read that the studio's chief negotiator believed that the strike could last nine months, he gulped long and hard.
Between the superstar writer-producers who earn millions (the so-called show runners) and the bitter hanger on-er who sold a spec script eight years ago lies a vast swath of working writers like Mr. Winters who earn a decent but not spectacular living by making people laugh or cry.
(Source: New York Times)