J.J. Abrams' Cloverfield is Back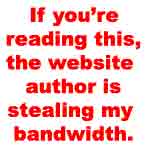 After 4 months of absolute silence, J.J. Abrams' secret monster project is back! 1-18-08 aka Cloverfield has a new trailer debuting in front of Beowulf - I can confirm it's true and you will see it. I was shown the trailer and I watched it myself in digital down at my local movie theater. It picks up right where the first teaser trailer in front of Transformers left off and damn does it deliver! It is also officially now known just as Cloverfield. It's not as shocking as the first trailer, as it's very much a real movie trailer showing clips and flashes of all kinds of scenes and elaborating a bit more on the story and the monster, or should I say monsters.
This is one of those trailers that is really, really hard to describe (even CHUD tried). It flashes so many quick scenes so fast that you can hardly make sense of it or remember anything that just flashed in front of your eyes, but I'll go over as much as I saw.
(Source: Firstshowing.net)