'Generation Kill' is not your typical Hollywood war movie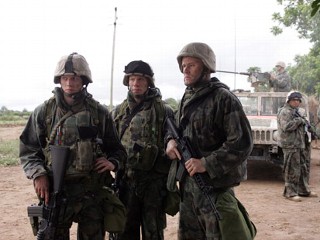 The dusty desert flats and frantic firefights of Iraq are a world removed from the red carpets and paparazzi flashes of Hollywood, and for a moment there Evan Wright and Eric Kocher seemed oddly disoriented -- strangers in a strange land.
Wright, a Rolling Stone journalist, famously chronicled his experiences as an embedded reporter with the U.S. Marines' 1st Reconnaissance Battalion in Iraq in 2003 in an award-winning book called Generation Kill.
Wright co-wrote and served as consulting producer on HBO's sprawling, seven-week miniseries adaptation, also called Generation Kill, which debuts Sunday on The Movie Network and Movie Central.
(The Vancouver Sun)