Director Taylor Hackford on Love Ranch — and Directing Wife Helen Mirren's Sex Scene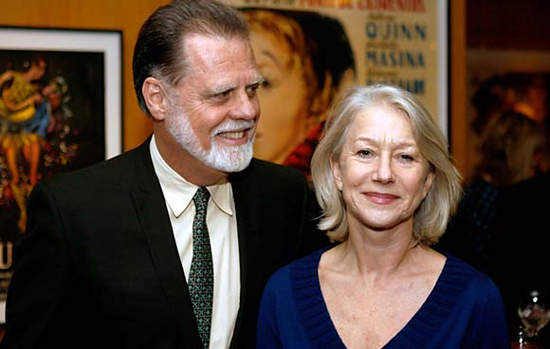 It only took 25 years after their first, small collaboration, but director Taylor Hackford finally found the right film to make with his wife Helen Mirren. And to think: Love Ranch, which opens next week, almost didn't open at all. The fictionalized story of the first legal brothel in the U.S. — and the crimes of passion (and otherwise) that helped sink it in 1977 — was in distribution limbo for most of 2009, ultimately breaking out earlier this year. Along with it come Mirren as a no-nonsense Nevada madam and Joe Pesci (in his first starring role in more than a decade) as her bare-knuckled pimpresario husband.
Joining them is Spanish actor Sergio Peris-Mencheta in a striking English-language debut as the boxer who comes between them, while Gina Gershon, Taryn Manning, Scout Taylor-Compton and Bai Ling chip in as part of the chorus of Love Ranch whores making history in the Nevada desert. Movieline caught up with Hackford in New York, where the Oscar-winner talked about coaxing Pesci out of retirement, the lucky stroke of finding Peris-Mencheta, and the challenges of directing the "best actress in the world" — particularly when you're married to her.