The Girl With the Dragon Tattoo: Steven Zaillian on the difficulties of adapting Stieg Larsson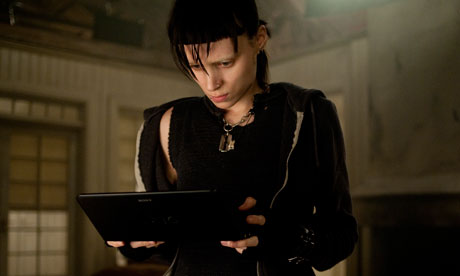 Last month, David Fincher chose to play it coy when Entertainment Weekly asked about his latest film's Oscar chances. "There's too much anal rape in this movie to get nominated," he said. "I think we're very safe." But he's not safe in the slightest. The Girl With The Dragon Tattoo, his adaptation of Stieg Larsson's wildly successful novel (55m copies of the trilogy sold to date), is an exquisite work of art, regardless of some of its brutal content. "There was never any pressure from the studio to lighten it up," says the film's screenwriter, Steven Zaillian. "They understood that part of the reason the book is so successful is because it doesn't tiptoe around those issues."
Kaui Hart Hemmings – the writer of 'The Descendants' on her story
Why do I write about families?
When asked, which is unfortunately quite often, I usually just make something up that sounds reflective. I don't like the question. I have no interest in knowing why I write the things I do, but as it's asked so frequently I figured I should put some thought into it. I keep going back to one particular day. I'll walk you through it, show my work like you're supposed to do in algebra class, and by the end maybe I'll have a sensible answer.
It's the summer of 1987 in Honolulu, Hawaii. I'm an 11-year-old wannabe pro-surfer hitchhiking home in a Camero driven by a man named Eagle. Eagle was in a war and he's telling my sister and me about it. He wears aviator sunglasses that shield his eyes and yet show exactly whatever he's looking at. My sister (technically, my stepsister) is in the front seat and I'm thankful because she has to talk. In the back I can daydream with my arm slung around my surfboard like it's my boyfriend. I'm thinking about the present I'm about to get. I didn't ask for a pony. I didn't want new clothes, a new bikini, a surfboard, or Jimmy Cliff and Yellowman tapes. For my 11th birthday I asked to be adopted.
You've got a pitch meeting — now what?
As I learned in the fourth grade when my first crush told me oh-so eloquently to "Get lost, creepo!," not everything you go after in life will work out as planned. Now, at the ripe, old age of 28, nothing has reminded me of that schoolyard lesson more than when I recently pitched my first show to a TV network.
After working in TV and film for the past seven years, from an intern to a production assistant to the writers' office, I decided to move from New York to Los Angeles. I'd been out here eight months when, during a meeting, I ran an off-the-cuff show idea by development executives. "We'll get in touch," they said, which in Hollywood translates to "You'll never hear from us again." But then they did something strange. They got in touch.
"We want you to come in and pitch it." Hold up. This was just an idea I had. Not even an idea — a seed of an idea! And now they wanted me to come in with a fully grown flower? In less than a week.
'What's Your Number?' writers on sex, comedy and slacker heroines
In "What's Your Number?," which opens today, Ally Darling (Anna Faris) embarks on a quest for her best ex after reading a magazine article warning that women who have had 20 or more lovers have lost their chance at finding a husband.
Screenwriters Gabrielle Allan and Jennifer Crittenden, who adapted their screenplay from the book "20 Times a Lady" by Karyn Bosnak, come from the world of TV, where Allan has been a writer on "Scrubs" and Crittenden on "Seinfeld," "The Simpsons" and "Arrested Development." Allan and Crittenden talked with 24 Frames writer Rebecca Keegan about their slacker heroine, the gender politics of humor and the best country in which to be a slut.
The Top 5 Reasons Why Screenwriters Quit
As the owner of Screenplay Readers, interacting with dozens of writers on a daily basis, I've seen it time and time again – screenwriters simply GIVING UP, and getting out of the business.
It's always a bit discouraging to see talented folks, and folks with potential, simply throwing in the towel when it comes to their screenwriting career, but quitting is not always a big, fat, INEVITABLE decision.
Because the reasons most screenwriters quit are often very avoidable.  Here's the top 5 reasons I've seen that screenwriters give up, and what you can do to (a) see them coming, and (b) do something about them!
'Sin City' sequel gets Oscar winner William Monahan to work on script
Director Robert Rodriguez has has brought on The Departed screenwriter to put the finishing touches on the script for his much anticipated comic book based follow-up.
Earlier this year Rodriguez confirmed that Sin City creator Frank Miller had completed a script for Sin City 2. The director later revealed that financing was finally place for the long anticipated sequel but that he's waiting on script touch-ups to begin work. Now it appears the production team won't have long to wait for a shooting screenplay.
William Monahan, who won an Academy Award for his screenwriting work on Martin Scorsese's The Departed, has been brought on board to finalize the Sin City 2 script in hopes to have filming geared up by late this year or early next.
Although no casting announcements have been made, in the source material major characters that make up most of the 'A Dame to Kill For' storyline would likely involve bringing back actors Mickey Rourke, Clive Owen and Jessica Alba.
Source:  The Hollywood Reporter
What's it like to have your film flop at the box office?
When you work "above the line" on a movie (writer, director, actor, producer, etc.) watching it flop at the box office is devastating. I had such an experience during the opening weekend of Conan the Barbarian 3D.
A movie's opening day is analogous to a political election night. Although I've never worked in politics, I remember having similar feelings of disappointment and disillusionment when my candidate lost a presidential bid, so I imagine that working as a speechwriter or a fundraiser for the losing campaign would feel about the same as working on an unsuccessful film.
One joins a movie production, the same way one might join a campaign, years before the actual release/election, and in the beginning one is filled with hope, enthusiasm and belief. I joined the Conan team, having loved the character in comic books and the stories of Robert E. Howard, filled with the same kind of raw energy and drive that one needs in politics.
CyberScreenwriter.com Helps Screenwriters and Filmmakers Achieve Success
Freelance writer and news journalist Brian Konradt announced the launch of CyberScreenwriter.com (http://www.CyberScreenwriter.com), a news-based webblog to promote, improve and report on screenwriting and filmmaking in the U.S. and abroad.
Updated daily, CyberScreenwriter.com reports on: screenwriting news, developments in independent filmmaking, and entertainment gossip; new book releases and educational resources that help improve screenwriting and filmmaking skills; scripts sales and distribution deals; and screenwriting scholarships and film development grants.
Writing A Screenplay Using Structure
Effective screenwriting relies on the good understanding and use of structure.
Inexperienced screenwriters may believe that structure inhibits creativity, but experienced writers know that following a template helps them to problem identify, generate ideas, select good ideas and develop them to reach that all important words-on-paper first draft ? structure is not a hindrance but an enhancer of creative output.
If doubts about structure still exist, then they are soon eliminated ? when screenplays are presented to decision makers for evaluation, writers soon learn that structure becomes an important part of the evaluation process.
A writer, through an individual and tortuous process of trial and error, may develop templates, or he or she may use one of the classic templates such as the Hero?s Journey. But a writer will rarely admit to the use of templates (it reduces the perception of originality) or he or she may be only mildly aware that they are following a process.
The Classic Hero?s Journey story structure template contains 106 sequences and more than 30 in the final act alone. It is an evolution of Campbells? original model, containing only 17,18 or 19 sequences, depending on who the interpreter is.
There is a theory that there are only five jokes in the world. Similarly there is a theory that there is only one story in the world. An analyses of nearly all the stories produced by Hollywood bears this out from a certain perspective and the Hero?s Journey would be this universal template.
But from the one universal template are derived many descendants, and one of those is the NO WAY BUT DOWN story structure. In it, the anti-hero heads for self-destruction as a result of his own misdeeds and the betrayal of a shape shifter, allies and goddess et al. It is more exploratory of the darker side of human nature and behaviour and there are no happy endings?but it still makes for a fascinating story.
The Classic Hero?s Journey and the No Way But Down story structure templates can be found at http://www.managing-creativity.com.
You can also receive a regular, free newsletter by entering your email address at this site.
Kal Bishop, MBA
Screenwriting for Authors — Techniques to Increase the Chances of Selling Your Screenplay
If you want to actually sell your screenplay, as opposed to writing it for you own entertainment, you can increase the chances of success if you use these tips:
CREATE A COMPELLING LOGLINE - A logline is a one or two sentence description of your script. Most movie industry execs are extremely busy. If you want to sell your screenplay, you need to quickly convey to them what your story is about. Hence the need for the logline. At it's most basic level, the logline should indicate who the protagonist is, what they want to accomplish and who stands in their way.
START THE STORY QUICKLY - You must engage the reader quickly. If you don't have them interested within the first 10 pages, they will stop reading and move on to the next screenplay. Often, faster than this.