INTERVIEW: 'Breaking Bad' Creator Vince Gilligan
The day after the record-breaking season 4 finale of Vince Gilligan's Breaking Bad, The Hollywood Reporter's Tim Appelo asked him to tell all about what the show means, where his work comes from, why his idol is Clint Eastwood. Plus, the showrunner admits that he really wishes he had madeSpongebob Squarepants.
'Drive' Director Nicolas Winding Refn Talks Film Violence, Ryan Gosling, & 'Logan's Run'
With movies like Bronson and Valhalla Rising, Nicolas Winding Refn has proven himself to be one of the leading auteurs working in film today. In his latest film Drive, the Danish-born director continues to explore themes of masculinity and the nature of violence, pushing the limits of genre filmmaking and perhaps, finally launching him into mainstream recognition.
During a press tour in support of Drive (a first for the director),  I had the opportunity to talk with Refn about his unique style, his close working relationship with actor Ryan Gosling, and his future projects, including the remake of Logan's Run.
'Final Destination 5': Q&A With Director Steven Quale and Producer Craig Perry
For those that like elaborate, tension-building death scenes (and who doesn't?), Final Destination 5 has some of the franchise's best, redeeming the New Line series after a flat fourth movie. That's partly due to director Steven Quale, a longtime James Cameron cinematographer who makes his feature directorial debut here. But it's also thanks to the horror series' producer, Craig Perry, whose been holding Death's scythe since 2000. Heat Vision caught up with Perry and Quale at the movie's premiere after-party at Hollywood nightclub Rolling Stone on Wednesday night.
INTERVIEW: Actor Peter Facinelli on his role in 'Nurse Jackie'
Upon occasion, we here at Awards tracker will check in with a show's cast members to get their responses to some random questions. Today we spotlight Showtime's "Nurse Jackie," in which Emmy winner Edie Falco plays a drug-addicted nurse who shares a workplace with idealistic nurse Zoey Barkow (Merritt Wever), narcissistic Dr. Fitch Cooper (Peter Facinelli) and pharmacist Eddie Walzer (Paul Schulze), who also happens to be Jackie's lover. Up first, Facinelli. Check back later this evening for Q&As with Schulze and Wever.
JJ Abrams talks about 'Super 8' and the influence of Spielberg
Surely the most eagerly awaited film of the summer, J.J. Abrams' Super 8 whisks the viewer back to a night in 1979, when some Ohio kids shooting a zombie movie witness a terrible train crash. What escaped from the train, and what the kids do to find it, are just two of the secrets that fans of Abrams's Lost, Alias, Cloverfield and the Star Trek reboot have tried valiantly to unearth. All will be revealed Friday, June 10; but as we've told you in the magazine, one secret that needn't be kept is that Super 8 is a terrific movie, bending and transcending the science-fiction genre into a fable about the power of innocence.
In an extensive interview with TIME last week, the writer-director discussed his teen days making his own super-8 movies, his early brush with Steven Spielberg and his then-assistant (later producer) Kathleen Kennedy, and the influence of Spielberg's early Amblin films on Super 8. If you're wondering what Abrams has cooking over at Bad Robot, his own production, that's here too.
Read more: http://www.time.com/time/arts/article/0,8599,2075885,00.html#ixzz1OiQRL46e
INTERVIEW: Wes Craven's horror fundamentals
Few horror filmmakers have taken the road of greater resistance to their calling than 71-year-old Wes Craven, who grew up a fundamentalist Baptist in the American Midwest. Craven has created two of film's most popular horror franchises, Scream and Nightmare on Elm Street.
With Scream 4 opening April 15, the movies will soon pass $1-billion (U.S.) in global box office – shocking news for a Johns Hopkins grad who didn't see a horror film until he was halfway through making his first.
INTERVIEW: Francis Ford Coppola on Risk, Money, Craft & Collaboration
Over the course of 45 years in the film business, Francis Ford Coppola has refined a singular code of ethics that govern his filmmaking. There are three rules: 1) Write and direct original screenplays,  2) make them with the most modern technology available,  and 3) self-finance them.But Coppola didn't develop this formula overnight. Though he found Hollywood success at the young age of 30, he admits that the early "Godfather" fame pulled him off course from his dream of writing and directing personal stories. Like Bergman, Coppola wanted to wake up and make movies based on his dreams and nightmares.
Ivan Reitman Talks 'Ghostbusters III,' 'Baywatch' Movie and 'Private Parts' Sequel
In 1998, producer-director Ivan Reitman teamed with lawyer-turned-studio chiefTom Pollock, 67, to create the Montecito Picture Co., named after the community near Santa Barbara where they lived. Eight years later, they became the first producers to line up about $200 million in private equity to back their movies (through a side company called Cold Spring Pictures). Their slate has been unusually successful, with hits including Disturbia (2007) and Oscar nominee Up in the Air (2009), directed by Jason Reitman.
January's No Strings Attached, the first movie that Reitman, 64, had directed in five years, grossed more than $100 million worldwide on a budget of $25 million for Paramount, where the longtime friends are based. But they also make movies at other studios, including Reitman's planned Ghostbusters III for Sony — if Bill Murray ever gets around to reading the script.
READ MORE AT HR REPORTER
INTERVIEW: Ryan Phillippe on his new movie 'The Lincoln Lawyer'
Besides an outstanding script based on a bestselling novel, Ryan Phillippe was drawn to The Lincoln Lawyer because the film takes place in Los Angeles. He could make an incredible film, working with some of the best in the business such as Matthew McConaughey, William H. Macy, Marisa Tomei and Michael Pena (Battle: Los Angeles), while still being able to come home to his children each night.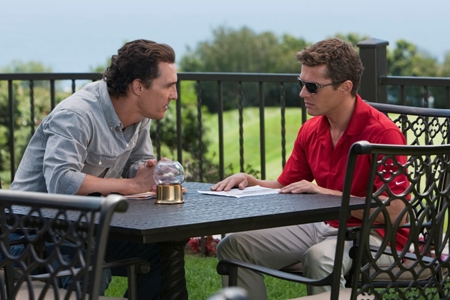 The Lincoln Lawyer is the story of Mick Haller (McConaughey), an attorney who works out of the back of his black Lincoln. He gets a tip about a Beverly Hills man, Roulet (Phillippe), who has been charged with attempted murder of a female companion. After meeting Roulet, McConaughey's Haller takes the case and immediately everything is not what it seems.
Stay with SheKnows all week as we interview the cast including McConaughey, Pena and country superstar Trace Adkins, who also appears in the film. And don't miss our review on March 18.
INTERVIEW: Writer-Director John Wells on making 'The Company Men'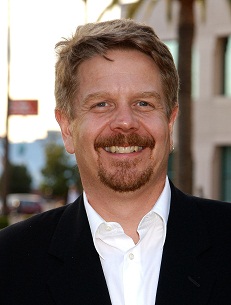 John Wells has a dream job. For 15 seasons as a writer and producer, he masterminded the hit television drama ER and also been a guiding force behind The West Wing, Third Watch, China Beach and the current cable programs Southland and Shameless. He's won a long string of awards and currently serves as the president of the Writers Guild of America, West.
At first it might seem ironic that his latest project, the new filmThe Company Men, deals with the traumas associated with unemployment. Nonetheless, he can make viewers empathize with three high powered shipping firm executives (Ben Affleck, Tommy Lee Jones, and Chris Cooper) who all lose their jobs the same way he could make the president of the United States seem human in The West Wing.
For a film that deals with misfortune, Wells has had a surprising amount of luck. His cast includes four Oscar-winners (Affleck, Jones, Cooper and Kevin Costner), and the film had a successful run at Sundance in 2010 and solid reviews this year. When he called me from Chicago two weeks ago, Wells sounded grateful for the reception for his feature directing debut, but he didn't seem to be taking anything for granted. I asked him if the cold weather in the Windy City had made him misty-eyed for his roots in Denver, and he replied, "I remember when misty-eyed was a good reason to have your eyes frozen to your head."