Nude Iranian movie star ignites firestorm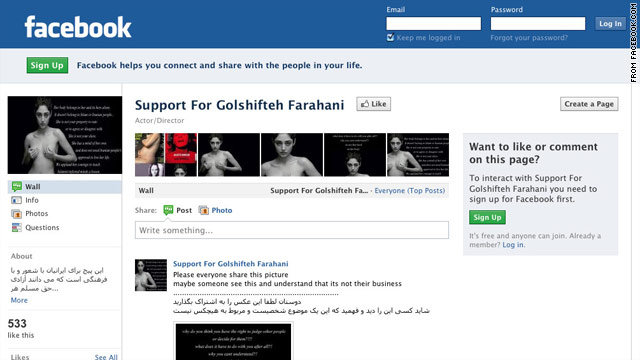 A photo and video of a famous Iranian actress baring her breasts have gone viral this week, igniting a fiery debate among Iranians.
Golshifteh Farahani appears topless, cupping her breasts, in a photo in the French magazine Madame Le Figaro. Also, a video apparently made by a French film academy, features the actress looking directly into a camera as she disrobes. She stands with her breasts uncovered. Soon after the images hit the Web, reaction was swift inside Iran, where Farahani gained fame in state-sponsored movies that forbid the mere touching of hands.
Shah Rukh Khan – The Biggest Movie Star in the World You've Never Heard Of
You might not expect an Indian actor to get much attention strolling past the high-end stores on Rodeo Drive. Yet as the Bollywood star Shah Rukh Khan turns the corner to walk into a Beverly Hills hotel on a recent Friday afternoon, Indian nationals materialize out of nowhere to point and stare. Eager onlookers pull out cameras and take photos with him. Even gaggles of white teenage girls gawk — they don't know Khan, but there are few men who could pull off a mod jacket and jet-black ponytail so convincingly.
Brad Pitt and Will Smith may have millions of fans around the world, but Khan — or SRK to the faithful — quantifies his groupies with a few added zeros. He is the biggest movie star you've never heard of. And perhaps the world's biggest movie star, period. In a country of 1.2 billion where movies are a way of life, Khan delights fans with romance, comedy and action, sometimes all in the same movie. (This is Bollywood, after all.)
The actor had come to Los Angeles on a rare publicity trip to promote one of the most important releases of his career, "Ra.One," which opened around the world and in a number of Southland theaters last week. With a budget estimated at $30 million, the film, directed by the veteran Anubhav Sinha, is touted as the most expensive project in Bollywood history.
'Headhunters' Movie Blasts by 'Transformers,' Closes in on 'Harry Potter' in Norway
Headhunters, the Norwegian crime thriller based on the novel by Jo Nesbo, continues to set box office records in its home territory. This weekend Headhuntersreceipts should pass the 50 million Kroner mark  - around $9 million. That's more than twice the $4 million earned by Transformers: The Dark Side of the Moon in the territory and puts tinyHeadhunters (budget $5 million) in a class with Harry Potter and the Deathly Hallows: Part 2, this year's box office champ in Norway with a total take of $11 million.
In terms of admissions, Headhunters is already the most successful film released in Norway this year, with 535,000 tickets sold. That's about 20,000 less than Potter 7.2 but ahead of Pirates of the Caribbean: On Stranger Tides, which sold 508,000 tickets in Norway. Pirates has a greater gross, however, due to higher prices for 3D tickets.
Christian Bale headlines Zhang Yimou's $100 mil new Chinese epic movie
Zhang Yimou, the preeminent movie director working in China today. His movies commands top budgets; he produced the Beijing Olympics Opening Ceremony which he co-produced with Steven Spielberg. He also directed a slew of vanguard Chinese movies including Ju Dou, Raise the Red Lantern, Hero and House of Flying Daggers.
Now Zhang has erected a massive city and full-scale Cathedral in Beijing for his latest period epic, Heroes of Nanking, which recently wrapped principal photography after 164 days. The movie cost $100 million, more than John Woo's Red Cliff, Zhang's usual producer/financeer Zhang Weiping revealed in Cannes. Movies on the scale of Nanking, as Red Cliff proved, can make their budgets back in Asia alone.
The movie stars Christian Bale as an American priest , who rather than leave Nanking, shelters a group of prostitutes as well as young schoolgirls in his church during the intense six week 1937 battle between the Chinese and Japanese.
Iranian Filmmakers Defy Authorities At Cannes
Despite impending jail-time, two convicted Iranian filmmakers,  Mohammad Rasoulof and Jafar Panahi, are screening new films at the Cannes Film Festival this week that could put their legal situations in jeopardy. But both filmmakers were willing to take the political risk.
"The worse case scenario is that I'll have to go back to jail if the  Iranian authorities don't approve," Rasoulof said on the phone Wednesday from Tehran, speaking through a translator. "Hopefully, I'll be able to bring some books."
How an English Village Bankrolled 'A Tortoise in Love'
Crowd-sourcing – getting audiences to pony up to finance films – is the latest buzzword in Hollywood financing circles. But the new English romantic comedy A Tortoise in Love has taken the idea one step further with an entire village stepping up to bankroll a feature.
In a scene right out of, well, English romantic comedies, the residents of Kingston Bagpuize and Southmoor (pop. 2,000) banded together to write, direct, finance and star in Tortoise.
The story follows lovelorn local gardener Tom. When his very English attempts to woo Polish au pair Anya fall flat, the whole village chips in to help.
Woody Allen continues to make movies outside US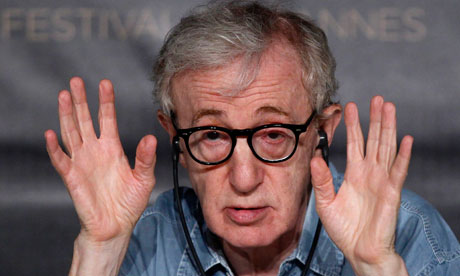 Midnight in Paris will get a lot of stick in some quarters for its tourist-eye view of the French capital; you lose count of the shots of the Eiffel tower in the opening montage alone. But here's the conundrum: Allen's best films of recent years – I mean this one and Vicky Cristina Barcelona – are both about tourists. Is that why they work?
It's safe to say that Allen, sadly, is not the force he was. Endless debates can be had as to his last "great" film. (My own opinion: 1997's Deconstructing Harry, with honourable mentions for 1998's Celebrity and 1999's Sweet and Lowdown.) Whatever else, since the turn of the millennium, we've had to drastically downscale our expectations.
Indian Hitler film unintentionally funny
Mel Brooks has got to see this one: Somebody has actually made "Springtime for Hitler," but called it "Dear Friend Hitler."
The funniest thing about this film from India is that it's dead-on serious, replete with all Indian actors playing the leaders of the Third Reich.
Reportedly, independence leader Mohandas Gandhi penned two letters to Hitler, one in 1939 and another in 1945, both imploring him to change his ways. Set primarily during Hitler's April bunker days at the end of World War, this peculiar spring-time saga is so preposterous and inept that it would make Brooks' fictional producers seem reputable.
In this uber-awful entity, filmmaker Rakesh Ranjah Kumar intercuts primarily between Gandhi pontificating the ways of peace and Hitler stomping around his bunker.
What "Rio" Means to Brazil Movie Makers
Brazilian movie director Carlos Saldanha may just have reintroduced the world to Rio de Janeiro. And without knowing it, his animated feature film "Rio" might go down as the equivalent of a Hollywood moon landing.
This time, a Brazilian makes a move about Brazilians (well, Brazilian animals, at least) set in Brazil with issues related to Brazil, like animal trafficking and Rio's street children even making an appearance. Like Neil Armstrong's one small step for man, Saldanha's Hollywood release of what is actually a uniquely Brazilian story might very well get other studios and investors to do the same — make movies about Brazil.
'Concubine' Director Defends Choice Of Projects
"Farewell My Concubine" director Chen Kaige says he follows his heart — and not box office predictions — when he chooses his projects, rebuffing criticism that he and his contemporaries have compromised their artistic integrity in exchange for commercial success.
"If you asked me to choose between making a good movie and making a box office hit, I will choose to make a good movie. I have worked in the film industry for so long. There is no reason for me to betray my heart," Chen told The Associated Press late Tuesday, on the sidelines of a screening of his new costume drama, "Sacrifice," at the Hong Kong International Film Festival.
Chen and fellow director Zhang Yimou are part of China's famed "fifth generation" of directors — the first generation of Chinese filmmakers to gain attention in the West as their country emerged from economic and political isolation in the 1980s. They wowed critics with their gritty portrayals of rural life in films like "Yellow Earth" and "Red Sorghum."