Documentary filmmaker Steve James: "A golden age for documentarians"
Steve James, Kartemquin's celebrated documentarian says he believes "We are living in a Golden Age for documentary filmmaking," as he gets ready to fly to Britain this week to give a master class at the Sheffield Doc/Fest, June 8-12, and screen his latest doc, The Interrupters.
The quality of current documentary films is incredible, he feels. "Before, people used to want to make narrative films, but suddenly people realized what you could do with the documentary," he says in an interview with the British news outlet, The Guardian.
He says the vogue was helped by the success of Michael Moore's films, such as Roger and Me andBowling for Columbine, as well as his own 1994 multi-award winning Hoop Dreams, the first of a half dozen feature-length docs James has helmed for Kartemquin over the past 20 years.
James Cameron to direct 3D documentary on Amazon tribe
James Cameron, the director of Avatar, who last year became the most lucrative film in history (making more than 2 billion U.S. dollars at the box office) has announced that he will be shooting a 3D documentary. Cameron will travel to Brazil later this year to shoot an Amazon tribe's attempts to prevent the construction of dams, which are destroying the traditional hunting grounds.
Cameron said that the drama of Xikrin-Kayapo tribe - which has already been storied in a short documentary - said he the tribe reminded him of  Navi, blue-skinned aliens whose planet was used by a mining company in the film blockbuster. "I want to meet leaders of Xikrin-Kayapo tribe, who called me," he said and added that he had met the group during the tour to promote Avatar during his Amazon trip. "I want to make a 3D camera to describe how they live, their culture."
Legal Issues in Documentary Film Production
The entertainment industry can be a legal minefield.  And while the legal issues that face documentary filmmakers may not be unique, documentarians — who typically work on shoestring budgets, rely heavily on preexisting copyrighted materials, and often say things that moneyed and powerful interests don't want to hear — are uniquely vulnerable.  With that in mind, here's a "top 5" list of legal issues that you should know about when planning, making, and selling your film.
Actor John Cazale – Rediscovering 'Fredo' from 'The Godfather'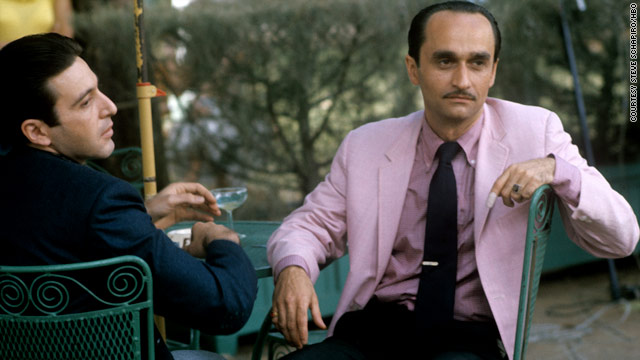 John Cazale is probably the most famously unfamous actor in the history of cinema.
Fans of the actor, who is most recognized for portraying Fredo in "The Godfather" and its sequel, know his work and love him -- yet practically nothing is known about the man.
"His greatest ability was making the actors and filmmakers around him look really good," said Richard Shepard, director of "I Knew It Was You," a new documentary about Cazale. "He worked on three movies with [Francis Ford] Coppola, he did three films with [Al] Pacino, he did two movies with [Robert] De Niro, and he did a play and a movie with [Meryl] Streep. These people wanted to continue to work with him because they knew he made them better."
Joaquin Phoenix documentary – hoax or real?
So there's this buzz about a Joaquin Phoenix documentary directed by actor Casey Affleck.
At a packed screening room at the offices of William Morris Endeavor last week, buyers from Hollywood's indie distribution companies were on hand to watch Casey Affleck's documentary I'm Still Here: The Lost Year of Joaquin Phoenix. Affleck is married to Phoenix's sister, Summer, and now that distributors have seen Affleck's depiction of his brother-in-law's strange year of existence, the verdict is still unclear whether Phoenix's attempt to make it as a rapper is an elaborate piece of performance art or a sad retelling of an actor's life unraveling.
As one viewer told EW.com, "there's a lot of people who've now seen it and are still asking if it's a hoax or not. Whoever buys it will know, but they aren't telling anyone ahead of time."
The film shows Phoenix snorting cocaine, having sex with prostitutes and simply falling apart in his quest to land a record deal. It shows him meeting with Sean Combs in a desperate plea to get him to produce his record album. Phoenix also meets with Ben Stiller who's trying to persuade the Gladiator star to join his indie film Greenberg, despite Phoenix's protest that he's no longer acting. Word is that a few distributors are interested in buying the film, guessing that the question of whether or not Phoenix is playing with us all will be enough to draw audiences into theaters.
(EW)
Bill Gates – movie pitchman at Sundance
When Microsoft co-founder Bill Gates, the richest man in the United States, came to the Sundance Film Festival here this week, it wasn't movies on his mind, it was education -- your kids' education.
A new documentary, "Waiting For Superman," by director Davis Guggenheim ("An Inconvenient Truth") looks at what Gates and Guggenheim say is a U.S. public school system in shambles.
"The quality of our educational system is what made America great. Now it's not as good as it was, and it needs to be a lot better," Gates told Reuters after the film's premiere on Friday.
"Many of these high schools are terrible, and this film, 'Waiting for Superman' by Davis Guggenheim, which I have a very minor part in, tells this story in a brilliant way," he said.
The commercial director who made crucial contributions to 'This Is It'
On June 25, just hours after Michael Jackson died, Tim Patterson drove from his home in the Santa Clarita Valley to downtown Los Angeles with $60-million worth of film footage in his trunk. 
As he sped down Interstate 5 in his green Lexus convertible, Patterson carried virtually all of the 140 hours of rehearsal footage from the late singer's planned "This Is It" concert series that would eventually be whittled down to the 112-minute movie that opened last week to a decent $34.4 million domestically and a much stronger $69.5 million overseas through Sunday. 
Joss Whedon makes a bid for 'Terminator' franchise rights
An Open Letter to the Terminator Owners. From a Very Important Hollywood Mogul:
Dear Sirs/Ma'ams,
I am Joss Whedon, the mastermind behind Titan A.E., Parenthood (not the movie) (or the new series) (or the one where 'hood' was capitalized 'cause it was a pun), and myriad other legendary tales. I have heard through the 'grapevine' that the Terminatorfranchise is for sale, and I am prepared to make a pre-emptive bid RIGHT NOW to wrap this dealio up. This is not a joke, this is not a scam, this is not available on TV. I will write a check TODAY for $10,000, and viola!Terminator off your hands.
Michael Moore takes on capitalism – his new film takes on the financial crisis
If anyone has profited from the free-enterprise system in the past 20 years, it's Michael Moore. Since 1989, when his "Roger & Me" pioneered the docu-comedy form of nonfiction film, Moore's movies, TV shows and best-selling books have given him an eight-figure net worth.
And in all of these, he is the improbable star: a heavyset fellow with a doofus grin, alternately laughing and badgering but always at the center of his own attention. Why, there he is, at the end of his new movie, "Capitalism: A Love Story," wrapping the New York Stock Exchange building in yellow tape that reads: CRIME SCENE.
The writer-director-propagandist has earned every penny and Euro of his boodle. Moore's last three filmed diatribes -- "Bowling for Columbine," "Fahrenheit 9/11" and "Sicko" --h ave amassed more than $300 million in theaters worldwide, and loads more on DVD; and "Fahrenheit" is, by a long stretch, the top-grossing documentary of all time.
Nature movies score at box-office
Pop quiz: Which film has grossed more money? The hit Paul Rudd comedy "I Love You, Man" or the 47-minute-long documentary "Space Station 3D"?
Julia Roberts' star vehicle "Duplicity" or the Humboldt squid's big turn in "Deep Sea 3D"?
While movie studios struggle to create, produce and launch expensive movie franchises, humble nature and science films have emerged as profitable genres. ("Space Station" stands at $78.5 million in domestic theaters, compared with "I Love You, Man's" $65.3 million; "Deep Sea 3D" has grossed $41 million, with "Duplicity" at $39.3 million.)