Sony Unveils a DSLR Video Camera for Speed Demons
It seems like camera makers are bragging less about how many megapixels are on their sensors – which  is nearly useless as a measure of quality anyway — but are taking up a new selling point: speed.
And to get that speed in autofocus, the camera companies are advancing new technologies.  About a week ago Nikon announced it was producing the new 1 series of cameras, claiming to have the world's fastest autofocus. It's a claimSony disputed at its unveiling of the SLT A77 at Unique Photo in Fairfield, N.J., last Thursday, along with the mirrorless NEX-7 camera.
The Sony A77 is its new "enthusiast" camera, which is to say, at $2,000 with a 16-millimeter to 50-millimeter lens, it's a bit expensive for the casual user.
Sony announces a 4K projector for the home
There's a new king atop Sony's line of ES projectors: the VPL-VW1000ES. Presented at CEDIA this afternoon, it bypasses all the beamers Sony's delivered for home use so far -- including the recent VPL-HW30AES and VPL-VW95ES models -- by featuring a stunning 4K resolution, four times that of standard HD projectors based on an all new SXRD panel. Scheduled to go on sale this December it also claims a 1,000,000:1 contrast ratio and 2,000 ANSI lumens of brightness that allows it to project on screens of sizes up to 200-inches. Whether or not you can scrape together the ducats for a 4K projector this Christmas, there are other options for home theater nuts in the form of two new receivers for the ES line that will also be available. The STR-DA5700ES and STR-DA3700ES will ship in November but more than their hardware specs, they feature a new onscreen UI that's supposed to be easier to use. The only device at the presentation with a pricetag was the HMZ-T1 3D viewer we tried out at IFA last week, which has been announced for the US in November with a price "around" $799. Expect more in person pics in a moment, meanwhile the press releases after the break have all the information currently available.
(FROM ENGADGET)
Film Specific – A New Online Membership Community Launches for Filmmakers Focused on Film Distribution
Sherman Oaks, CA (PRWEB) April 4, 2007
Film Specific (http://www.FilmSpecific.com), a new online membership community for filmmakers focused on film distribution has been launched. Stacey Parks, author of "The Inside Guide to Independent Film Distribution" (Focal Press), and a veteran Foreign Sales Agent and Independent Sales Rep, founded the website as a place for serious filmmakers to learn the ins-and-outs of film distribution.
"As a distribution consultant, so many independent filmmakers have come to me with finished films, frustrated and scratching their heads trying to figure out how to sell their films in the marketplace. The site helps to educate filmmakers so navigating those often harsh waters becomes easier."
The interactive community moderated by Parks and other distribution experts aims to guide filmmakers and help them learn from each other. "The whole distribution model for films is changing so dramatically. In some ways it's very scary for filmmakers, but in others it's incredibly exciting since there are more opportunities than ever to get their films seen by worldwide audiences via so many various distribution outlets. Film Specific is focused on creating a community where filmmakers can learn ways to move their distribution efforts forward, reach distributors, and reach audiences as well."

Continue Reading →
Netflix Adding Dolby Digital Sound To Online Movies
US-based Netflix has announced it is adding Dolby Digital Plus surround sound to movies on its instant streaming service. The improved sound quality will be available first on Sony's PlayStation 3 and will roll out to other devices "over time". The retailer's online streaming service is available to subscribers who pay USD8.99 a month or more and is available on videogame consoles, computers and mobile devices including Apple's iPad.
"Netflix required an audio solution that could efficiently deliver an outstanding surround sound experience for a wide range of consumer devices," Greg Peters, Netflix's Vice President of Product Development, said. "Dolby Digital Plus proved to be the best solution to meet our needs and the needs of our device partners."
PS3 owners also will be able to watch "some movies and TV shows" in 1080-pixel high definition without inserting a Netflix disc into the device, Peters said in a post on Sony's PlayStation blog.
Netflix recently announced that the company reached a deal to rent Sony movies 28 days after they go on sale, while NCR, which rents DVDs at nearly 7,000 Blockbuster kiosks, reached a similar deal with Universal Studios. NCR said it reached a studio distribution deal with General Electric Co's Universal, also agreeing to wait 28 days after the Universal movies go on sale.
A spokesman for NCR said it was working with many studios for further such deals as it ramps up the Blockbuster kiosks to compete with Coinstar's Redbox kiosks and Netflix. Studios are seeking deals requiring Redbox and Netflix to wait 28 days after a DVD or Blu-ray disc is released because they fear these low cost outlets will threaten sales. Sources familiar with the matter said that News Corp's Twentieth Century Fox and Sony were among the studios talking with NCR.
Small theater owners forced to switch to digital projectors
As the cost of digital cinema distribution dwindles, theater owners are increasingly transforming their offerings to digital. No more so than small and independent theater owners who have to realize cost savings and profit margins.
For more than three decades, the Kim family has operated a popular 800-seat neighborhood theater on Crenshaw Boulevard in Gardena.
The single-screen movie house — a rarity anywhere — has weathered multiple storms. It thrived in the 1970s and early 1980s by specializing in Spanish-language movies, until its Mexican film distributor went out of business. The Kims switched to screening conventional Hollywood movies, but soon confronted growing competition from new multiplexes. They adapted by selling lower-priced tickets, catering to budget-conscious families looking for an affordable night out.
Now they face what could be their biggest hurdle: how to foot the bill for a new digital projection system.
James Cameron 'Fully Intends' to Make 'Avatar 2 and 3' at Higher Frame Rates
James Cameron said he "fully intends" to make Avatar 2 and 3 at higher frame rates, and he is looking seriously at 48 and 60 frames per second.
On Wednesday at CinemaCon, Cameron, Jeffrey Katzenberg and George Lucas talked at a packed session about the bleeding edge of digital production and exhibition technologies.
As Cameron talked frame rates -- a topic on which he is slated to do a presentationThursday during the Las Vegas confab -- Katzenberg revealed that he is working on scalable multicore processing, a "quantum leap" in computing.
Rather than waiting hours and even days for rendering to occurring, the DreamWorks Animation CEO suggested that "the next generation of artists will see their work as they are creating it. ... That is a revolutionary change in the process."
Later in the panel, as the Lucasfilm leader was discussing 3D and Star Wars, Katzenberg turned to him and asked: "So Chapter 7 will be shot in 3D?"
"Yep," Lucas responded. "But then that will be done as a hologram."
Source: Hollywood Reporter
First feature-length film made specifically for Net distribution debuts on YouTube
The first feature-length film made specifically for Internet distribution, "Girl Walks Into a Bar," debuts Friday to a potential worldwide audience of millions on YouTube.
Directed by Sebastian Gutierrez - who, coincidentally, has another micro-budgeted film, "Elektra Luxx," opening Friday at West L.A.'s Nuart Theatre - "Girl" could establish a new path for increasingly under-exposed, small independent films to find substantial audiences.
"It's so hard for independent movies to get bought and put out," Gutierrez said. "And there's so many of them - 2,000, maybe, last year, and only one of them was `Winter's Bone.' And the ones that do get released only play in two theaters, five theaters."
"Girl" is a comic noir mystery, made up of 10, 10-minute, narratively interlocked scenes. This enabled natural commercial breaks, which have been filled on YouTube by presenting sponsor Lexus.
Warner Bros. to rent movies on Facebook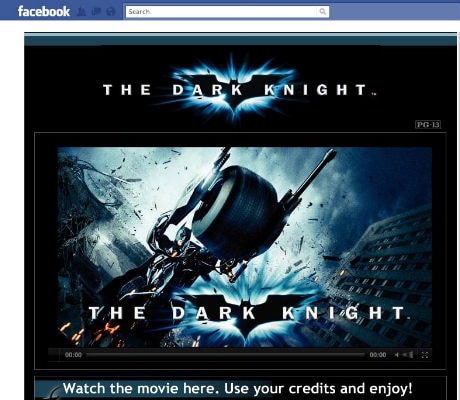 Warner Bros. hopes to cash in on the millions of movie addicts on the social networking platform Facebook. The studio announced it will start a test program where it will provide movies for rent and sale through Facebook, but for a brief period.
Come March 8, Facebook users will be able to use Facebook credits to view The Dark Knight through the movie s official fan page on Facebook. The movie will be available for 30 Facebook credits or $3. People will be able view these movies for 48 hours on their Facebook accounts.
Facebook credits have commonly been used for games like Farmville and Mafia wars on the social networking site. Originally these credits were introduced to eliminate the credit card but they are yet to go mainstream. Lets see if Warner Bros. offering has any effect on its success.
But, sadly this feature is currently not available in India. The website says that it is currently not available in Indian region.
Warner Bros. has been toying with new ideas through which they plan to distribute their productions. Recently, they introduced an iPad app for Inception through which people could view the movie and special features. They plan to introduce such apps for other movies too. These can be bought in India but at the price of close-to $20, these movies will be as expensive as a Blu-ray disc.
Warner Bros launches Apple apps with DVD extras
You don't need the DVD now to get some of the on-disc bonus features that accompany your home video purchases. Warner Bros. today began offering "app editions" of two movies, The Dark Knightand Inception, in Apple's App Store.
The free downloads include the first 5 minutes of the movie, plus bonus features such as photos, games and trivia playable on the iPhone, iPod Touch or iPad. Some of the content was previously available on DVD or Blu-ray editions of the films, while other features are new.
Online movie downloads up nearly 40% in 2010, surpassing TV sales for first time
U.S. consumers spent $385 million buying and renting movies via the Internet in 2010 --up 38% from the year before -- surpassing for the first time the amount paid for online television shows.
According to research from IHS Screen Digest, the market for Internet television episode rentals and purchases last year was $366 million. In 2009, spending on online movies and TV was $280 million and $295 million, respectively.
The shift reflects the growing number of ways consumers can access movies through devices such as video game consoles, set-top boxes and the iPad at the same time that Hulu and other free streaming websites make it less appealing to pay to download TV shows.