Uggie the dog from 'The Artist' to retire, says trainer
Uggie, the canine star of Oscar-nominated hit The Artist, is to retire, his trainer has said. Omar von Muller told Life and Style magazine he was hanging up his collar because the 10-year-old Jack Russell terrier was "getting tired".
"He may do a couple of little things here and there because he enjoys them, but I don't want to put him through long hours anymore," he said.
It is thought Uggie will make his final appearance at the Oscars.
Nude Iranian movie star ignites firestorm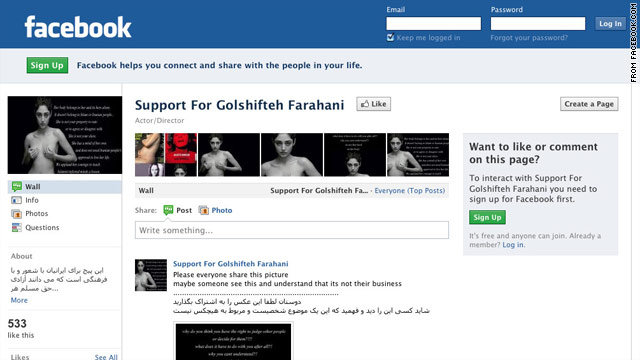 A photo and video of a famous Iranian actress baring her breasts have gone viral this week, igniting a fiery debate among Iranians.
Golshifteh Farahani appears topless, cupping her breasts, in a photo in the French magazine Madame Le Figaro. Also, a video apparently made by a French film academy, features the actress looking directly into a camera as she disrobes. She stands with her breasts uncovered. Soon after the images hit the Web, reaction was swift inside Iran, where Farahani gained fame in state-sponsored movies that forbid the mere touching of hands.
Emmy Rossum returns with Showtime's 'Shameless'
Emmy Rossum, 25, returns to Showtime for the second season of "Shameless" as Fiona, the eldest sister and mother figure of the scrappy, law-skirting, non-working-class Gallagher family. Already a performing vet at 25, Rossum's latest gig follows a childhood launch as a member of the Metropolitan Opera's Children's Chorus and starring roles in the 2004 film "The Phantom of the Opera" and big-budget disaster movies including "The Day After Tomorrow" and "Poseidon."
Ten Young Actors Named Europe's Shooting Stars of 2012
Here are the ten Shooting Stars of 2012 -- "Young, talented, European" -- who the European Film Promotion will showcase at the Berlin International Film Festival (February 9-19). (They were culled from 23 nominees.) The EFP has been choosing and showcasing young actors for fifteen years, helping them transition to the next level of their careers. Past Shooting Stars include Carey Mulligan ("Shame," "An Education"), Elena Anaya ("The Skin I Live in") and Mélanie Laurent ("Beginners," "Inglourious Basterds").
Matt Damon wants to make more kids movies
Matt Damon keeps his kids in mind when it comes to movie roles.
The father-of-four says he wants to make more movies like I Bought a Zoo so his offspring can get to see him on screen. "I think it's nice to have just a few films I can show my kids," says Matt.
"They're old enough to understand what daddy does for a living now but it's not been easy to show them. They ask and now at least I have one movie they can watch."
Damon recently revealed how he has realized actors are not the most important thing about movies. "When I first started getting work, I felt like acting was the most important thing," he said. "But the more you do it, the more you realize that in the end, the director has all the power."
Jeremy Irvine Of 'War Horse' On Spielberg, Stardom & All The Joeys You could understand if Jeremy Irvine was feeling nervous, on edge, prickly: he's in a foreign country, bearing the burden of being the star of one of the most hyped movies of the year. A 20-year-old English kid, suddenly at the center of a passion project of one of the last half-century's greatest directors, a film that is being tipped for (and would soon be nominated for) a Golden Globe for Best Picture before it even hits theaters. But just hours before Steven Spielberg's "War Horse" premieres in New York, Irvine is all smiles, even as he's recovering from rounds of interviews and is crammed in the back of an elevator.
It's that type of indomitable optimism that must have attracted Spielberg to Irvine, that sort of pluck that made him willing to thrust him into the lead role of an English farm boy who loses his beloved horse to the British calvary in World War I but holds on to hope that he'll see him again. As we spoke a few days after our initial meeting in the elevator, Irvine is still elated from the whole process.
Classic film and TV star Harry Morgan dead at 96
Although he is primarily remembered today for his role as Colonel Potter on the long-running television series, "M*A*S*H," Harry Morgan, who died Wednesday, December 7, 2011, also appeared in many classic films. The Michigan native was particularly known for his appearances in classic Westerns, including an important early role in "The Ox-Bow Incident" (1943). He worked mostly in supporting roles, but Morgan always made his characters memorable, holding his own against iconic stars like Henry Fonda, John Wayne, James Stewart, and Gary Cooper. Here are a dozen classic movies where you can see Morgan in action and learn more about his career before "M*A*S*H."
Continue reading on Examiner.com Classic film and TV star Harry Morgan dead at 96 - National Classic Movies | Examiner.com http://www.examiner.com/classic-movies-in-national/classic-film-and-tv-star-harry-morgan-dead-at-96#ixzz1ftrmI0NB
First Look at Daniel Day Lewis as Abe Lincoln
It was just over a year ago that it was announced that Daniel Day-Lewis would be the star of Steven Spielberg's Abraham Lincoln film. There's no question that the two-time Oscar-winner is an astonishingly gifted actor, but when you're playing a revered American president there will always be questions about whether you can do justice to a mythic figure in U.S. history -- especially when some people refuse to accept Day-Lewis in the role since he's English. But we think most folks will be willing to look past such minor issues after checking out this first photo of Day-Lewis sporting his beard for "Lincoln." You have to admit, the resemblance is pretty striking -- and rather presidential.
Leonardo DiCaprio filming 'The Great Gatsby' with Tobey Maguire and Carey Mulligan
This adaptation of F.Scott Fitzgerald's classic is anticipated by literature fans in the same way its chief protagonist Jay Gatsby lusts after the unattainable object of his affections is in the novel.
Their longed for union turns out to be a tragic disappointment, but from the looks of things, this sumptuous film will be anything but.

A beautiful Sydney Summer is providing the backdrop for a floral wonderland of a set at the city's Centennial Park, which has been dressed up to represent New York's Long Island 86 years ago.
Shah Rukh Khan – The Biggest Movie Star in the World You've Never Heard Of
You might not expect an Indian actor to get much attention strolling past the high-end stores on Rodeo Drive. Yet as the Bollywood star Shah Rukh Khan turns the corner to walk into a Beverly Hills hotel on a recent Friday afternoon, Indian nationals materialize out of nowhere to point and stare. Eager onlookers pull out cameras and take photos with him. Even gaggles of white teenage girls gawk — they don't know Khan, but there are few men who could pull off a mod jacket and jet-black ponytail so convincingly.
Brad Pitt and Will Smith may have millions of fans around the world, but Khan — or SRK to the faithful — quantifies his groupies with a few added zeros. He is the biggest movie star you've never heard of. And perhaps the world's biggest movie star, period. In a country of 1.2 billion where movies are a way of life, Khan delights fans with romance, comedy and action, sometimes all in the same movie. (This is Bollywood, after all.)
The actor had come to Los Angeles on a rare publicity trip to promote one of the most important releases of his career, "Ra.One," which opened around the world and in a number of Southland theaters last week. With a budget estimated at $30 million, the film, directed by the veteran Anubhav Sinha, is touted as the most expensive project in Bollywood history.