Can Love Survive? Watch 'Revolutionary Road'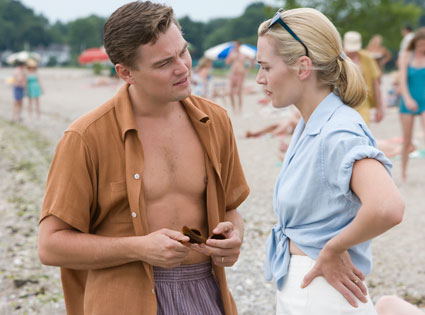 The preview for Revolutionary Road, which opens Dec. 26, is one of those rare and wondrous pieces of promotion that tells you everything you need to know about a movie without really telling you anything at all. There's beautiful Kate Winslet and Leonardo DiCaprio, gleaming in their mid-'50s-era costumes, smoking, sighing, drinking, dancing, screaming, kissing … and then drinking, smoking, screaming and sighing some more.
Nina Simone sings "Wild is the Wind" ("love me, love me, love me … say you do") as images of manicured suburban lawns and gray-flannel-suited men, marching like soldiers through Grand Central Station, flash by. Kate and Leo, reunited onscreen for the first time since 1997's Titanic, might not have giant ships or icebergs to contend with in Revolutionary Road, but one thing is clear from the start: They're very much in danger of sinking.