The Girl With the Dragon Tattoo: Steven Zaillian on the difficulties of adapting Stieg Larsson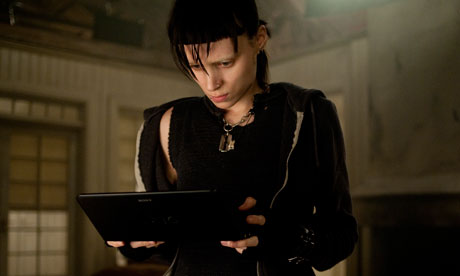 Last month, David Fincher chose to play it coy when Entertainment Weekly asked about his latest film's Oscar chances. "There's too much anal rape in this movie to get nominated," he said. "I think we're very safe." But he's not safe in the slightest. The Girl With The Dragon Tattoo, his adaptation of Stieg Larsson's wildly successful novel (55m copies of the trilogy sold to date), is an exquisite work of art, regardless of some of its brutal content. "There was never any pressure from the studio to lighten it up," says the film's screenwriter, Steven Zaillian. "They understood that part of the reason the book is so successful is because it doesn't tiptoe around those issues."
Matt Damon wants to make more kids movies
Matt Damon keeps his kids in mind when it comes to movie roles.
The father-of-four says he wants to make more movies like I Bought a Zoo so his offspring can get to see him on screen. "I think it's nice to have just a few films I can show my kids," says Matt.
"They're old enough to understand what daddy does for a living now but it's not been easy to show them. They ask and now at least I have one movie they can watch."
Damon recently revealed how he has realized actors are not the most important thing about movies. "When I first started getting work, I felt like acting was the most important thing," he said. "But the more you do it, the more you realize that in the end, the director has all the power."
Jeremy Irvine Of 'War Horse' On Spielberg, Stardom & All The Joeys You could understand if Jeremy Irvine was feeling nervous, on edge, prickly: he's in a foreign country, bearing the burden of being the star of one of the most hyped movies of the year. A 20-year-old English kid, suddenly at the center of a passion project of one of the last half-century's greatest directors, a film that is being tipped for (and would soon be nominated for) a Golden Globe for Best Picture before it even hits theaters. But just hours before Steven Spielberg's "War Horse" premieres in New York, Irvine is all smiles, even as he's recovering from rounds of interviews and is crammed in the back of an elevator.
It's that type of indomitable optimism that must have attracted Spielberg to Irvine, that sort of pluck that made him willing to thrust him into the lead role of an English farm boy who loses his beloved horse to the British calvary in World War I but holds on to hope that he'll see him again. As we spoke a few days after our initial meeting in the elevator, Irvine is still elated from the whole process.
From Rin Tin Tin to Snowy in Tintin: Hollywood's Most Memorable Movie Dogs
This past year, Susan Orlean (the New Yorker writer played by Meryl Streep in Adaptation) wrote an entire book about the history of this star dog. For a time, the dog — played over the year by many German shepards — was one of silent and talkie film's most well-known actors, appearing in more than 20 movies by the time TV's The Adventures of Rin-Tin-Tin came around in 1954.
Read more: http://entertainment.time.com/2011/12/28/from-rin-tin-tin-to-snowy-in-tintin-hollywoods-most-memorable-movie-dogs/#ixzz1hqjNY4mk
Stan Lee to Create Indian Comic Superhero 'Chakra – The Invincible'
Comic legend Stan Lee will launch an original superhero for the Indian market with a team of Indian artists and writers working at Liquid Comics which has pacted with Lee's POW! Entertainment for the project.
Chakra - The Invincible will initially launch as a series of downloadable web and mobile comics distributed throughout India on Liquid's recently announced Graphic India platform. Lee's first digital comic book story on Chakra will be released for free in April 2012, exclusively on www.graphicindia.com though a preview of concept art will be available later this week on the website.
'Avatar' VFX Wiz Letteri Compares 'Apes' and 'Tintin,' Caesar and Haddock
It's been a great year for Joe Letteri, Weta Digital's senior visual effects supervisor, with "Rise of the Planet of the Apes" as the front runner for the VFX Oscar and "The Adventures of Tintin" opening today and competing in the animation category. Both are riding the crest of a new virtual production revolution and powered by the same innovative technology leveraged by "Avatar."
Yet whereas "Apes" is hailed by the industry for transforming Andy Serkis into a CG simian sensation worthy of Oscar recognition in some quarters, "Tintin," which co-stars Serkis as the scene-stealing Captain Haddock, has been criticized by traditionalists for entering the Uncanny Valley of dead-eyed zombies with its performance-captured animation.
The Girl with the Dragon Tattoo, Twilight, and the Return of Women's Blockbuster Films
When The Girl with the Dragon Tattoo hits movie theaters on December 21st, it will be the second major female-led franchise movie released in just over a month. The first, The Twilight Saga: Breaking Dawn - Part I, has already earned over $640 million dollars worldwide since its November 18th release and has become the third-highest grossing movie of 2011 (after Harry Potter and the Deathly Hallows: Part 2 and Transformers: Dark of the Moon -- and on a lower budget than those films). The remarkable success of the Twilight film series, with over $2 billion in worldwide ticket sales to date, proves that audiences will show up to see tentpole movies built around women.
Now with the upcoming release of The Girl with the Dragon Tattoo and the spring/summer 2012 openings of Mirror Mirror, The Hunger Games, and Snow White and the Huntsman, audiences are being offered a run of female-oriented big-budget films unlike anything they've seen in recent years. After decades of lavishing resources on male-led action and comic book movies, Hollywood is finally making an effort to give women and their stories the blockbuster treatment.
The Making of 12 Angry Men
Once every few years many of us are summoned from our daily routines to take part as jurors in the fateful procedure of the courtroom. We are suddenly required to determine the guilt or innocence of a fellow citizen, to send him to prison, even to death. Playwright Reginald Rose went through this experience as a juryman. It was an experience he never forgot; one he found so profound that he decided to use it the only way he could by writing a play that recaptured the behind-the-scenes drama of the jury room.
The result was 12 Angry Men, a motion picture released through United Artists. To bring "12 Angry Men" before the cameras seemed like an impossible task. To communicate the intensity of feeling 12 actors were needed who could deliver their lines without hokum. Rose brought the manuscript to actor Henry Fonda who was in the process of forming his own independent film company. Deeply impressed, Fonda decided to produce the film in collaboration with Rose and with the finest actors of the New York stage and television scene. Their agreement was formalized as Orion-Nova Productions and Rose's jury duty materialized into a fine drama.
What was it like at the Golden Globe nominations announcement?
We had to wake up at the crack of dawn for the 5 a.m. announcement of the 69th Golden Globe Award nominees and drive to Beverly Hilton Hotel.
Ladies with mini bottles of Moet & Chandon champagne welcomed us but we proceeded straight where the coffee and tea were being served.
The print, TV and radio people were either setting up or having breakfast while publicists were nervously taking their seats with their respective studio groups gearing up for the announcement.
Spielberg's magnificent obsession: Prolific producer has two movies set for release, more in the works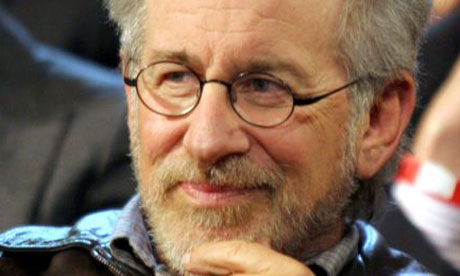 Professionally, Steven Spielberg called home again, and his inner-cinema child answered.
The result is The Adventures of Tintin, an action film for the whole family, based on Belgian artist Herge's classic children's comic books.
Opening Dec. 21, the Spielberg production combines performance-capture and animation, as it follows the exploits of Tintin (Jamie Bell), a rambunctious, full-time newspaper reporter and part-time detective.
In this inaugural film chapter, Tintin, his faithful dog, Snowy, and hard-drinking Captain Haddock (Andy Serkis) embark on a hunt for treasure, which leads them to a sunken ship commanded by Haddock's ancestor.
They aren't alone in their search, however. And soon, they have to face off with an evil rogue (Daniel Craig), who wants the riches for himself.
In the tradition of the director's previous fantasy efforts, E. T.: The Extra-Terrestrial and Raiders of the Lost Ark, the latest concoction combines whimsical humour with frantic, bigger-than-life action.