Eddie Murphy to host Oscars
Eddie Murphy had stiff competition for the 2012 Oscars hosting gig, which he officially landed Tuesday.
A source close to the production of February's 84th Annual Academy Awards show tells us funnymen Billy Crystal and Jerry Seinfeld were gunning for the coveted role.
After James Franco and Anne Hathaway proved that quirky, youthful co-hosts were not necessarily the key to boosting the Oscar telecast's ratings and reviews, predictions circulated that the academy would once again go old-school with Crystal in 2012.
Read more: http://www.nydailynews.com/gossip/2011/09/07/2011-09-07_eddie_murphy_announced_as_oscars_host_also_stars_in_the_award_show_producers_upc.html#ixzz1XIEv3yiX
First Look at Shia LaBeouf in John Hillcoat's 'The Wettes County In The World'
While John Hillcoat's The Proposition and The Road never completely clicked for me, I know he has a great film in him and I'm hoping that great film is The Wettest County in the World.  Based off the novel by Matt Bondourant, Wettest County centers on two brothers (played by Shia LaBeouf and Tom Hardy) who become bootleggers in the American south during Prohibition.  Working from a script by Nick Cave (The Proposition), the film has an incredible cast that includes not only LaBeouf and Hardy, but also Mia Wasikowska, Jason Clarke, Gary Oldman, Guy Pearce, Dane DeHaan, and Jessica Chastain.  Oh, and Ellis will also be scoring the film.  You need to be excited for this movie.
A set photo of Shia LaBeouf has recently leaked online and shows him dressed up in period garb.  Hit the jump to check out the image along with a synopsis of the novel.
Based on the true story of Matt Bondurant's grandfather and two granduncles, The Wettest County in the World is a gripping tale of brotherhood, greed, and murder. The Bondurant Boys were a notorious gang of roughnecks and moonshiners who ran liquor through Franklin County, Virginia, during Prohibition and in the years after. Forrest, the eldest brother, is fierce, mythically indestructible, and the consummate businessman; Howard, the middle brother, is an ox of a man besieged by the horrors he witnessed in the Great War; and Jack, the youngest, has a taste for luxury and a dream to get out of Franklin. Driven and haunted, these men forge a business, fall in love, and struggle to stay afloat as they watch their family die, their father's business fail, and the world they know crumble beneath the Depression and drought.
White mule, white lightning, firewater, popskull, wild cat, stump whiskey, or rotgut — whatever you called it, Franklin County was awash in moonshine in the 1920s. When Sherwood Anderson, the journalist and author of Winesburg, Ohio, was covering a story there, he christened it the "wettest county in the world." In the twilight of his career, Anderson finds himself driving along dusty red roads trying to find the Bondurant brothers, piece together the clues linking them to "The Great Franklin County Moonshine Conspiracy," and break open the silence that shrouds Franklin County.
In vivid, muscular prose, Matt Bondurant brings these men — their dark deeds, their long silences, their deep desires — to life. His understanding of the passion, violence, and desperation at the center of this world is both heartbreaking and magnificent.
Writer-Director Andrew Niccol back in the game with sci-fi movie 'In Time'
Take a glance at Andrew Niccol's body of work, and it becomes apparent that the filmmaker is interested in exploring otherworldly realities.
The first movie he wrote and directed, 1997's "Gattaca," presented a society in which children are born with only their parents' strongest hereditary traits — creating an environment in which people are judged by their gene pools. A few years later, he made "S1m0ne," a 2002 film about a computer-generated woman who becomes a famous actress.
Now comes "In Time," the director's latest project with fantastical themes. The movie, out on Oct. 28, is set in a world where everyone's biological clock stops at age 25. Here, time is the currency — the wealthy can live infinitely, while the poor must work for — or steal — enough minutes just to survive the day.
The Top 5 Reasons Why Screenwriters Quit
As the owner of Screenplay Readers, interacting with dozens of writers on a daily basis, I've seen it time and time again – screenwriters simply GIVING UP, and getting out of the business.
It's always a bit discouraging to see talented folks, and folks with potential, simply throwing in the towel when it comes to their screenwriting career, but quitting is not always a big, fat, INEVITABLE decision.
Because the reasons most screenwriters quit are often very avoidable.  Here's the top 5 reasons I've seen that screenwriters give up, and what you can do to (a) see them coming, and (b) do something about them!
BrevityTV Introduces LeanIn's Social Video Features in 'Lesbian Alien Sexbot'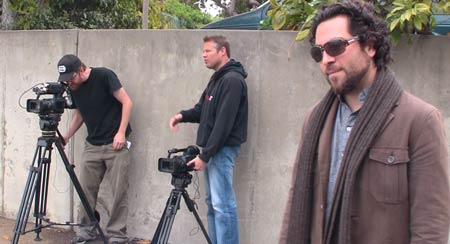 Los Angeles, CA - BrevityTV (www.brevitytv.com) is proud to announce a new partnership with Leanin.com that will feature Brevity's sketch comedy webisodes loaded with social features, enabling viewers to share the comedy episodes with extra social and interactive features.
Now in its fourth season of sketch comedy, Leanin's online video player will provide custom branding for brevityTV's online videos along with a seamless social experience. The technology will be introduced on the September 5th episode, "Lesbian Alien Sexbot", and subsequently rolled out into the previous seasons this fall. Among its most touted features is the ability to create 'notches' where viewers can 'like' a moment or scene within a sketch video. Viewers can also comment on the scene and share it via email, Twitter and Facebook.
"I'm personally really excited about the brevityTV.com and LeanIn partnership.  I know I'm looking forward to being able to share all the hilarious and immature scenes that brevityTV produces with all of my Friends on Twitter and Facebook.  It will also be a lot of fun to see how my friends react at various segments of the shows.  LeanIn works best on content that is engaging and content that inspires conversation, so we're expecting great results on brevityTV.com", says Luke Davies, President of Leanin.
BrevityTV's collection of comedy sketches seems to be a perfect fit for its growing popularity among online viewers. Executive Producer Deron Sedy says, ""The thing we care most about at brevityTV.com is getting our quirky wit in front of gajillions of people, so as to cause more laughter, and thereby bring about world peace.  We're glad to team up with LeanIn.com because their social sharing features should bring that world peace one step closer."
As brevityTV heads into its new season of comedy sketches this fall, the social experience of promoting and interacting with the new episodes is propelling its growth in the internet universe.
About BrevityTV
BrevityTV (www.brevitytv.com) is a production company offering comedic commercials, industrials, and viral campaigns.  They also publish sketch comedy at brevityTV.com, and keep Martians from invading Earth.  BrevityTV is proud to have kept the Earth Martian-free since 2007.
Carrie Fisher mocks herself in HBO's 'Wishful Drinking'
Carrie Fisher is not your typical weight loss spokesperson: she's unwilling, acerbic, self-deprecating. But her inclination toward sarcasm -- rather than spandex -- makes the new face of Jenny Craig something of a breath of fresh air.
While she was once the ingenue in a metal bikini, Fisher is now the gracelessly self-mocking lead in the HBO special, "Wishful Drinking," based on her successful memoir.
The show (which received two Emmy nods) chronicles her return from the brink of alcoholism and her campaign of blunt, yes-this-effing-hurts self-improvement.
While she defeated her addictions, Fisher realized that she had another problem: At 180 pounds, she was dangerously overweight.
'Star Wars' Tweaked Darth Vader Scene Sparks Outcry
George Lucas continues to make tweaks to Star Wars, and fans continue to be upset about it.
Such was the case Thursday when it was revealed that Lucas has added audio to Darth Vader in a scene in Return of the Jedi where he commits his final redemptive act by throwing the evil Emperor Palpatine down a shaft. In the original version, Vader was silent, but now he cries out "No!" reflecting the end of Revenge of the Sith. (Watch the altered scene below.) Sith is the third film in the overall chronology but the last one to be released.