Video Color Correction For The Subtext-Conscious Editor
As a standard process within most edits, video color correction is far more than a means to fix exposure issues or even up tones between shots, although that is, of course, its most obvious application. It is important to remember that coloration can and does affect mood, theme and other subtextual elements of the storyline. It is also a means of attracting the eye to important props, characters and other visual elements. Most people realize that the artful handling of composition, light and motion can elicit emotive and psychological reactions from the viewer, what most people miss, however, is that the clever manipulation of color can do the same.
Good directors of photography must maintain a careful balance of aesthetic convention, shooting style and technical considerations with the piece's symbolism, theme and narrative. Every element must harmonize with the next in order to support the director's vision, the production design and the script. Good video editors must do the same with the elements of their craft: pace, continuity, movement, audio and color. Content, director-instruction and overall quality are the just a few important factors to consider in the decision-making process.
Perfect Teeth Not A Requirement for Good Acting
So if you have crooked teeth, should you be discouraged about pursuing an acting career? Sure, the pitfalls are that casting agents will tell you to fix your teeth. But for some actors, messed up teeth has been a blessing.
Chew on this.
Steve Buscemi just earned a lead actor Emmy nomination for his role as mobster Nucky Johnson on HBO's "Boardwalk Empire," which scored 18 nominations overall Thursday. But he says he'd never have gotten to where he is now if he'd heeded early advice to change his smile.
"I've had dentists who have wanted to help me out, but I say, 'You know, I won't work again if you fix my teeth,'" Buscemi, who also won a Golden Globe last year for the role, said during The Hollywood Reporter's recent drama actors roundtable.
Buscemi isn't the only one who has refused to correct his pearly whites.
Mad Men and Mildred Pierce top Emmy Award Nominations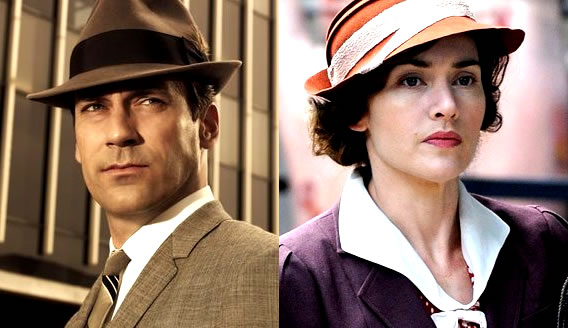 HBO's "Mildred Pierce" leads with 21 nominations in Thursdays 63rd Primetime Emmy Awards, followed by the AMC drama "Mad Men," a three-time best drama winner, with 19.
HBO's new entry "Boardwalk Empire" followed with 18, including one for best dramatic series.
"Modern Family," received the next most nominations, and the most for any comedy, at 17. They included four in the supporting comedy actor category for Eric Stonestreet (last year's winner), Jesse Tyler Ferguson, Ty Burrell, and the previously overlooked Ed O'Neill. Burrell and the other members of the ensemble have campaigned for an O'Neill nomination.
Netflix price hike angers users, some drop plan
Some Netflix customers called it a slap in the face. Others a betrayal. Many threatened to drop the movie service.
On Wednesday, many of them vented on Twitter, Facebook and elsewhere, seething over Netflix Inc.'s decision to raise its prices by up to 60 percent for the millions of subscribers who want to rent DVDs by mail and watch movies online.
"I can definitely afford it but I dropped them on principle," said Joe Turick, a technology engineer in Monroe, N.C., who has been with Netflix for about a decade, cancelled his subscription within an hour of learning of Tuesday's price changes and plans to try competitors.
By Wednesday afternoon, more than 40,000 people had responded to a post on Netflix's Facebook page announcing the change, with some saying they would switch to rivals such as Hulu.com's paid service and to Redbox's DVD-rental kiosks.
Cinefantastique Spotlight Podcast: John Carpenter's The Ward & Zookeeper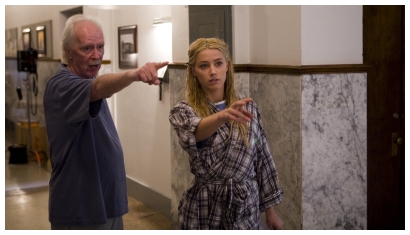 How does a review show handle the situation where two, exciting, soon-to-be-classic films are released on the same weekend? We don't know, but this weekend we saw the release of John Carpenter's The Ward and the Kevin James comedy, Zookeeper, so we decided to cover both of those instead.
Granted, there's not much of a correlation between a horror film in which a young woman (Amber Heard), having been involuntarily imprisoned in a psychiatric hospital, must protect herself and her fellow inmates from the malevolent force seeking their destruction, and an Adam-Sandler-backed laugher in which James is schooled in the ways of love by a clutch of chatty zoo animals, but Cinefantastique Online's Steve Biodrowski, Lawrence French, and Dan Persons are game lot, and always ready for a challenge. At the very least, they consider whether John Carpenter's long absence from the feature screen is one of the more regrettable flaws of the present film industry, and whether James might want to consider his own extended hiatus.
PRODUCTION NOTE: Larry was having some problems with his microphone, which we attempted to fix -- not particularly seamlessly -- in post. We hope to have this patched up by next week's show.
Click on the player to hear the show.
Get a deeper insight into indie and genre film at mightymoviepodcast.com
Movies Go Social via The Inside Experience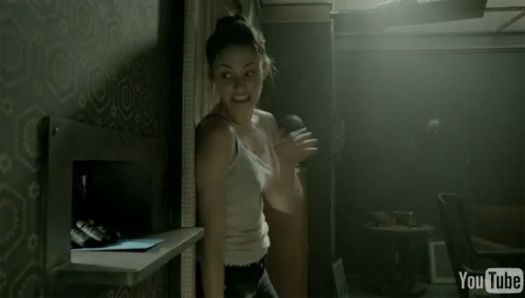 You've laughed, cried, clapped and yelled at the screen before; movies are a pretty social experience. But doing so in a theater, or even in your own living room might get you some odd (and perhaps angry) looks. Now one production is taking the social concept a step further, and inviting viewers to participate in the actual film via Twitter and Facebook as it unfolds episodically.
Backed by Intel and Toshiba, Inside is a new film by D.J. Caruso, director of Disturbia and I Am Number Four. It stars Emmy Rossum (Showtime's Shameless) and well, possibly you. Rossum plays Christina, and judging by the film's trailer, you are going to be responsible for her character's fate.
According to the film's Facebook page, "Christina is a tough, resilient, 24-year old girl. She's been trapped in a room. She has a laptop. And she needs your help to get out."
Schwarzenneger to return to movies with 'Last Stand'
Arnold Schwarzenegger said he'd be back.
A spokesman for the former governor says Schwarzenegger will return to acting with a role in the Lionsgate film "Last Stand." The role represents Schwarzenegger's first major movie role since 2003?s "Terminator 3: Rise of the Machines." He made a cameo appearance in last summer's "The Expendables."
Spokesman Daniel Ketchell confirmed Tuesday that Schwarzenegger will appear in the Western flick but did not elaborate. Lionsgate declined comment Tuesday.
Schwarzenegger said in May that he was putting his acting projects on hold after disclosing that he fathered a child with a family housekeeper and splitting with wife Maria Shriver.
Javier Bardem and Ralph Fiennes possible casting for new Bond 23rd film
The NYT reports, from an original story in London tabloid the Daily Mail, that Ralph Fiennes and Javier Bardem are joining Sam Mendes' Bond 23 (when will they give us a real title?), starring Daniel Craig as Agent 007, Naomie Harris as Miss Moneypenny and Judi Dench as M. A Sony spokesman has "no comment on rumors," and offers no expectation of a forthcoming or imminent official announcement. The movie is set to open November 9, 2012.
Film school graduates flood movie industry
One after another, touring groups of prospective students and their parents stopped late last month to pose for pictures around a bronze Douglas Fairbanks, who wields his sword in a courtyard fountain here at the University of Southern California's School of Cinematic Arts.
Not even the imposing Mr. Fairbanks,a founder of the film school, has kept newcomers at bay. But another round of graduates is now hitting the street, in greater numbers and perhaps better equipped than ever before, to pursue opportunities that have seldom been more elusive, at least where traditional Hollywood employment is concerned.
As home-entertainment revenue declined in the last five years, studios reduced spending on scripts from new writers, cut junior staff positions and severely curtailed deals with producers who once provided entry-level positions for film school graduates. Yet applications to university film, television and digital media programs surged in the last few years as students sought refuge from the weak economy in graduate schools and some colleges opened new programs.
Christian Bale headlines Zhang Yimou's $100 mil new Chinese epic movie
Zhang Yimou, the preeminent movie director working in China today. His movies commands top budgets; he produced the Beijing Olympics Opening Ceremony which he co-produced with Steven Spielberg. He also directed a slew of vanguard Chinese movies including Ju Dou, Raise the Red Lantern, Hero and House of Flying Daggers.
Now Zhang has erected a massive city and full-scale Cathedral in Beijing for his latest period epic, Heroes of Nanking, which recently wrapped principal photography after 164 days. The movie cost $100 million, more than John Woo's Red Cliff, Zhang's usual producer/financeer Zhang Weiping revealed in Cannes. Movies on the scale of Nanking, as Red Cliff proved, can make their budgets back in Asia alone.
The movie stars Christian Bale as an American priest , who rather than leave Nanking, shelters a group of prostitutes as well as young schoolgirls in his church during the intense six week 1937 battle between the Chinese and Japanese.