Sherlock Holmes 2 movie sequel filming in London
Sherlock Holmes 2 - the sequel to 'Sherlock Holmes' - is currently shooting in London with the original cast of Robert Downey Jr. and Jude Law back for another adventure, pitted against Holmes nemesis Dr. Moriarty (Brad Pitt reportedly passed on the role).
On a frigid November morning, as steam rises from train engines burning fiery coal in a century-old rail depot, Sherlock Holmes is in trouble. Blood on the side of his face, he's fleeing the staccato rat-tat-tat of 19th century gunfire. Fortunately, his loyal friend Dr. Watson is at his side, as is a rifle-toting gypsy. Outside the depot, Watson and Holmes fumble with their guns to get a bead on their assailants, but the gypsy woman, Sim, beats them to it. She confidently cocks her rifle. Boom! A man falls dead. On beat, Watson and Holmes look at each other with surprise.
The sequence, unfolding on the grounds of the train museum in Didcot, 40 minutes by rail from London's Paddington Station, is from the as-yet-untitled sequel to director Guy Ritchie's 2009 "Sherlock Holmes" starring Downey Jr. as Sir Arthur Conan Doyle's signature literary creation and Law as Watson. The new film is due for release in December of this year.
'The Dark Knight Rises' cast takes shape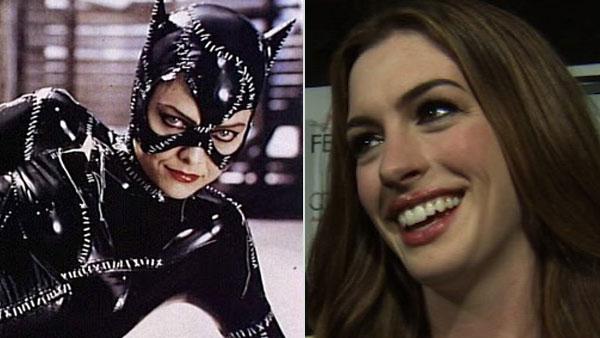 The latest Batman movie - 'The Dark Knight Rises' - is beginning round out its cast. It has been confirmed by the studio Warner Bros that Anne Hathaway has been cast as Catwoman and Tom Hardy as the villain Bane.
Hathaway, 28, rose to fame as the star of Disney's "Princess Diaries" films and the movie "The Devil Wears Prada. She recently appeared in the R-rated romantic comedy "Love and Other Drugs" with Jake Gyllenhaal, whose sister Maggie played the love interest of Batman's alter-ego, Bruce Wayne, in the previous film, "The Dark Knight."
"I am thrilled to have the opportunity to work with Anne Hathaway, who will be a fantastic addition to our ensemble as we complete our story," Nolan said in a statement provided by Warner Bros. Pictures. "I am delighted to be working with Tom again and excited to watch him bring to life our new interpretation of one of Batman's most formidable enemies."
'Rise of the Apes' movie looks to rise later this summer
'The Rise of the Apes' movie is shaping up to be one of the most anticipated movies of summer 2011. Starring James Franco as the lead protagonist, it also stars Andy Serkis, John Lithgow, Freida Pinto, Brian Cox and David Hewlett along with 'Harry Potter' actor Tom Felton.
It's a big summer for Felton, who says goodbye to Hogwarts with the July 15 release of "Harry Potter and the Deathly Hallows – Part 2." But a few weeks prior to that big event, Felton is getting into some serious monkey business with "Rise of the Apes," the Fox film that is enjoying renewed interest in Hollywood with the strong advance word on its Weta Digital visual effects and the career heat around leading man Franco.
Felton, for one, is pulsing with excitement about director Rupert Wyatt's "Apes" revival, which takes place in contemporary San Francisco and sets the stage for the events that took place in "Planet of the Apes," the 1968 sci-fi classic that yielded four sequels as well as Tim Burton's2001 remake and several television shows.
Felton also could not say much about the movie: "I have to be careful here because they haven't given me a clearance to divulge the entire plot — as much as I'd like to. I can tell you it's a great story. I'm amazed, really, that they didn't do [the original films] in this order and start with this modern-day story. It seems logical to start with this story and then go forward from there. But here we are; they've come back and done this interesting story. It essentially follows one particular ape. The story follows this one ape as he ends up in a primate facility, a facility where my character works. Needless to say, I'm not that keen on the monkeys at my facility. I'm not the most pleasant person they've ever come across in their life. I show this one particular ape that there is a dark side to humans, and I'm not very nice. And that leads to a backlash …"
The film will be released on June 24, 2011.
QUOTED FROM: FROM LA TIMES
'Social Network' movie wins big at Golden Globe awards
"The Social Network" apparently has lots of friends among the Hollywood Foreign Press Association. The Facebook tale won four prizes Sunday night at the association's glitzy, annual celebration of movies and TV — the Golden Globe awards — including best film drama and director.
Among TV winners, "Glee" topped the list with three prizes: best comedy and supporting-acting prizes for Jane Lynch and Chris Colfer. "Boardwalk Empire" won two, for best drama and dramatic actor for Steve Buscemi.
David Fincher, directing winner for "The Social Network," said he thought it was strange when the script came to him, because he usually makes dark character studies about misanthropes or films about serial killers (such as "Seven" and "Zodiac").
First Look at the new Spider Man
Andrew Garfield (from 'The Social Network') is the new Spiderman, due out in release in 2012.
As DVD Sales Drop, Hollywood Finds a Nimble New Revenue Stream — Old Movies
With the DVD market in free fall, Hollywood studios are getting creative about finding new ways to pump up the home-entertainment dollar.
Now you can have a custom-made copy of Anne Bancroft's "The Pumpkin Eater" or Noel Coward's 1933 Best Picture winner "Cavalcade."
Over the last year, MGM, Warner Brothers, Sony and others have begun to offer obscure, previously unavailable movies via DVD-on-demand and streaming. For a fee of approximately $20, many of the major studios will now burn select titles to disc
MOVIE TRAILER: 'The Other Woman' starring Natalie Portman
Singapore rises as media capital of Asia
If it seems like you've been hearing an increasing amount about Singapore, it is not a coincidence. The Republic of Singapore, an island and islets between Malaysia and Indonesia, is serious about becoming the center of media activity in Southeast Asia, and is investing heavily in achieving this goal.
Singapore has set aside funds, roughly $770 million for R&D and $391 million, to develop media in order to built its interactive and digital media sector, including; games, animation, visual effects and the creation of digital content. The aim is to develop a local talent pool, attract businesses, and build an infrastructure.
Movie shot on Flip camera gets distribution deal
Movies are nowadays being shot on  all kinds of video cameras.
Yesterday we told you about a Korean director who had shot the world's first feature film on an iPhone.
Today, David Guy Levy not only shot an entire feature, A Love Affair of Sorts, on a flipcam, but has gotten distribution for it.
Shooting a picture is one thing. Getting distribution is another. But this movie takes the cake.
Keifer Sutherland's next series will debut on Hulu
Kiefer Sutherland, internet star? That's the plan: EW has learned exclusively that Sutherland will follow up his critically-beloved run on 24 with a web series that'll bow on Hulu this March. Dubbed The Confession, the 10 five-to-seven-minute webisodes will feature Sutherland as a hitman who has a theological discussion with a priest (John Hurt of Harry Potter and the Deathly Hallows) about why his victims deserved to die. The series, which was written and directed by Brad Mirman, ends with one helluva twist.
"It came about in such a different way," Sutherland tells EW exclusively. "I was meeting a couple friends of mine, who wanted to introduce me to Chris Young (of Digital Broadcasting      Group). I know so little about the internet, but that's what a lot of friends do for work. Most of that stuff being produced for the internet is comedy, very much like Jackass kind of material, which is great but didn't appeal to m