Angelina Jolie Casts Bosnian Actress To Lead Her Directorial Debut
Angelina Jolie has cast a little-known Bosnian actress as the lead in her directorial debut.
Snow star Zana Marjanovic, 27, will front the untitled wartime love story.
The actress tells the Associated Press she's very excited about the prospect of working with a "great actress and humanist" like Jolie.
The Oscar winner hopes to start shooting the film later this year in Hungary and Bosnia.
Actress Michelle Williams Used Screaming To 'Escape' From Emotional Sex Scenes
Actress Michelle Williams turned to an unusual form of therapy after filming "toxic" sex scenes with Ryan Gosling for their new movie Blue Valentine - she would scream out the window as she drove home each night.
The Brokeback Mountain actress reveals she struggled through the emotional shoots on the romantic drama and needed to release her pent up feelings to "escape" from the gruelling production.
She tells W magazine, "We never rehearsed anything, and those were really dark days. We shot the beginning of our relationship first, and it was fun and alive. Then we did the sex scenes and it was... toxic. Ryan and I had stopped relating to each other as Ryan and Michelle. Those scenes took forever.
"I had a long drive from set to home each night, and I would roll down all the windows and turn up the music as loud as I could and hang my head out the window like a dog and scream. It was my escape."
Rob Zombie To Resurrect Salem's Witches In New Horror Movie
Heavy rocker Rob Zombie has signed on to direct another horror movie - with the team behind cult film Paranormal Activity.
The former White Zombie frontman will direct his own script in a film about the resurrection of the witches of Salem, Massachusetts, who were executed for sorcery 300 years ago.
Lords of Salem will be Zombie's fifth feature film as writer and director - his past successes have included The Devil's Rejects and the Halloween remake.
He will team with Haunted Movies executives Jason Blum, Steven Schneider, and Oren Peli - the team behind 2009 box office phenomenon Paranormal Activity - for the project, which will be set in modern-day Salem.
Director Martin Scorsese Snubbed Boardwalk Empire Offers
Director Martin Scorsese almost passed on the opportunity to produce the new HBO hit TV series Boardwalk Empire - until Mark Wahlberg convinced him to reconsider.
The period-piece crime drama, starring Steve Buscemi, debuted in America on Sunday to rave reviews and big ratings.
But Wahlberg, Boardwalk Empire's co-executive producer, admits convincing the veteran director to get involved wasn't easy.
He tells the New York Post, "I'm actually responsible for this TV series. It started when I read the book. I thought it was great. I immediately called Scorsese. I knew this was his vehicle. He wasn't interested. I said, 'Marty, you have to read this. Gangsters, drama, your kind of thing.' I kept at it. I never let up. Finally, he read it and loved it... I convinced him."
And Wahlberg insists Scorsese hasn't looked back since: "Now he says, 'It makes me feel I'm back in the 1970s.'"
Acting and Voice Coach Coaxed Ryan Reynolds Through Panic Attacks
Ryan Reynolds has publicly thanked a smooth-voiced acting coach for helping him control panic attacks while he was locked in a coffin on the set of his new movie.
Warner Loughlin voices various telephone roles in Buried and came to Reynolds' assistance in between takes when The Proposal star's confined space started to freak him out.
And now Reynolds insists he doesn't know what he'd have done without her.
He says, "I was enclosed in there and I had my moments of utter panic that were soothed in different ways. There were times when I couldn't get in and out of the coffin with any kind of ease so I just had to stay in there with 50, 60, 70 pounds of wood pressing against me, so I started to have a moment of panic.
"One woman was playing all the roles on the other end of the phone, so I had a microphone very close to my chest and she would hear a panic attack starting because she could hear my heart rate accelerating when we weren't shooting.
"She would talk to me about wide open spaces, meadows, trees and esoteric stuff that would just chill me out and allow me to keep doing the job. I'm a big guy, so I tend to lean a little bit more towards claustrophobia than most."
Roger Rabbit Sequel Perplexes Bob Hoskins
So there's a sequel to 'Who Framed Roger Rabbit'? What the wabbit?
Although he has agreed to reprise his role in Robert Zemeckis's planned sequel to Who Framed Roger Rabbit?, Bob Hoskins has expressed his reservations about what he says is Zemeckis's intention to use "performance capture" animation for the human characters. In an interview with today's (Wednesday) London Daily Telegraph, Hoskins said, "The format they want to do is the same as we did for A Christmas Carol. The thing is, it looks like a cartoon, so how do you put a cartoon in the middle of a cartoon? I can't figure out how they are going to do it."
Zemeckis himself has said that he plans to keep the cartoon characters 2D and the human ones 3D. "I couldn't dimensionalize Jessica even if I wanted to because she doesn't have a nose," he remarked in an interview with MTV News last year. Otherwise, he has said little about the project, except that it is in the works and that the writers of the original Roger Rabbit have written a script. "I don't know how it's going to work out," Hoskins told the Telegraph, noting that the charm of the original movie was in the way the cartoon characters seamlessly interacted with the humans. Zemeckis's current scheme to turn both into cartoons, he remarked, seems "a bit soft." »
Oscars Bosses Announce Steve Bass As Production Designer
Top production designer Steve Bass will be responsible for the look of the Oscars in 2011 when he makes his debut at the Academy Awards.
Bass has previously created the look of the 62nd Primetime Emmy Awards, the We Are One: The Obama Inaugural Celebration event at the Lincoln Memorial and the 2004 Democratic National Convention.
He has won Emmy Awards as the art director of the Centennial Olympic Games: Opening Ceremonies and the 47th Annual Grammy Awards.
MOVIE TRAILER: 'The Fighter' starring Mark Wahlberg and Christian Bale
Daniel Craig's early role in BBC drama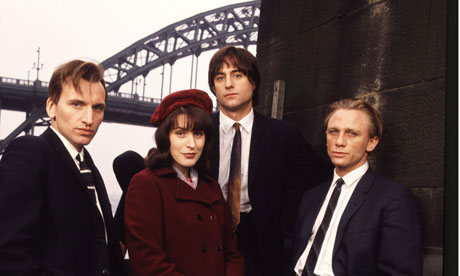 Long before he became Bond, Daniel Craig gave a raw, emotional performance as Geordie, a young man falling apart in Our Friends In The North. In an early scene set in 1964 he's so distressed by his alcoholic father that he headbutts him, cries his heart out and then hitchhikes to London to become Malcolm McDowell's dapper henchman. By the late-60s he looks bizarrely like a member of Slade, and by the time Thatcher has her hold on Britain in the 1980s, his world has fallen apart.
A desperately dramatic storyline in its own right, it's only one strand of a series of epic, multilayered stories in Our Friends. The 623-minute drama, which follows the lives of four friends from Newcastle between 1964 and 1995, is as moving now as it was when it was first broadcast in 1996. It's gritty and political, it's sad and serious but it's also sexy and funny. It sucks you in right from the start and, like all the best box sets, it's ridiculously addictive.
Digital movie production changes and sheds old movie jobs
With the digital revolution overrunning traditional delivery systems, it's clear that the century-old way of shooting movies is the next to fall.
The practice of shooting a pile of footage, farming it out to service shops, then retreating into post-production hell for six to 18 months? Soon to be a thing of the past.
Also likely a thing of the past: the jobs of the thousands of professionals working at outside post-production service firms like Deluxe and Technicolor, which have traditionally processed dailies, transferred tape and handled myriad other Old World tasks.