Hulu unveils $9.99 premium service
Hulu, the online TV and film portal, has finally rolled out a subscription service, according to a note posted to the site on Tuesday.
For $9.99 a month, subscribers of Hulu Plus get access to a full season's worth of their favorite TV shows--and even past seasons in some cases--and "not just a handful of trailing episodes" that the free-version of Hulu offers, according to CEO Jason Kilar, who wrote the note.
Hulu Plus marks the first time the service has charged for content and it's arrival has been long anticipated. Supported by Disney, NBC Universal, and News Corp., some of Hulu's backers, especially News Corp. Chairman Rupert Murdoch, have been pushing for a paid service for over a year. The word out of Hollywood for a long time is that advertising just doesn't provide the kind of return that the studios and networks are accustomed to generating. Apparently, when it comes to premium TV shows, the ad-supported model works for television but not for the Web.
Tom Cruise fails at box-office – career slide begins?
This past weekend, Tom Cruise's newest movie, Knight & Day, bombed at the box office bringing in only $20 million. Heralded as the star's comeback, it ranked third behind Adam Sandler's Grown Ups and Pixar's Toy Story 3 in its second week out.
On it's face, the weak opening sure makes it look like Tom Cruise's days as one of Hollywood's biggest movie stars could be numbered. His last big film was Mission: Impossible 3 which opened in May of 2006 with a $47 million weekend. The movie went on to earn $400 million.
But after that a string of publicity misfires set Cruise back. His couch jumping and Scientology spouting left many feeling that the star had gone over the edge and was unlikely to comeback.
Bollywood loses $44 mil in first half of year
Bollywood has had a rough half-year,  with industry estimates pegging losses at about 2 billion rupees ($44 million) given a series of major failures with few hits making up for the deficit.
Among the approximately 70 films released in the first six months, the two much-hyped and big-budget titles of the year, "Kites" and "Raavan," performed below expectations, with analysts estimating that between them, both films lost about 1 billion rupees.
However, there was some cheer with the runaway success of UTV Motion Pictures' political drama "Raajneeti," which grossed over 1 billion rupees in its first 10 days while confirming the boxoffice power of its lead actor Ranbir Kapoor.
Director Taylor Hackford on Love Ranch — and Directing Wife Helen Mirren's Sex Scene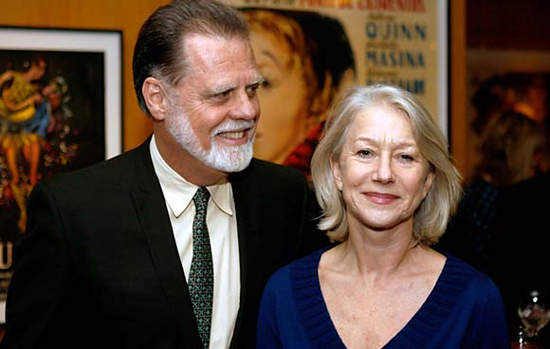 It only took 25 years after their first, small collaboration, but director Taylor Hackford finally found the right film to make with his wife Helen Mirren. And to think: Love Ranch, which opens next week, almost didn't open at all. The fictionalized story of the first legal brothel in the U.S. — and the crimes of passion (and otherwise) that helped sink it in 1977 — was in distribution limbo for most of 2009, ultimately breaking out earlier this year. Along with it come Mirren as a no-nonsense Nevada madam and Joe Pesci (in his first starring role in more than a decade) as her bare-knuckled pimpresario husband.
Joining them is Spanish actor Sergio Peris-Mencheta in a striking English-language debut as the boxer who comes between them, while Gina Gershon, Taryn Manning, Scout Taylor-Compton and Bai Ling chip in as part of the chorus of Love Ranch whores making history in the Nevada desert. Movieline caught up with Hackford in New York, where the Oscar-winner talked about coaxing Pesci out of retirement, the lucky stroke of finding Peris-Mencheta, and the challenges of directing the "best actress in the world" — particularly when you're married to her.
Steve Carell to exit 'The Office' TV show
It looks like Dunder Mifflin will indeed be Scott-free this time next year.
Steve Carell is reaffirming his desire to leaveThe Office and his role as Michael Scott at the end of the hitcom's upcoming seventh season. "I think [season] 7 will be my last year," he told us over the weekend at the premiere of his new animated flick, Despicable Me. "I want to fulfill my contract. I think it's a good time to move on."
Asked if there's anything that could change his mind, Carell said, "No. I just want to spend more time with my family."
Back in April, Carell made headlines when he announced in a BBC radio interview that next season "would probably" be his last on The Office. And he's not backtracking!
(From EW)
Native American actors see new image in "Twilight"
It took "Twilight" to do what Hollywood's major studios have struggled with for over a century -- treat Native American teenagers like normal kids.
No leather loincloths, no hair feathers, no dancing around campfires, no tales of woe on reservations.
Sure, "The Twilight Saga: Eclipse," which opens in theaters on Wednesday, is pure fantasy with its tale of romance among vampires and the werewolves who sometimes stalk them, but for the actors of the "Wolf Pack" their roles seem very real.
Peter Jackson in negotiations to direct 'The Hobbit'
Almost one month after Guillermo del Toro dropped out of directing "The Hobbit," "Lord of the Rings" director Peter Jackson is in talks to helm the two films in the franchise. While we wait for the studios involved or Jackson's manager to confirm, there are lots of questions that remain before "The Hobbit" can actually begin production, let alone reach the big screen.
First, MGM, the debt-laden studio that owns 50 percent of the rights to the classic tale, is facing an uncertain future. The studio failed to attract bids high enough to satisfy its creditors during an auction earlier this year, and the latest plan may see Spyglass Entertainment running the studio in a prepackaged bankruptcy, according to the Wall Street Journal.
Talks are continuing and no decision has yet been made, though some resolution is needed before the studio's debt waiver expires in mid-July.
How To Make 'Entourage' As a Movie
Many have asked HBO's 'Entourage' be turned into a movie epsecially it's avid fanbase.
If you scoured the globe, I'm not sure that you'd find a more avid fan of Entourage than yours truly. To me, it's the rare series that's highly praised and, in an odd way, underrated. (By now, of course, it's also become fashionable to knock it.)  The praise, which usually comes thick and fast (just like the show), is for all the right reasons. So, on occasion, is the criticism (like the spitballs hurled at the fact that the entire last season was organized so that the fate of nations seemed to be hanging on whether E would ever win Sloan back). So why would I say that Entourage is underrated?
South Dakota a hidden treasure for filmmakers
South Dakota has a unique look -- from tall prairie grasses to the Badlands to the Black Hills.
It's a look that filmmakers say more people should take advantage of for movie scenes.
Some already are - local filmmakers are sharing their movies at three festivals in the state and traveling to other festivals and winning awards.
But, still, no one has taken advantage of state incentives to film in South Dakota.
NEW MOVIES IN THEATERS – June 25, 2010
GROWN UPS
Director: Dennis Dugan
Stars: Adam Sandler, Salma Hayek, Kevin James
Studio: Columbia Pictures
The Plot: After their high school basketball coach passes away, five good friends and former teammates reunite for a Fourth of July holiday weekend.
KNIGHT AND DAY
Director: James Mangold
Stars: Tom Cruise, Cameron Diaz, Peter Sarsgaard
Studio: Twentieth Century Fox Film Corporation
The Plot: June Havens (Diaz) finds her everyday life tangled with that of a secret agent (Cruise) who has realized he isn't supposed to survive his latest mission. As their campaign to stay alive stretches across the globe, they soon learn that all they can count on is each other
RESTREPO
Director: Tim Hetherington, Sebastian Junger
Studio: National Geographic Entertainment
The Plot: Filmmakers Tim Hetherington and Sebastian Junger spend one year with a U.S. Army platoon in Afghanistan's Korengal Valley, a Taliban/al Qaeda stronghold considered to be one of the most dangerous postings in the war.