Cinema's most shocking moments

50 years ago, it took Alfred Hitchcock 6 days, 77 camera setups and one very wet Janet Leigh to create the most iconic moment in horror cinema. The shower scene in 'Psycho' scandalised the filmgoing world: a fusion of sexual titillation and extreme violence which would irrevocably alter the boundaries of what's acceptable on screen. For better or worse,  filmmakers have since attempted to outdo one another in graphic depictions of sex and horror: in this article, we discover what – if anything – cinema's foremost artists and experts find most disturbing.
In This Digital Age, What Is A Filmmaker?
Isn't it curious in this age where more moving images get created and distributed digitally that there is this group of people who still call themselves "filmmakers"?  It seems a term that is so archaic, so analogue, so yesterday's news. But is it any of these?
I think filmmakers look for three opportunities that truly define them as filmmakers.
Actors give away TV show secrets on Twitter
Actors in Hollywood have been getting into trouble with studio executives for inadvertently giving away episode details and secrets from behind the scenes via Twitter.
NEW MOVIES IN THEATERS – March 26, 2010
HOW TO TRAIN YOUR DRAGON
Director: Dean DeBlois Chris Sanders
Stars: Jay Baruchel, Gerard Butler, Christopher Mintz-Plasse
Studio: Paramount Pictures
The Plot: Young Viking Hiccup Horrendous Haddock the Third (voice of Jay Baruchel) is sent to the Isle of Berk in the North Sea, where he is to subdue a dragon as a rite of passage.
GREENBERG
Director: Noah Baumbach
Stars: Ben Stiller, Greta Gerwig, Jennifer Jason Leigh
Studio: Focus Features
The Plot: A jobless New Yorker (Stiller) moves to Los Angeles in order to figure out his life while he housesits for his brother. He soon sparks with his brother's assistant (Gerwig), a musician and somewhat of a lost soul herself.
CHLOE
Director: Atom Egoyan
Stars: Julianne Moore, Amanda Seyfried, Liam Neeson (
Studio: Sony Pictures Classics
The Plot: A doctor (Moore) hires an escort (Seyfried) to seduce her husband (Neeson), whom she suspects of cheating, though unforeseen desires place the family in dange
HOT TUB TIME MACHINE
Director: Steve Pink
Stars: John Cusack, Rob Corddry, Craig Robinson
Studio: Metro-Goldwyn-Mayer (MGM)
The Plot: Four guy friends, all of them bored with their adult lives, travel back to their respective 80s heydays thanks to a time-bending hot tub.
The challenges of making a musical biopic today
It's not unusual for things from the underground (whatever that is anymore) to percolate up to the mainstream without their creators getting the mainstream recognition they deserve: Brakhage and Derek Jarman become music videos, XTC becomes Franz Ferdinand and so on. But what happens if you keep the cycle insular?
Right now, we're awash in musical biopics about bands and musicians whose fame, in their day, was hardly overhwhelming. "The Runaways" focuses on a band whose first two albums actually peaked at #194 and #172 on the Billboard charts. The best-selling album of 1979 was Billy Joel's "52nd Street," but you may hold your breath in vain for a Joel biopic. Joy Division's "Closer" didn't even come close that year, which is presumably why we've been treated to two fictional depictions of Ian Curtis in the last decade (supporting player in "24 Hour Party People," lead player in "Control").
Amanda Seyfried on making a romantic-comedy: They pay a lot
Even fully furnished, a hotel room is a drab backdrop for an interview. If the only objects in the room are two chairs facing each other in the middle of the carpet—as was the case when I met Amanda Seyfried—it's no longer an interview but an interrogation. But all those right angles and dim, barren surfaces only emphasized the way light reflected off Seyfried's cartoonishly feline eyes and rolled along her curves all the way down to her knee, upon which my tape recorder rested.
That's just the glowing allure Atom Egoyan exploits in Chloe, which comes out on Friday. In his borderline campy but no less enjoyable remake of the erotic French thriller Nathalie, the Canadian director cast Seyfried as a high-class prostitute hired by a woman (Julianne Moore) to test the fidelity of her husband, played by Liam Neeson. Though the film will be seen in its theatrical run only in select cities, individual clips—and here I'm thinking specifically of ones where Seyfried and Moore get it on—are bound to proliferate across the Internet to, well, less discerning audiences. Too bad, because it's the 24-year-old's most compelling and multi-faceted performance yet.
Why so many colleges are teaching HBO's 'The Wire'
Among the police officers and drug dealers and stickup men and politicians and dockworkers and human smugglers and teachers and students and junkies and lawyers and journalists who populate the late, great HBO series The Wire, there is one academic. His name is David Parenti and he teaches social work at the University of Maryland, Baltimore. He is not a major character, but he appears throughout the show's fourth season—an earnest, well-meaning man defined in part by his naïveté about the inner-city kids whose lives he wants to improve.
As for Johns Hopkins, Baltimore's best-known university, it only comes up as a place where the show's police officers can get cushy campus security jobs after they retire. Academia, in other words, is not a culture that the show's creators, David Simon and Ed Burns, betray much interest in exploring.
The greatest film scenes ever shot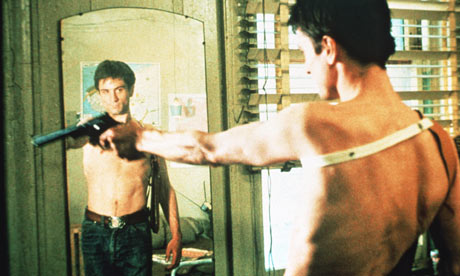 We all have film sequences that stick in our minds. Some are shared by many – such as the shower scene from Psycho – others are particular to us. Here our film critic and a panel of leading movie-makers reveal their favourites. What are yours?
INTERVIEW: Greta Gerwig on making 'Greenberg' with Ben Stiller and Noah Baumbach

For a while, it was nearly impossible to read an article about mumblecore without seeing a picture of Greta Gerwig, usually followed closely by a reference to her as the queen of the ad hoc movement. But as the wave of low-fi realism has fanned out and dispersed, Gerwig has continued to establish her place as one of the most distinctive young actresses in or out of Hollywood.
Noah Baumbach's Greenberg, in which she plays a melancholy personal assistant opposite Ben Stiller's misanthropic carpenter, is a confident step toward the mainstream, at least by the standards of, say, Baghead. For the first reel, before Stiller moves into the spacious Los Angeles house owned by his brother and her boss, Gerwig functions as the movie's temporary protagonist, and the ease with which she inhabits her character doubtless helped inspire Stiller's most nuanced performance in more than a decade. Initially envisioning herself as a playwright, Gerwig played a small role in Joe Swanberg's LOL, then vaulted to co-starring and co-writing in Swanberg's Hannah Takes The Stairs and Nights And Weekends.
More recently, she played the protagonist's pizza-scarfing best friend in The House Of The Devil, a part that culminated in one of the most memorable movie shocks in recent history. From her home in New York, Gerwig recently talked to The A.V. Club about the finer points of onscreen driving, how Baumbach is like Shakespeare, and the future of mumblecore.
Clint Eastwood eyes J. Edgar Hoover movie project
Clint Eastwood is lining up his next directing project, a biopic of controversial FBI director J. Edgar Hoover.
Eastwood is teaming with Brian Grazer and Ron Howard's Imagine Entertainment on the pic, which was initially set up at Universal, where Imagine has been developing it. Dustin Lance Black, who wrote biopic "Milk," penned the script.
Hoover was instrumental in founding the FBI in 1935 and turned it into an efficient crimefighting organization. He remained its director until his death in 1972, but his sculpted persona was already coming apart at the seams; he employed the FBI to harass political activists and used illegal methods to make secret files on leaders. Many biographies also assert the man was a closeted homosexual and cross-dresser.