'Chuck' TV show announces YouTube video contest
James Cameron and Peter Jackson discuss the future of movies
The world of filmmaking is changing drastically and to understand how the technology is being shaped and used by current filmmakers, it's often better to hear it straight from the horse's mouth.
James Cameron and Peter Jackson are the kings of the CGI world. Cameron, of course, directed Titanic, the highest-grossing movie of all time—which he says he'd make with no ship if he were filming today. Jackson was the guy behind bringing Middle-earth to the big screen in the Lord of the Rings trilogy. Now they are back with Avatar and The Lovely Bones, two of the most-hyped films of the holiday season. We asked them about their new films and how technology is changing Hollywood.
I think the simple answer is that filmmaking is not going to ever fundamentally change. It's about storytelling. It's about humans playing humans. It's about close-ups of actors. It's about those actors somehow saying the words and playing the moment in a way that gets in contact with the audience's hearts. I don't think that changes. I don't think that's changed in the last century. - James Cameron
Weinstein Co sees "Nine" losing ground at theaters
It gained early success on the awards circuit, but the star-studded musical "Nine" will likely be pulled back from hundreds of smaller U.S. cities, after disappointing box office and lackluster reviews.
After playing in 1,400 screens last weekend, the Weinstein Company, which is behind "Nine", said on Tuesday it expects the movie to play in 800-900 screens in big U.S. cities in coming weeks.
Behind the scenes – 'Avatar' takes you on the set
Hollywood actors on Broadway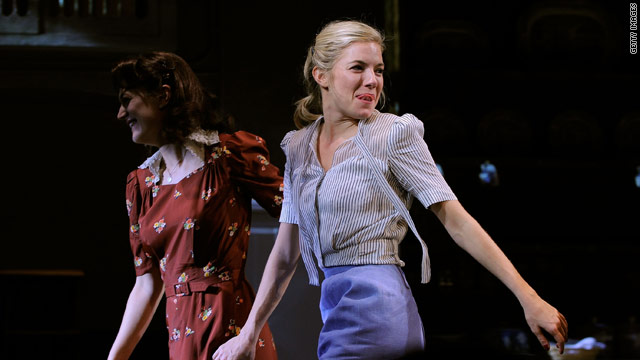 Broadway's current cast list looks more like a lineup card for the Oscars as Hollywood stars migrate east to New York City due to tougher economic times.
The roll call is a who's who of Hollywood's elite -- Jude Law in "Hamlet", Sienna Miller in "After Miss Julie", Catherine Zeta-Jones in "A Little Night Music" and Hugh Jackman and Daniel Craig in "A Steady Rain" -- all in starring roles on Broadway.
Industry insiders explain that Broadway still garners big money and it may be the answer many Hollywood actors are looking for.
iPhone movie apps to help boost DVD and Blu-ray sales
DVD sales tumbled this year as the weak economy and competition from the Internet soured consumers on buying new discs. What's a movie studio to do?
Look to the iPhone to goose sales.
NBC Universal and 20th Century Fox have launched interactive apps that tap into DVD or Blu-ray discs to augment viewing. The apps provide information about the film and stars and connect you with friends to chat about the movie while you watch.
Fox's FoxPop uses the microphone on your iPhone, or your laptop, to "hear" the audio signal from the movie you're watching, then responds with pop-ups about the movie. It also intersects with Facebook and Twitterfor movie chats.
Hans Zimmer soundtracks 'Sherlock Holmes'
Maggie Gyllenhaal Interview: Following Jeff Bridges 'Crazy Heart'
Maggie Gyllenhaal is one of those actresses whose easy charm has graced many movies yet you can't point to exactly any one movie you've seen her in. Of course, fans will know her from 'The Dark Knight' and 'Secretary'.
It may seem an unlikely matchup, but Jeff Bridges and Maggie Gyllenhaal star as romantics who have a whirlwind relationship in "Crazy Heart."
Bridges plays Bad Blake, an aging country singer still living like an outlaw, and Gyllenhaal is a budding journalist and single mom named Jean who falls for the musician during the course of two interviews. Sparks fly despite the age difference and their contrasting personalities.
Johnny Depp finally discusses stepping in for Heath Ledger in 'Imaginarium'
Like many of Terry Gilliam's films "The Imaginarium of Doctor Parnassus" almost didn't make it to the screen, but as fate would hand it three premier actors stepped in when the production was its lowest point.
Heath Ledger's tragic passing in the middle of filming could have forced "Parnassus" to remain unfinished or a shadow of what it was supposed to be, but thanks to a break in the shooting schedule and a lucky fantastical story element other actors could step in for the departed Oscar winner. Those gentleman turned out to be Johnny Depp, Colin Farrell and Jude Law.  Out of respect for Ledger, Gilliam and perhaps because they did the work for scale, all three men have stayed away from promoting or publicizing "Parnassus," but after a strong limited release opening on Christmas, two of them have spoken out for the first time about their involvement
Terry Gilliam's new movie features Heath Ledger's final role
When its young star, Heath Ledger, died mid-production in January 2008, it seemed a foregone conclusion that The Imaginarium of Doctor Parnassus, the film he was in the middle of shooting, was finished. Three weeks later, the producers announced that a trio of other stars, Johnny Depp, Colin Farrell and Jude Law, would step in to replace Ledger for part of the movie.
"Death, resurrection, transformation - transfiguration's the only word for it," said director Terry Gilliam, in an interview at the Toronto Film Festival.
The movie was rescued, but the tragedies didn't end. In April 2008, the film's Canadian producer, William Vince, was diagnosed with cancer and died, at the age of 44, just two months after shooting finished. In September, Gilliam was standing outside his favourite Soho restaurant in London when he was struck by a van, sending him flying through the air. He broke only a vertebra - third time lucky, thought the director.