Web TV Lessons Found at FIND's Indie Film Conference
I've been to a ton of panels on the Future of Web Series Production, but most of them take place at conferences like Digital Hollywood, which are dedicated to new media. On Sunday, October 11th, independent film organization Film Independent (FIND) got into the act at the FIND Filmmaker Forum with a panel entitled "Going Online: New Stories for New Media."
In the midst of a weekend filled with sessions covering the art and business of indie film, the panel gave the producers, writers and directors in attendance a look into the possibilities the smallest screen has to offer. The session was specifically focused on creating content for the web, as opposed to using the web as a means of distribution for feature films. Producer Ami Armstrong (Mr. Nice) moderated, and panelists included Jonathan Stern (Producer, Centrifugal Films), David Worthen (Sr. Vice President, Fox Digital Studio), Scott Sanders (Director, Black Dynamite) and Mike Farah (Producer, Funny or Die).
INTERVIEW: TV creators of ABC's 'Flash Forward"
As ABC finds itself up against the final, unimaginable wrap-up season of their hugely successful island tease-athon, Lost, it seems to have found a new Atlas on whom it can rest its global expectations.
The new show is FlashForward, another mysterious, sci-fi-ish thriller based on the 1999 novel by Robert J. Sawyer. Fundamentally, it entertains a scenario where an initially unexplained global blackout gives everyone on earth a sneak peak at their own futures, six months hence.
The fun starts when you ask the question, what would you do?
David S. Goyer, scripter for Batman Begins and The Dark Knight, and Marc Guggenheim, a writer on such TV shows as Law and Order, CSI: Miami and the feature X-Men Origins: Wolverine, been working, along with fellow producer Brannon Braga to answer that question.
They spoke with the Writers Guild of America, West Web site about the central question posed byFlashForward, the huge logistical challenge of writing a show with 10 reoccurring roles, and exactly how to fill the shoes of Lost.
Antichrist Director Lars von Trier Reviews His Reviews
The notoriously travel-shy Lars Von Trier beamed himself into our basement via Skype last week to talk about Antichrist (out this week), which should give you an idea of how important this film — the inspiration for countless scandalized reviews ever since its Cannes premiere earlier this year — is for the reclusive, multiple-award-winning Danish provocateur. Von Trier's films have always courted controversy and provoked accusations of misogyny, despite featuring some remarkable female performances.
Still, nothing could have prepared the film world for the explosion of outrage provoked by Antichrist, whose portrait of a grieving husband and wife's graphic psychosexual meltdown in the woods seems aimed directly between the eyes of the filmmaker's critics. We spoke with the upbeat Dane about the inspirations for Antichrist and his own depression, and even got him to respond directly to some of his reviews.
Bollywood movies a bright spot for U.S. cinema industry
Reporting from San Jose - It's 8 p.m. Friday and the historic Towne Theatre downtown is sold out. About 500 moviegoers have crowded into the three-screen movie house, paying up to $12 a ticket to watch not the latest Hollywood blockbuster but instead the premieres of three Indian movies that are opening simultaneously in India. 
Tonight's showcase feature: the Tamil action thriller "Aadhavan" starring hunk Surya Sivakumar, who enjoys rock-star status among fans known to break out in cheers when his image appears on screen.
As couples, parents pushing children in strollers and bands of young men stream into the 81-year-old theater, past the concession stand selling popcorn, mango juice and Indian fruit bread, an employee of the film's distributor is showing his gratitude. He hands out doughy sweets called laddu, wishing patrons a "Happy Diwali" in Tamil, a salutation of the Hindu festival celebrating the victory of good over evil.
"If you go to the AMC theater, they don't play South Indian movies. This is our only option," said Sudhakar Desireddy, a software engineer for Cisco Systems Inc. and a Towne Theatre regular who sometimes attends showings twice a week. "There are so many Indians here. . . . The demand here is huge.
"White Collar" TV Show Creator: "I wrote the pilot using Google Street View."
"White Collar," a new dramedy about, yup, white collar crimes, debuts on the USA Network. The series stars Matt Bomer as Neal Caffrey, a romantically jilted con man who makes a deal with FBI Agent Peter Burke (Tim DeKay) to help him solve crimes in exchange for his own (ankle bracelet-monitored) freedom.
Shot in New York City (though written and edited in Los Angeles), the show was created by Jeff Eastin (NBC's "Hawaii"), who ironically has only been to New York twice. "I wrote the pilot using Google Street View," says Eastin, who also serves as the series's executive producer. "As soon as I decided on writing a show on white collar crime, I knew it had be to be set in New York and worked off my preconceived notions of the city, which we've now beautifully brought to light."
'Black Dynamite' inspired by '70s low-budget action
"Black Dynamite," the blaxploitation spoof now arriving in theaters, has a few mistakes in it — and the filmmakers left them in, on purpose.
"We had that type of movie," said star and co-writer Michael Jai White, laughing. For example, watch closely during the shootout outside Roscoe's Chili and Donuts. "You notice the guy (driving) stops the car and starts to shoot, and the car starts rolling again because he didn't put it fully in park, so he quickly applied the parking brake and went back to shooting."
And then there's the visible boom mikes, and the guy who recites the stage directions along with his lines ... all part of the authenticity, said White, in an interview at the Seattle International Film Festival last summer. "Sometimes in blaxploitation movies, you only had one take, maybe two. If there was a mistake, you had to roll with it."
Inspired by the '70s movement of low-budget action films starring black actors and aimed at urban black audiences, the film is the tale of ultra badass Black Dynamite (yes, that's his name, and he's got theme music too), defender of smack-addicted orphans, romancer of women and avenger of his murdered brother.
Hillary Swank shares Amelia Earhart's derring-do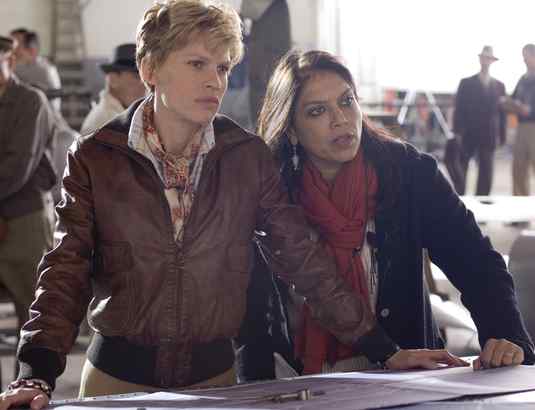 On screen, Hilary Swank incarnates the larger-than-life Amelia Earhart, pioneering aviatrix, as a towering figure. Yet in life the two-time Oscar winner, 35, is of medium height, slim as a tulip stem.
Despite a chilly hotel suite, she radiates warmth.
Clad in a cobalt-blue minidress patterned with polka dots the size of her large brown eyes, Swank improvises a cocoon out of an assistant's flannel shirt. Don't tell her stylist, but the actress is about being comfortable, not glamorous.
Amelia, directed by Mira Nair, almost certainly will earn Swank her third Academy Award nomination. It is typical of the actress' atypical roles in that it's about a character who flies against the prevailing winds.
Crowded theaters build momentum for 3-D at home
Fans scrambled to see 3-D movies such as "Cloudy with a Chance of Meatballs" in theaters this year and new 3-D televisions could soon have home viewers feeling as if they're surrounded by a spaghetti hurricane on their couches.
Next year major electronics manufacturers Sony Corp. and Panasonic Corp. plan to introduce 3-D-capable high-definition televisions for the mass market. You'll still need to wear special glasses, though.
Movie studios hope 3-D can help lift the sagging home video market the same way it has pushed up box office results.
NEW MOVIES IN THEATERS – Oct 23, 2009
SAW VI
Director: Kevin Greutert 
Stars: Tobin Bell, Costas Mandylor, Mark Rolston
Studio: Lionsgate
The Plot: Special Agent Strahm is dead, and Detective Hoffman has emerged as the unchallenged successor to Jigsaw's legacy. However, when the FBI draws closer to Hoffman, he is forced to set a game into motion, and Jigsaw's grand scheme is finally understood.
CIRQUE DU FREAK: THE VAMPIRE'S ASSISTANT
Director: Paul Weitz 
Stars: Chris Massoglia, John C. Reilly, Salma Hayek 
Studio: Universal Pictures
The Plot: A traveling freak show's most mysterious attraction recruits teenager Darren Shan as his assistant, though the young man soon finds himself used as a pawn in a battle between vampires and their deadlier counterparts.
AMELIA
Director: Mira Nair 
Stars: Hilary Swank, Richard Gere, Ewan McGregor 
Studio: Fox Searchlight Pictures
The Plot: A look at the life of Amelia Earhart (Swank), the American pilot who disappeared while flying over the Pacific Ocean in 1937 on her history-making flight around the world.
ASTRO BOY
Director: David Bowers 
Stars: Freddie Highmore, Nicolas Cage, Kristen Bell
Studio: Summit Entertainment
The Plot: Set in futuristic Metro City, Astro Boy (voiced by Highmore) is about a young robot with incredible powers created by a brilliant scientist (voiced by Cage) in the image of the son he has lost. Unable to fulfill the grieving man's expectations, our hero embarks on a journey in search of acceptance, experiencing betrayal and a netherworld of robot gladiators, before he returns to save Metro City and reconcile with the father who had rejected him
ONG BAK 2
Director: Tony Jaa Panna Rittikrai 
Stars: Tony Jaa 
Studio: Magnet Releasing
The Plot: Equipped with a unique set of skills, an orphan who has been raised by a band of thieves sets out to exact his revenge on the warlord who murdered his family.
ANTICHRIST
Director: Lars von Trier 
Stars: Willem Dafoe, Charlotte Gainsbourg 
Studio: IFC Films
The Plot: A grieving couple retreats to their cabin in the woods, hoping to repair their broken hearts and troubled marriage. But nature takes its course and things go from bad to worse.
MOVIE TRAILER: 'The Wolfman' starring Benicio Del Toro and Anthony Hopkins