Julia Roberts movie angers Hindus during filming
Julia Roberts, the Hollywood actress, has angered Hindu villagers in India who were barred from celebrating one of their most important religious festivals while she shot scenes from her new film in their temple.
Villagers hoping to celebrate the beginning of Navratri, nine days of worship of their Goddess Durga at Ashram Hari Mandir, close to Delhi, found their temple sealed by Roberts's vast security team of 350 guards, bulletproof cars and a helicopter.
The irony that the Hollywood star was there to film Eat, Pray, Love, in which she portrays a woman hoping to find herself in Hindu spirituality, was lost on local devotees for whom the temple has always been open.
Indie Filmmaking: The top 35 tips from Experts
With the indie film scene undergoing drastic changes in distribution and capital, a few experts have come with some excellent tips. Some of them are obvious or secret or genius or lame. But they came out of the mouths of the experts at the recent "Produced By" Conference during panels devoted to the financing, production, and distribution of independent films and documentaries. Here are the 35 tips compiled by a DHD stringer.
The rise of micro feature films
Time is precious these days, and audiences are busy and cynical. Who has time for the two and a half hour movie? Truth be told, plenty; the surprisingly vibrant Transformers: Revenge of the Fallen, among other 2009 summer tent poles, topped its runtime out at a number usually reserved for historical epics, Stanley Kubrick movies, and long-take black and white Eastern European films heir to Miklós Jancsó. In a film festival setting, shorter is better. Subtract CGI robots and who wants to watch anything over 70 minutes? One may say "the hardcore," but the correct response to that quip is that the hardcore would rather watch two 70 minute movies that one twice as long. Tiring of the latest Oscar-bait, white elephant, prestige film, or wanting to dabble in a festival feast without spending your entire afternoon at the movies? Than this year's New York Film Festival is for you.
Behind the Scenes with Drew Barrymore on 'Whip It'
Are Hollywood's biggest stars digging their own graves?
This past weekend, two of Hollywood's biggest stars had movies opening. Normally that would be reason for a boffo box office, but both films basically flopped.The Informant!, staring Matt Damon, earned only $10.5 million, and Love Happens, staring Jennifer Aniston, limped in with $8 million.
It would be easy to dismiss these tallies by pointing out that the big box-office winner was the animated 3-D movie Cloudy With a Chance of Meatballs, which earned $30 million. Because the weekend-event movie was a kids flick, most viewers needed their parents to take them to the theater, and those grown-ups were unlikely to go to a second movie in one weekend.
Remembering 'The Mission' – Robert De Niro and redemption in the jungles of Brazil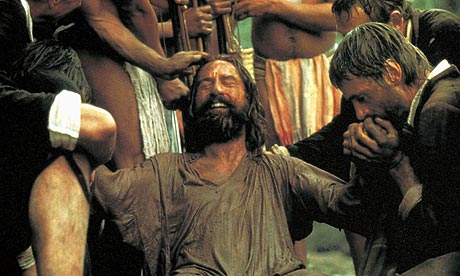 In 1986, a movie called 'The Mission' won the Palme D'Or at Cannes, and created a stir about religion and society. A story of a disgraced mercenary (Robert DeNiro) seeking redemption through the efforts of a Jesuit missionary to covert the natives in the jungles of South America, in the 18th century, was an epic and stunning movie. It won many accolades, especially for its cinematography and evocative music by Ennio Morricone. More than 20 years later, the movie is haunting in its depiction of a dying civilization.
Universal to make Barbie movie
Universal Pictures has added Barbie to its star stable. 
The studio has made a deal with Mattel to build a live action film around its signature toy line. Studios are placing a premium on building films around well-known concepts. Universal brass feels it has landed the queen of globally branded toy figures.  
Laurence Mark will produce.
According to Mattel, the 50-year old Barbie has 99% worldwide brand awareness, is the number one girls property in the toy industry, the top doll property in the U.S. and the number one worldwide property in the traditional toy industry.
Behind the Scenes of 'Pandorum' with Dennis Quaid
A new India emerges at the movies
Western filmmakers are increasingly tapping India for inspiration and locations and perceiving it in a new light.
The runaway global success of Danny Boyle's Slumdog Millionaire may have triggered the growing focus on the subcontinent, but a spate of new films is going beyond the much flogged India-as-a-land-of-slums-and-squalor syndrome.
Three major films in the official line-up of the 34th Toronto International Film Festival - The Waiting City (Australia), Google Baby (Israel) and Cooking with Stella (Canada) - narrate Indian stories while eschewing the clichés associated with the country.
Films gets no love at Toronto fest
It's the film festival that recently brought us "The Wrestler," "The Hurt Locker" and "The Visitor." But this year's Toronto International Film Festival delivered a departure: indifference.
Along with the Sundance Film Festival, Toronto stands out as a must-visit destination for movie distributors looking to buy new, highbrow works. Yet as successful as the festival has been in premiering any number of art-house breakouts in recent years, the shopper silence at the just-concluded Canadian gathering was deafening.
Scores of movies arrived in Toronto without domestic theatrical distribution, and almost all of them left the festival in the same exact condition. A handful of new films found international distribution, but the highest-profile domestic Toronto deal to yet close -- the Weinstein Co.'s acquisition of "A Single Man" for about $2.7 million -- was for a little more than half what Fox Searchlight paid for "The Wrestler" a year ago. The few other sales were much smaller.