Filmmaker creates storyboarding app for the IPhone
Jonathan Houser had an idea.
The 30-something filmmaker was teaching production at the Seattle Film Institute. His students were having a difficult time with storyboarding, an element of filmmaking which Houser describes as a way to perceive how your film may look." Or, to put it another way, "You sit down, you draw, you think and you erase."
"You can actually create your film on paper," he explains. "Rough out how you think it might look and almost pre-edit your film before you start filming."
This is an essential part of the filmmaking process, though as Houser's students were discovering, it is also a very difficult part. As the year progressed, he noticed more and more students forgoing storyboards.
And that's about when it hit him, "my cell phone has a built-in camera and it has a little computer."
Director John Landis recalls filming 'An American Werewolf' in London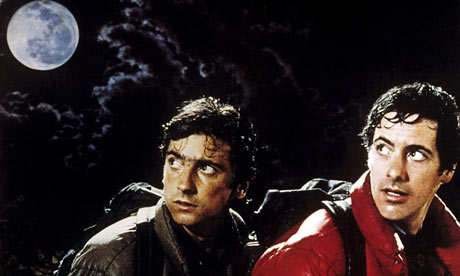 Maggie Thatcher put a stake through the heart of the British film industry. When I was shooting An American Werewolf in London, Warren Beatty was shooting Reds here and there was also another little film in progress called Raiders of the Lost Ark. These were all made under a very useful tax-break agreement called the Eady Levy, which began the boom of Americans coming to make big pictures with largely British casts and crews in London in the 1960s. Turns out mine was one of the last Eady pictures made.
Sony's Plan for $40 Movies at Home
Companies across the consumer electronics landscape, from Amazon to TiVo, are scurrying to deliver movies to TV via the Internet, some more successfully than others. But Sony may be poised to do them one better.
The Japanese electronics giant, which also owns a major Hollywood studio, has quietly been making the rounds among other film companies to sound them about showing their movies on TV after they appear in movie theaters but before they can be seen on DVD or online, Business Week has learned. If the idea catches on, it would establish a new market for studios, who are facing declining DVD sales and an uncertain box office.
Watching Movies From A Place Of Convenience
Today, young movie-watchers look increasingly like Molly O'Connor. A junior at the University of Dallas, she still goes to the cinema occasionally, but is often just as happy to hunker down on a bed or a couch with friends to watch a downloaded movie on a laptop that's perched on a nearby desk or a chair.
"Sometimes, it's nice to have a wider screen, but I don't think I gain that much by going to a movie theater anymore," the 20-year-old student says. "Now, it's more about convenience."
New Movies In Theaters – August 28, 2009
HALLOWEN 2
Director: Rob Zombie 
Stars: Scout Taylor-Compton, Tyler Mane, Malcolm McDowell 
Studio: Dimension Films 
The Plot: Laurie Strode (Taylor-Compton) struggles to come to terms with her brother Michael's deadly return to Haddonfield, Illinois; meanwhile, Michael prepares for another reunion with his sister.
TAKING WOODSTOCK
Director: Ang Lee 
Stars: Demetri Martin 
Studio: Focus Features 
The Plot: When Woodstock organizers have the plug pulled on their event, Elliot Tiber (Martin), a young man who is spending the summer working on his parents' farm, helps the event land a permit, and puts the organizers in touch with Max Yasgur (Levy), a dairy farmer whose plot of land could serve as a perfect spot for the concert.
THE FINAL DESTINATION
Director: David R. Ellis 
Stars: Nick Zano, Krista Allen, Andrew Fiscella 
Studio: New Line Cinema 
The Plot: After Hunt's (Zano) premonition of a deadly race-car crash helps saves the lives of his peers, Death sets out to collect those who evaded their fate.
BIG FAN
Director: Robert D. Siegel 
Stars: Patton Oswalt
Studio: First Independent Pictures 
The Plot: Paul Aufiero (Oswalt), a hardcore New York Giants football fan, struggles to deal with the consequences when he is beaten up by his favorite player.
INTERVIEW: Quentin Tarantino on the making of 'Inglorious Basterds'
We have done some thorough interviews with the actors from the latest epic war film, Inglourious Basterds, but the series really isn't complete without talking to the man behind the film, Quentin Tarantino. If you haven't had a chance, take a look at our interviews with B.J. Novak, Michael Fassbender, Eli Roth, Diane Kruger, Melanie Laurent, and Christoph Waltz.
When we spoke to the self proclaimed cinephile, Tarantino revealed how he came up with the idea for the film, his favorite characters, and the lackluster reviews the movie received at Cannes.
'Rob Zombie' Movies and music are his passion
Lately, Rob Zombie has been focusing his efforts in the land of horror movies.  His first feature film, House of a 1000 Corpses, opened many eyes to his talents as a writer/director back in 2003.  After that, Zombie has been able to secure deals to make some more horror-goodies.  All the world is waiting to see how Zombie handles Halloween 2, which releases tomorrow.  A movie that could take his career up another level, or knock it six feet under.
Before all the mayhem on the big screen, Zombie was creating quite a show in the world of music.  It started with White Zombie in 1985.  The band name appropriately came from a horror movie title from the 1930s.  The band was quite successful, achieving platinum records on a couple of occasions and having a reputation for a great stage show.  The theme of White Zombie's lyrics was horror movie based, which led some people to brand them devil-worshipers.  In reality, Zombie was just paying homage to the movie genre he loved.
MOVIE TRAILER: 'The Lovely Bones' – Peter Jackson's adaptation of Alice Sebold's novel
Plus-size women take TV; fans see mixed blessing
Ask model and fashion designer Emme whether television and other media are more accepting of plus-size people, and she quickly corrects you.
"Average women," she says.
The host of the new Fox reality dating show, "More to Love," has been on this campaign since the mid-1990s, when she began telling full-size women to be more accepting of themselves. In her latest venture, she guides a 6-foot-3, 330-pound man as he chooses among 20 women who wear sizes ranging from 14 to 22.
Television is suddenly filled with images of full-figured people — real and fictional — although not as everyday people just living their lives. The shows focus on their size — on "More to Love," the contestants' height and weight, and that of the bachelor, were flashed on the screen as they were introduced in the first episode.
Jet Li returns to Chinese film after 3 US movies
Jet Li is returning to Chinese film with a reportedly non-kung fu movie after three Hollywood productions, a publicist said Tuesday.
Li is due to start shooting the movie — tentatively called "Ocean Paradise" in Chinese — Edko Film publicist Zhang Hongyan told The Associated Press in a phone interview Tuesday. The film, due to be released next year, will be directed by a newcomer, Zhang said, declining to give further detail before the official announcement at a news conference in Beijing on Wednesday.
Hong Kong-based Edko Film is the Chinese distributor for the movie.