Study: 'I want my Internet on TV'
A new study by the Consumer Electronics Association, the industry group representing electronics manufacturers, finds that nearly half of prospective TV buyers say they want to buy an Internet-connected TV.
The study, conducted in December 2008, asked respondents to say how they'd use their connected sets, and the most popular answers included accessing information about current TV shows or identifying a song played on a show (48 percent) and finding out more about the actors (44 percent). Asked whether they currently surf the Web while watching TV, 30 percent of "online adults" responded "always or usually" while 32 percent answered "sometimes."
INTERVIEW: Chris Pine and Zachary Quinto on the new 'Star Trek' movie
Making movies in the age of the web
The advent of the internet has fundamentally affected the way we conduct our lives: any and all information is just a click of a button away, mobile devices have made communication instant regardless of where we are, and activities that used to be inconceivable have become commonplace. We are now doing more and with much greater efficiency, both in our personal lives and at work.
In a series of articles for FilmInFocus, Mike Jones investigates the way that web technology has affected the film industry, using case studies of six movies to get a broad perspective of its impact, from an independent documentary all the way up to a souped-up blockbuster
Steven Soderbergh hires real people as actors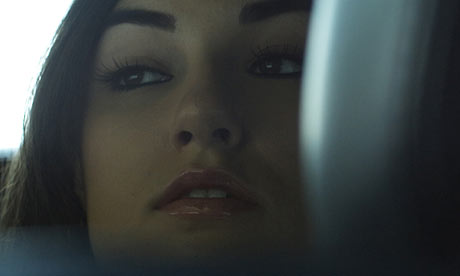 The director of the Ocean's films has a long-standing interest in non-traditional actors. In The Girlfriend Experience, he has gone a step further in casting a real-life porn star. 
Shot in 16 days with a cast of non-professional actors and a crew of barely a dozen, The Girlfriend Experience is Steven Soderbergh's 20th feature in as many years. Recently, the prodigiously industrious film-maker has yomped from the tentpole glitz of the Ocean's franchise through the strategic and tactical challenges of an ambitious Che Guevara diptych into this, his latest shoestring experiment. Sitting with journalists at the Tribeca film festival, where The Girlfriend Experience screened this week, Soderbergh mulls over the practical differences between big-budget and small-scale productions.
Lions Gate turns to Relativity Media to fill movie pipeline
The studio, which recently said it would finance fewer films to reduce production and marketing costs, will release as many as five movies a year from the production and film financing company.
Lions Gate Entertainment Corp., which recently said it would finance fewer movies to reduce production and marketing costs, has made a multiyear distribution deal to release as many as five films a year from Relativity Media.
The arrangement will enable Lions Gate to fill out its annual release schedule without having to spend much more money.
Natalie Portman launches movie website
The tagline for Making Of, a web site about the behind-the-scenes of filmmaking created by Christine Aylward and actress Natalie Portman, is "Front Row. Behind the Scenes." This should have been my first warning. After all, aren't those two totally different locations?
Launched last week at the Tribeca Film Festival, Making Of is like one big compilation of DVD featurettes, some of which are tied to upcoming or recent releases, some of which are more general in scope. As the Token Celebrity Name-Dropped All Over the Press Release, Natalie Portman is front and center with two lengthy interviews about her process as an actor and her process as a director. Insights include the fact that a 1st AD is important to a film set and that she'd always wanted to act — and frankly that's about as interesting as either get. (The bare-bones editing and production of these interviews doesn't do her any favors.)
Director Gavin Hood on X-Men Origins: Wolverine
If you downloaded the pirated copy of X-Men Origins: Wolverine online, you really hurt Gavin Hood
's feelings. The director worked really hard on the movieand now you're judging the work before it's even done. For those of you waiting to see the finished film in theaters, Gavin Hood gives you a high five.
TV shows find fans second time around
Are you broke and can't afford HBO? No problem. Tired of watching network television because just when you fall in love with a show it gets canceled — before the writers are allowed to end it properly? No problem.
Just don't watch. Or watch in a different way than history suggests. It's the new TV paradigm.
The economy — and in  a broader sense, economics itself — could be changing the way people watch television in the near future. The impact of this shift might well be that people will watch more of the great television that's come and gone and less of what's on right now, resulting in a loss of ratings across the board and a loss of subscription fees for pay cable.
Making of a scene with Fox's 'Prison Break'
Bea Arthur Dies at 86 with Legacy of TV Stardom, Controversy
Bea Arthur went from being one of the most controversial figures on TV, to one of America's most beloved old TV ladies, in the mere span of a decade. That and more was remembered after Bea Arthur was pronounced dead yesterday, at the age of 86. Arthur spent more than six decades at work acting, mostly on the stage when she first started out. But it is the 70's, 80's and parts of the 90's where people remember Bea Arthur the most.
When Arthur was in her 50's, she got her big break on All In The Family as a guest star. As if Rob Reiner's "Meathead" wasn't enough of a political foe for Archie Bunker, he also had to contend with Maude. But CBS loved Maude enough that they mercifully got her away from Archie, and into her own show.