MOVIE OPENINGS – Jan 30, 2009
THE UNINVINTED
Director: Charles Guard Thomas Guard 
Stars: Emily Browning, Arielle Kebbel, Elizabeth Banks 
Studio: DreamWorks SKG
The Plot: After her mother's death and her subsequent hospital stay, Anna Rydell (Browning) returns home to be with her sister (Krebbel) and her father (Strathairn), who has become engaged to Rachel (Banks), her mother's former nurse. During her first night back, Anna is visited by her mother's ghost, who reveals that the new woman in her father's life is not who she pretends to be, leading to a fateful confrontation between the women of the house.
TAKEN
Director: Pierre Morel 
Stars: Liam Neeson, Maggie Grace, Famke Janssen
Studio: Twentieth Century-Fox Film Corporation
The Plot: A former spy (Neeson) relies on his old skills to save his daughter (Grace), who was kidnapped by slave traders during her vacation in Paris.
NEW IN TOWN
Director: Jonas Elmer 
Stars: Renée Zellweger, Harry Connick Jr., Nathan Fillion 
Studio: Gold Circle Films
The Plot: A Miami-based consultant (Zellweger) is shipped out to small-town Minnesota for her newest project: supervising the restructuring of a local manufacturing plant. After a frosty reception, she warms to the townspeople (and vice versa), though a tough business mandate causes her to reconsider her personal and professional objectives.
Harry Potter and the Seriously Injured Stuntman
A terrifying moment on the Harry Potter soundstages Wednesday, as Daniel Radcliffe's stuntman was hospitalized with serious back injuries following an onset mishap.
Because the accident took place during preproduction for Harry Potter and the Deathly Hallows, Radcliffe and the film's marquee stars were not on set at the time.
Breaking down 'Slumdog Millionaire'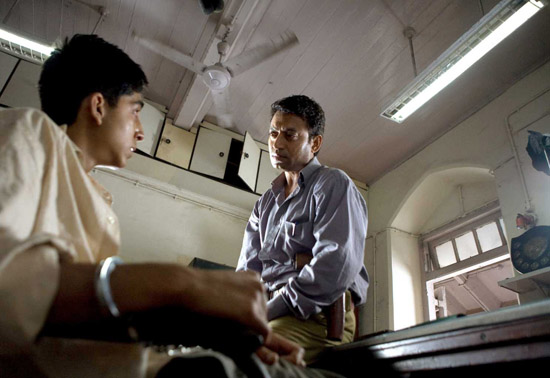 You wanted to see the real India? Here it is," the young Indian hero of Slumdog Millionaire tells an American couple, right after they find that their rental car has been stripped for parts. The winking come-on of Danny Boyle's Oscar-nominated hit is precisely that—see the real India—but this is a movie with a conveniently fluid notion of reality. In this fairytale vision of squalid poverty, the slums of Mumbai are bathed in golden light, and hardscrabble lives are energized by jacked-up camerawork and the cool, cosmopolitan pop of M.I.A. on the soundtrack. We see the real-world horrors that might befall a kid from these parts—begging syndicates, religious violence, abusive cops—but experience them simply as plot contrivances, hurdles to be cleared as we wait for him to get the girl and go from rags to riches while he's at it.
Slumdog is nothing if not a transglobal movie—funded with British and American money, shot entirely in India by a British director with a largely Indian cast and crew, from a script by a British writer adapting a novel by a London-born Indian author—and it's instructive to compare the reactions from around the world.
3D Porn To Transform Industry
Hong Kong film makers are preparing to leave filmgoers goggle-eyed by releasing the world's first pornographic movie in 3D, a news report said on Sunday.
Shooting on the Chinese-language film 3D Sex And Zen, budgeted at 4 million US dollars, is scheduled for April with producers promising some of the most realistic close-up sex scenes ever.
"Just imagine that you'll be watching it as if you were sitting beside the bed," Stephen Shiu Jnr told the Sunday Morning Post.
Stanley Kubrick's lost Holocaust movie
You probably haven't heard of Johanna ter Steege, even if the legendary American film-maker Stanley Kubrick once called her the best actress he knew. Ter Steege, who was born in 1961, has had a reasonably successful career, appearing in such films as George Sluizer's The Vanishing (1988), Istvan Szabo's Sweet Emma, Dear Boebe (1992), and Bruce Beresford's Paradise Road (1997) but she is hardly a household name, even in her native Holland.
It could all have been so very, very different. The actress chuckles as she remembers the circumstances in the early 1990s when she was summoned over to St Albans to meet Kubrick. He wanted her to play the lead in his "Holocaust" film, The Aryan Papers, which he was planning to adapt from Louis Begley's semi-autobiographical novel, Wartime Lies. If the film had been made, she would have become a huge international star.
The Curious Case of Gran Torino's Box-Office Power
This year's Oscar story lines have already been etched in stone — Mickey Rourke as the comeback kid, Slumdog Millionaire as the art-house wunderkind, Milk as the timely social commentary (released three weeks after Proposition 8 passed in California). Yet while the critics have been fussing over wrestlers and Mumbai quiz shows, audiences have been flocking to Gran Torino — an Oscar outcast that's been doing laps around the competition at the box office. At some point this week, the Clint Eastwood drama will pass the $100 million mark, easily surpassing the box-office receipts brought in by not only some of the Oscar front-runners (Slumdog Millionaire now totals $56 million, Milk $21 million) but also Eastwood's last Oscar winner, Million Dollar Baby.
"It's an amazing story that no one's really talking about," says Paul Dergarabedian, box-office analyst with Hollywood.com. "For a movie starring a 78-year-old to have a $29 million opening weekend in wide release, and in the process to beat out the likes of Anne Hathaway in Bride Wars, I don't know if I've seen that before ... It's a testament to how people still feel about Clint Eastwood."
Scoring the Scores: The Oscar Contenders
This year's Oscar nominees for original score give Academy Award voters a chance to avoid the controversy that colored the results in the category in the past two years.
The nominees are Alexandre Desplat for "The Curious Case of Benjamin Button"; Danny Elfman for "Milk"; James Newton Howard for "Defiance"; Thomas Newman for "WALL-E"; and A.R. Rahman for "Slumdog Millionaire." Their scores seem to be entirely original works -- in the two instances where "Slumdog Millionaire" uses previously existing music similar to what Mr. Rahman created, that is clearly stated in the end credits. Other previously existing songs that appear in the five films stand apart from the composers' efforts, which should allow voters to focus on the score. No worthy score was ruled ineligible based on a technicality -- though Han Zimmer and Mr. Howard's score for "The Dark Knight" was initially disqualified because three other artists' names were listed as contributors. But it was reinstated for consideration.
Thinking Japanese: Carrie Cracknell on bringing a Takeshi Kitano film to a Scottish stage
The two dancers are tied together at the waist by a red rope. Its length defines the circles in which they move, making them fight its restrictions. But it also enables a new range of movements not possible before.
The red rope binding a man and woman is one of the most striking images of Takeshi Kitano's cult movie from 2002, Dolls. The lover, doomed to wander the earth tied to his wounded beloved, is one of three stories of love and loss that interweave in the film.  
But what I'm watching is not a Japanese movie, it's a piece of Scottish theatre. Director Carrie Cracknell is developing a stage adaptation of Dolls under the auspices of the National Theatre of Scotland's Workshop programme, which supports emerging artists.
Designing the plane crash from 'Lost' Season 1
Tintin to be played by Billy Elliot star Jamie Bell in Spielberg film
Blistering barnacles, as Captain Haddock would have it. Tintin is to be portrayed by a British actor best known for his role as a ballet prodigy.
Jamie Bell, who appeared as the title character in Billy Elliot at the age of 14, has been cast as the lead in Steven Spielberg's big-screen adaptation of the Tintin comic books.
He will provide the voice and movement for the bequiffed Belgian journalist in the animation film The Adventures of Tintin: Secret of the Unicorn.
The signing of Bell is the last key casting decision in the project, which has taken almost 30 years to come to fruition. Spielberg, who first bought the option to create a Tintin film from its creator, Hergé, in 1982, has previously said that he plans to collaborate with Peter Jackson, the director of the Lord of the Rings films, on up to three Tintin adventures.