MOVIE OPENINGS – May 30
SEX AND THE CITY
Director: Michael Patrick King
Stars: Sarah Jessica Parker, Kim Cattrall, Cynthia Nixon
Studio: New Line Cinema
The Plot: Set four years after we last saw the ladies, Carrie (Parker), Samantha (Cattrall), Miranda (Nixon), and Charlotte (Davis) negotiate their friendships, romances, and careers in New York City. At the center of it all is Carrie's pending nuptials to Mr. Big (Noth) ...
READ REVIEWS OF 'SEX AND THE CITY' 
THE STRANGERS
Director: Bryan Bertino
Stars: Scott Speedman, Liv Tyler, Gemma Ward
Studio: Rogue Pictures
The Plot: A couple (Speedman and Tyler) cozied up in a vacation home are terrorized by three unknown assailants.
READ REVIEWS OF 'THE STRANGERS' 
THE FOOT FIST WAY
Director: Jody Hill
Stars: Danny R. McBride, Ben Best
Studio: Paramount Vantage
The Plot: A down-and-out Tae Kwon Do instructor looks to turn his life around by going on a pilgrimage with his buddy (Hill) and two of his students to see his hero, the martial arts legend Chuck "The Truck" Wallace (Best), at a kung-fu convention.
READ REVIEWS OF 'THE FOOT FIST WAY' 
SAVAGE GRACE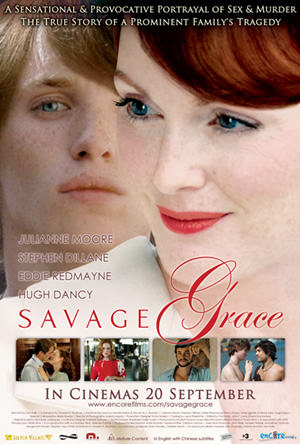 Director: Tom Kalin
Stars: Julianne Moore, Eddie Redmayne, Stephen Dillane
Studio: IFC Films
The Plot: An account of the life of Barbara Daly (Moore), from her marriage to the heir of the Bakelite plastics fortune, the too-close relationship she formed with her son Tony (Redmayne), and her shocking death in 1972.
READ REVIEWS OF 'SAVAGE GRACE' 
BIGGER, STRONGER, FASTER
Director: Chris Bell
Stars: Chris Bell, Mike Bell, Mark Bell
Studio: HD Net
The Plot: A documentary filmmaker examines the popularity of steroids in American culture by focusing on his two brothers and their experiences with different performance-enhancing drugs
READ REVIEWS OF 'BIGGER,STRONGER' 
Mena Suvari: 'I never had my jaw hit the floor so many times'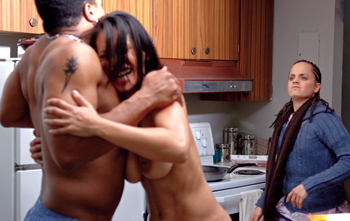 It's not clear that Mena Suvari is even remotely interested in being a glamorous actress. Now 29, she entered the national consciousness in a forceful and disturbingly sexual way almost 10 years ago in "American Beauty." Her character, Angela Hayes, rapidly became a shorthand reference for precocious teen libidinousness and the effect it can have on middle-aged men trapped in depressing suburban cul-de-sacs and airless professions.
Suvari was young enough at that point -- yet sufficiently wise in the ways of Hollywood, where she had been working since she was 14 -- to develop a career that hinged on big-budget movies punctuated with the occasional cred-preserving indie detour. Instead, she decided to make more distinctive and, as she likes to put it, "challenging" choices.
(LA Times)
Screen Actors Guild agrees to renew contract talks
A person familiar with efforts to restart talks between the Screen Actors Guild and Hollywood studios says negotiations will resume within two weeks.
The person, who was not authorized to speak publicly, said Thursday that the talks will resume by May 28.
The two sides parted ways last week after 18 days of talks over a contract that covers both movies and prime-time TV shows. That contract ends June 30.
The studios, represented by the Alliance of Motion Picture and Television Producers, are currently negotiating with the American Federation of Television and Radio Artists for a contract covering a handful of TV shows.
'Sangre de Mi Sangre' Director Christopher Zalla on Making New York Scary
New York filmmaker Christopher Zalla just made his striking debut with the new film Sangre de Mi Sangre — a harrowing, elemental story of two illegal Mexican immigrants who try to find their feet in Brooklyn. The riveting film (which made big waves at Sundance under the title Padre Nuestro) plays at the IFC Center through the end of the month. Vulture spoke with Zalla about the curse of the Sundance Grand Jury Prize and the perils of making a modern immigration noir.
(New York Magazine)
Screen Test: Life behind the scenes with Sky TV
Most people are happy to watch one television screen when the cricket is on. Mark Lynch sits and stares at 78 of them.
Mind you, Lynch is not just any old viewer. As the director of Sky TV's Test coverage, Lynch has the privilege of watching the action from every conceivable angle from 31 cameras complemented by the various gizmos that are such an integral part of the pictures these days. And to cap it all, Lynch can tell the operator of each camera exactly what to do and what he wants to see. His choice automatically becomes the viewer's.
To spend a day behind the scenes at a Test with Sky is to watch at close hand an almost military operation with an onsite production crew of 80, most of them based in the 15 trucks present at each Test, all working to provide the pictures that are then interpreted by the experienced collection of former international players who make up the commentary team.
(Daily Mail)
Five Things Hollywood Can Learn From Music 2.0
Josh Catone over at ReadWriteWeb has an interesting suggestion for Warner Bros. to get folks interested in the upcoming superhero feature, Watchmen: Take a page from Trent Reznor's book. The Nine Inch Nails front man has been experimenting with innovative distribution and marketing schemes ever since his band said farewell to Universal Music, giving away songs and even uploading an album to the Pirate Bay.
Catone admits that Warner can't completely follow the NIN model, and our resident superhero expert Chris Albrecht had some other good reasons why the Watchmen plan might fail, but Hollywood surely could use some new inspiration.
(Newteevee)
INTERVIEW: 'Sex and the City' costar Jennifer Hudson
Jennifer Kate Hudson was born in Chicago on September 12, 1981 to Darnell Hudson and Samuel Simpson.
At the age of seven, she started singing in her Baptist church's gospel choir where she honed her vocal skills with the help of her late maternal grandmother, Julia.
After graduating from Dunbar Vocational Career Academy in 1999, the 5'9" beauty began in show business in community theater and then on a Disney cruise liner before unveiling her four-octave range in front of a national TV audience on American Idol during the show's third season.  
Though Jennifer only finished seventh, many still consider her to be the most talented person ever to enter the competition. So, it was no surprise when she brought down the house delivering a spirited rendition of "And I Am Telling You I Am Not Going" as Effie White in the screen adaptation of the Broadway musical Dreamgirls.
Based on the strength of that Oscar-winning performance, she was signed to play Carrie's (Sarah Jessica Parker) assistant, Louise, in "Sex and the City," a character writer/director Michael Patrick King created with Jennifer specifically in mind. The movie opens this weekend in theaters throughout North America.
(Eurweb)
'Bourne' films viewed as art – and science – at MoMA program
One of the Museum of Modern Art's latest film acquisitions isn't an art-house experiment by Andy Warhol or Michelangelo Antonioni. It's the spy-action blockbuster "The Bourne Identity" and its sequels.
This week the museum is screening the films and hosting a panel discussion with "Bourne" director/producer Doug Liman and a noted neuroscientist to talk about memory, identity and the mysterious workings of the brain.
For the uninitiated: The films centre on amnesiac assassin Jason Bourne, played by Matt Damon, who possesses superb espionage skills but no memory of his past, which includes the ultrasecret CIA unit that trained him and now wants to kill him to cover up an operation gone wrong.
(The Canadian Press)
Michelle Williams lost in road movie
Michelle Williams does her best, but she cannot prevent "Wendy and Lucy," a weak tale about being broke and on the road in rural America, from dwindling into boredom. Prospects for boxoffice or even television and DVD success appear slim.
Wendy (Williams) is a young woman travelling from Indiana to Alaska in search of work who is so devoid of resourcefulness that it's a wonder she has made it to Oregon. Counting pennies and sleeping in her beat-up car, her only company is a mutt named Lucy.
A clumsy attempt at shoplifting results in a day wasted dealing with the local police, and in the meantime Lucy goes missing. The rest of the film follows Wendy's attempts to find the lost pup.
The screenplay by director Kelly Reichardt and Jon Raymond invites sympathy for a not-very-bright individual who does stupid things and is then resentful when petty misdemeanours generate stern responses.
The film also is a rather puny rebuke to those who think a classic American adventure is to hit the road without a penny in your pocket but with a doughty pooch by your side.
Rental giants tout digital downloads
Digital downloads were a core theme at investor events held Wednesday by movie rental giants Blockbuster and Netflix.
In his inaugural shareholder meeting at the helm, Blockbuster chairman and CEO James Keyes said the firm will launch in the coming month a test of in-store kiosks that will allow consumers to download movies onto portable devices within two minutes.
Keyes said Blockbuster is in talks with studios about content deals and likely will have limited movies on offer for its kiosk pilot.
He acknowledged that the kiosk test likely is well ahead of broad consumer demand for such services and should therefore only be seen as one additional distribution channel for Blockbuster as it tries to offer content whenever consumers want it and in whatever form they want. The company also is working on offering downloads via set-top boxes and IPTV.
The download time of the kiosk, designed in its pilot version by NCR (which also builds airline ticketing kiosks), is targeted to get down to 30 seconds over time as Blockbuster is striving for an ATM-like experience, Keyes said. As he sees it, kiosk deployers would bear much of the cost and share in the revenue with studios and Blockbuster.
Meanwhile, at Netflix's investor day in San Francisco, CEO Reed Hastings also touted investments in the firm's online service, arguing the DVD-by-mail service will peak in as soon as five years.
Funding Netflix's streaming initiatives while still growing earnings and subscribers are his "key challenge," Hastings said. Once the company firms up its streaming capabilities, "we can attract well beyond 20 million subscribers worldwide," he said.