Ridley Scott plans movie about Ronald Reagan
Sir Ridley Scott is to make a film about late US president Ronald Reagan's dealings with ex-Soviet leader Mikhail Gorbachev, according to reports.
The still untitled project will focus on the 1986 arms control summit that took place in Reykjavik, Iceland.
"I want to show who they were and why they did what they did," Sir Ridley told the Hollywood Reporter.
No casting has been announced, though the film-maker is quoted as saying that "physical resemblance is secondary".
"It's less about visible appearance, more about the acting," he told the US trade journal.
(Source: BBC News)
Researchers: That pricey popcorn subsidizes cost of movie ticket
What's a movie without popcorn?
According to a new economic analysis, a lot.
As one price goes up, the other comes down. So rather than cursing the cost of your next bag, take comfort in the fact that it subsidizes your ticket - and helps fill seats, according to researchers at the University of California, Santa Cruz and Stanford University.
Moviegoers aren't being gouged at concession stands, the researchers conclude. Rather, the high cost of snacks helps keep ticket prices down, which allows more people to attend.
(Source: San Jose Mercury News)
Matt Damon returns for fourth Bourne movie
Jason Bourne will return for one last job after Paul Greengrass and Matt Damon signed up to make a fourth film in the hit franchise.
The actor and director at the heart of the series' two most recent films had previously played down the idea of a third sequel, saying that they would only consider it if the other one came on board. But Hollywood studio Universal recently announced that a Bourne 4 is on its slate, although it gave no firm deadline for a release.
(Source: Guardian UK)
The changing face of the Bollywood movie-making business
They are all over Bollywood – in their dark glasses and business casuals, making offers you cannot refuse.
Not the new mafia, they are Bollywood's new corporate honchos, the new age producers transforming the movie industry. And from two opposite ends of the city, two men are watching.
Over three decades, Mahesh Bhatt, Bollywood's master of reinvention has set benchmarks for Hindi movies. But to stay ahead in the new Bollywood, Bhatt's company, Vishesh Films, is about to begin a new journey of its own. It has tied up with a major international company and will make something it has long scoffed at — big budget films.
"The dream is the same, the dreamers have changed," Bhatt said.
(Source: Hindustan Times)
BEHIND THE SCENES TV: Jimmy Kimmel says 'I'm F***ing Ben Affleck' with all-star supporting cast
The Oscars: A dark view on dark times
It used to be that violence, even more than comedy, was the kiss of death for Oscar movies. Then came blood-saturated films like "Crash" and "The Departed," which overturned some of those rules.
But perhaps no movie exemplifies how the Oscars have changed than this year's best picture winner, "No Country for Old Men," a dark, disturbing thriller from the Coen brothers.
Shot in a deliberative, unsentimental style, "No Country" is a bone-chilling tale of violence, stupidity and revenge, with a relentless, amoral killer (played by supporting actor winner Javier Bardem) at its center, coolly dispatching anyone in his way with a cattle gun. It is not the only acclaimed movie to have emerged from a forbidding corner of the American psyche. Many of this year's most compelling movies -- notably, two other best picture nominees, "There Will Be Blood" and "Michael Clayton," as well as "American Gangster," "Eastern Promises," "Gone Baby Gone" and "The Bourne Ultimatum" -- were meditations on violence, betrayal, revenge and grand ambition run amok.
(Source: Los Angeles Times)
INTERVIEW: Director Michel Gondry on his latest 'Be Kind, Rewind'
Michel Gondry started his career making handmade fantasies for popular performers: As an in-demand video director, he worked with everyone from Björk to The White Stripes to Beck to The Rolling Stones. He made the move to features in 2001 with the underrated, barely released Human Nature, scripted by Charlie Kaufman. They collaborated again, to wider acclaim, on 2004's Eternal Sunshine Of The Spotless Mind, which won a Best Original Screenplay Oscar for their script with Pierre Bismuth. In 2006, two very different Gondry films offered further proof that his sensibility could work at feature-length: the dreamy, melancholy romantic fantasy The Science Of Sleep and the exuberant concert film Dave Chappelle's Block Party.
Chappelle was originally attached to Gondry's latest film, Be Kind Rewind, but he stepped away from the project. Like Block Party, it settles mostly on a single city block. There, Danny Glover runs a video/thrift store/Fats Waller museum, which the city is threatening to close. While Glover is away, the store's all-VHS film collection is accidentally erased, leaving manager Mos Def and local character Jack Black to keep the store afloat by remaking all the films with themselves as the stars. When The A.V. Club spoke to Gondry during a Chicago stop, he made it clear that he thought self-produced entertainment would be a fine idea.
(Source: AV Club)
NBC's 'quarterlife' brings Internet to television
When NBC's new hour-long drama "quarterlife" debuts Tuesday, it will be a relatively groundbreaking event. For the first time, a broadcast network will air a series that was first introduced on the Internet. (Msnbc.com is a joint venture between Microsoft and NBC Universal.)
The network is taking the show's 36 "webisodes," which are airing online at quarterlife.com and a few other sites, and turning them into a six-episode TV season.
It's a notable moment in entertainment and could be a harbinger of things to come. But if recent history is any proof, we're still a long way from seeing a swarm of shows arrive on the small screen via the computer monitor.
(Source: MSNBC)
Uma Thurman, star producer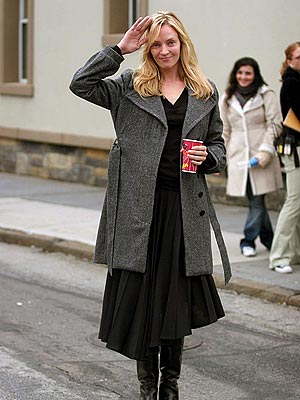 "It's funny," beams Uma Thurman, "but in Hollywood, you don't hear the word 'bitch' as much as you used to. Up until recently, if ever a woman was doing well or achieving something, that term was liberally applied. Women were called all sorts of names." Sitting in the comfortable confines of London's Dorchester hotel, looking remarkably fresh in her earth-coloured trousers and top, and acting especially chirpy for someone who stepped off a transatlantic flight just four hours earlier, Thurman is musing on Hollywood's perception of female writers and directors. A trio of women screenwriters crafted her latest movie, The Accidental Husband.
"I think female writers and directors have been getting more work in recent years," she continues, her slender fingers fiddling with the fine blonde hair scraped back from her face. "The slow move towards Hollywood accepting women in the employer and leadership positions is getting better. I think we're all growing up more and more. There is some positive movement, and that makes me happy."
An undoubtedly happy Thurman – she giggles throughout the interview – has hopped into the realm of leadership herself. She is credited as a producer on her new film, buying the rights to the story in early 2001 and spending the succeeding years working with writers, financiers and her first-choice director, her long-standing friend Griffin Dunne, who is perhaps best known for his work as an actor, starring in John Landis's An American Werewolf in London and Martin Scorsese's After Hours before graduating to the director's chair.
(Source: Times Online UK)
BEHIND THE SCENES TV: George Clooney presents 80 years of Oscars