TRAILER: 'Hellboy 2; The Golden Army'
Talking to 'The Great Debaters'
Some of the most powerful dramas you'll see on the big screen are from real stories. The Great Debaters is certainly one of them.Denzel Washington stars and debuts as director in this true-life inspired movie based on The Wiley College debate team. Denzel plays Mel Tolson, the coach of the all-black school team in 1930's Texas; he turned a group of non-believers into the best and most respected debaters of their time – and still to this day.
The film also stars three newcomers as the team - Nate Parker, Jurnee Smollett and Denzel Whitaker. Their performances, combined with Denzel Washington's, makes The Great Debaters one of this year's best films. The team went from small debates in the state of Texas to taking on the Harvard University debate team, one of the most prestigious teams in the country. Their first step was gaining the respect of their town and the next step was gaining the respect from people, who would normally not even give them the time of day.
(Source: ComingSoon.net)
Daniel Day-Lewis recounts the way he lives
"You don't meet the book when you meet the writer," the novelist William Gibson has said. "You meet the place where it lives." A relatively uncontroversial remark about the people who vent their imaginations on the page — no one should expect Philip Roth to sound exactly like Nathan Zuckerman — Gibson's adage applies only rarely to actors. Robert De Niro studied hard and put on weight to play Jake LaMotta, but there was never any mistaking the sighs and hand wringings and tongue clicks as anyone's but De Niro's; Meryl Streep plays bossy editors and Polish war survivors with persuasive delicacy, but in Letterman's plush Late Night chair, she still tilts her head and laughs just like Sophie.
Daniel Day-Lewis is another matter. In his current role, as turn-of-the-century oil baron Daniel Plainview in Paul Thomas Anderson's There Will Be Blood, Day-Lewis portrays a man so contorted with greed that he can barely heave a laugh from his toxic throat. You might expect the man behind the mask to have at least some of Plainview's fire. Or a flicker of that fixed, maniacal stare. Or at least a little bit of that thrust-out lower jaw set hard against the rest of humanity.
(Source: LA Weekly)
INTERVIEW: Hilary Swank signs off with 'P.S. I Love You'
MoviesOnline recently sat down with two-time Academy Award winner Hilary Swank ("Million Dollar Baby," "Boys Don't Cry") at the Los Angeles press day to talk about her new movie, "P.S. I Love You," directed by Richard LaGravenese. The film also stars Gerard Butler ("300"), Lisa Kudrow (TV's "Friends"), Harry Connick, Jr. ("Bug," TV's "Will & Grace"), Gina Gershon (TV's "Ugly Betty"), Jeffrey Dean Morgan (TV's "Grey's Anatomy") and Academy Award winner Kathy Bates ("Misery").
Swank plays the central role of Holly Kennedy, a young woman who seems to have it all until life deals her an unexpected hand. "Holly found love at a young age," Swank remarks. "Gerry (Gerard Butler) was her everything – her soul mate, her best friend, her lover, her husband. So when she loses him, all of a sudden she's alone in more ways than one because I don't think she quite knows how to handle life on her own. But he knew what she would be facing, so he wrote her letters to help her find herself again.
Swank recently collaborated with director Richard LaGravenese when she starred in the true-life drama "Freedom Writers," playing inspirational schoolteacher Erin Gruwell. She says the opportunity to reunite with LaGravenese would have been reason enough to do the film. "We had such a great experience on 'Freedom Writers.' Richard has always been one of my favorite screenwriters and I have such enormous respect for him as a director. I love working with him, so I would have done anything he asked me to do. But this movie was easy to say 'yes' to because I really loved it."
(Source: Movies Online)
TRAILER: Cassandra's Dream starring Ewan McGregor and Colin Farrell
Clint Eastwood is the set whisperer
The first thing you notice when you walk on to the set, inside the shuttered Park Plaza Hotel overlooking MacArthur Park, are the 300 extras in late-1920s period costumes, seated at cafeteria tables in a holding area, gazing up at you in their wool suits (for the men) and cloche hats (for the women) as though all of this were perfectly normal, as though you were the one who had just beamed in from another dimension. The second thing you notice is how completely, utterly quiet the place is. No production assistants madly rushing about. No ringing bells. No one yelling "quiet on the set" — or, for that matter, yelling. If you didn't know better, you'd swear they weren't shooting a big Hollywood movie here at all.
And yet, they are. It's called Changeling. It's the 28th movie directed by Clint Eastwood and the first he's made for a studio other than Warner Bros. since Absolute Power in 1997. (The film will be released next year by Universal, where its producers, Ron Howard and Brian Grazer, have a deal.) The first time I interviewed Eastwood, in 2004, he discussed his preference for calm and order during production. He had once attended a White House dinner, he said, and taken notice of the barely audible two-way radios (consisting of an earpiece and compact throat microphone) used by the Secret Service agents. Why, he wondered, couldn't that technology be imported to a movie set, to cut down on the incessant screeching and squawking of open walkie-talkies? And so he did just that. But to hear Eastwood describe his process is one thing, and to see it being applied is something else entirely.
(Source: LA Weekly)
Comedian Sacha Baron Cohen to kill off Borat
The actor behind controversial spoof reporter Borat has killed him off, he said in an interview with Britain's Daily Telegraph newspaper published on its website Friday.
Sacha Baron Cohen said that Borat, the outrageous, blundering character from Kazakhstan who earned him a Golden Globe award last year, had made his last screen appearance.
He is also killing off his second most famous character, youth presenter Ali G, who like Borat often excels at eliciting indiscreet comments from interviewees thanks to his apparently guileless interviewing style.
"When I was being Ali G and Borat, I was in character sometimes 14 hours a day and I came to love them, so admitting I am never going to play them again is quite a sad thing," he told the paper.
"It is like saying goodbye to a loved one.
"It is hard, and the problem with success, although it's fantastic, is that every new person who sees the Borat movie is one less person I "get" with Borat again, so it's a kind of self-defeating form, really."
The 2006 smash hit film "Borat: Cultural Learnings of America for Make Benefit Glorious Nation of Kazakhstan" offended some in the central Asian nation by portraying it as full of backward racists who drink horse urine.
The country's government was initially angered by the film, which saw the character travel through the United States in search of cultural enlightenment, but its response seemed to soften amid the publicity it brought Kazakhstan.
The makers of the movie are also facing threats of legal action from several people who say they were tricked into appearing in the mock documentary.
"Since last year I've been sued by about 3,000 people," Baron Cohen told the Telegraph.
"Some of the letters I get are quite unusual, like the one where the lawyer informed me I'm about to be sued for 100,000 dollars and at the end says, "P.S. Loved the movie. Can you sign a poster for my son Jeremy?'"
Baron Cohen's next project features Bruno, an effeminate Austrian fashion reporter.
INTERVIEW: Director Jake Kasdan on making 'Walk Hard: The Dewey Cox Story'
Jake Kasdan has lived his entire life with a surname that's been associated with great filmmaking, but when it came time to enter the family business, he decided to take a different route, focusing more on comedy first with his debut Zero Effect starring Bill Pullman and Ben Stiller, and then joining the Judd Apatow camp for his high school television show "Freaks and Geeks" and its follow-up "Undeclared." Kasdan's first studio film Orange County introduced many young people to one Jack Black, and earlier this year, his independent feature The TV Set, which took a comedic look at the television industry's pilot season, was released through THINKFilm.Now Jake Kasdan is back with Walk Hard: The Dewey Cox Story, a satirized musical biopic starring John C. Reilly as the title's Dewey Cox, a musician from the South who tries to overcome childhood tragedy and the rejection of his father to make a name for himself. That career takes him from highs to lows and everything in between as one would normally expect in any good biopic, but in this case, it's all done to huge laughs.
(Source: ComingSoon.net)
MOVIE OPENINGS: Dec 21
NATIONAL TREASURE: BOOK OF SECRETS 
Director: Jon Turteltaub
Stars: Nicolas Cage, Diane Kruger, Justin Bartha
Studio: Walt Disney Studios Motion Pictures
The Plot: Tracking down the missing pages of John Wilkes Booth's diary is the first step in treasure hunter Benjamin Franklin Gates's plan to uncover a worldwide conspiracy.
READ REVIEWS FOR 'NATIONAL TREASURE: BOOK OF SECRETS'
WALK HARD: THE DEWEY COX STORY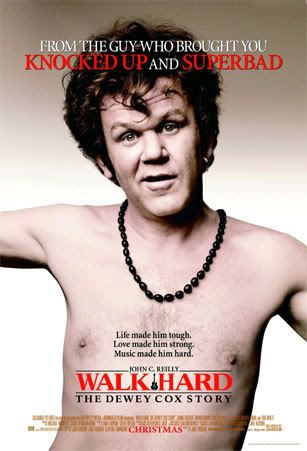 Director: Jake Kasdan
Stars: John C. Reilly, Jenna Fischer, David Krumholtz
Studio: Columbia Pictures
The Plot: A mockumentary look at the life of fictional music legend Dewy Cox and his turbulent, "Behind the Music"-like career.
P.S. I LOVE YOU
Director: Richard LaGravenese
Stars: Hilary Swank, Gerard Butler, Harry Connick Jr.
Studio: Warner Bros. Pictures
The Plot: A widow (Swank) discovers love letters written by her recently deceased husband (Butler) that are meant to help her begin the next chapter of her life.
READ REVIEWS FOR 'P.S. I LOVE YOU'
SWEENEY TODD: THE DEMON BARBER OF FLEET STREET (Limited Release)
Director: Tim Burton
Stars: Johnny Depp, Helena Bonham Carter, Alan Rickman
Studio: DreamWorks SKG
The Plot: In 19th century London, Benjamin Barker (Depp) opens a barbershop upstairs from Mrs. Lovett (Carter), a baker of special meat pies; theirs is a sinister relationship.
READ REVIEWS FOR 'SWEENEY TODD'
CHARLIE WILSON'S WAR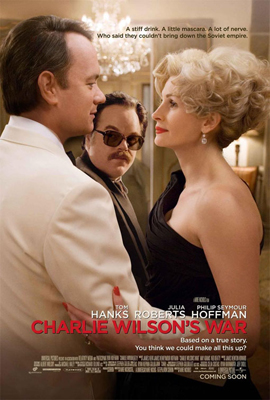 Director: Mike Nichols
Stars: Tom Hanks, Julia Roberts, Philip Seymour Hoffman
Studio: Universal Pictures
The Plot: Enigmatic Texas congressman Charlie Wilson (Hanks) and his CIA allies orchestrate that agency's most successful covert op: the arming of the Mujahedeen in Afghanistan during their war with the Soviet Union
READ REVIEWS FOR ' CHARLIE WILSON'S WAR'
Sacha Baron Cohen stuffs his pants in 'Sweeney Todd'
Sacha Baron Cohen has a thing for showing off his privates. Well, what appear to be his privates, that is.
We've already been subjected to Borat dressed in that barely there fluorescent-green banana-hammock bathing suit. Now comes his hilarious turn as Signor Adolfo Pirelli opposite Johnny Depp in Tim Burton's Sweeney Todd.
There's no missing Pirelli's package. "Oh, that was the real thing," Sweeney Todd's two-time Oscar-winning costume designer Colleen Atwood told me the other day with a giggle, but quickly admitting, "Yeah, we augmented."
No surprise, it was Cohen's idea to enlarge his manhood for the flick. Cohen's body-hugging pants were stuffed with "a little quilted thing."
(Source: E! Planet Gossip)