BEHIND THE SCENES TV: Go behind the scenes of next summer's 'The Dark Knight'
INTERVIEW: Director Julian Schnabel on 'The Diving Bell and The Butterfly'
Julian Schnabel sat down with us at the Los Angeles press day to talk about his new film, "The Diving Bell and The Butterfly." Winner of the Best Director's award at Cannes 2007, Schnabel ("Before Night Falls," "Basquiat") has crafted another remarkable film that pays tribute to the spirit of the imagination and its ability to triumph over tragedy.
"The Diving Bell and The Butterfly" is the moving true story of Jean-Dominique Bauby (Mathieu Amalric), a successful and charismatic editor-in-chief of French Elle, who believes he is living his life to its absolute fullest when a sudden stroke paralyzes him. While the physical challenges of Bauby's fate leave him with little hope for the future, he begins to discover how his life's passions, rich memories and newfound imagination can help him achieve a life without boundaries.
Based on the highly lauded book by Bauby, which was adapted for the screen by Ronald Harwood, "The Diving Bell and The Butterfly" also stars Emmanuelle Seigner, Marie-Josée Croze, Anne Consigny, Patrick Chesnais and Max Von Sydow. Produced by Kathleen Kennedy and Jon Kilik, cinematographer Janusz Kaminski, a visual artist in his own right, magnificently evokes Bauby's disorientation and transformation.
Julian Schnabel begins our interview with a loud grumble.
(Source: MoviesOnline)
Blu-Ray discs outsell HD-DVD in Europe
High definition movie DVDs in the Blu-ray format have outsold the rival HD DVD standard in Europe this year, breaking the 1 million barrier and constituting 73 percent of all HD movie discs sold.
Citing industry sales data, the Blu-ray disc association said in a statement on Tuesday Blu-ray movie disc sales had topped 1 million units and when counting Blu-ray gaming discs the total number produced for sale in Europe exceeded 21 million units.
Sony's PlayStation 3 game console includes a Blu-ray Disc drive.
Hollywood and electronics manufacturers are hoping that new high-definition DVDs, with better picture quality and more capacity, will revive the slowing home DVD market.
But the launch of the next-generation DVD players has been complicated by the fact that there are two competing technologies available, Blu-ray and HD DVD.
HD DVD was developed by Toshiba Corp while Sony Corp backs the Blu-ray standard.
Of the high definition movie discs bought by consumers so far this year in Europe, 73 percent were in the Blu-ray Disc format and 27 percent were HD DVD, according to sales data provided by Media Control Gfk International.
Blu-ray said the best selling titles were 300, Spider-Man 3 and Pirates of the Caribbean: At World's End.
Home Media Research said in October Blu-ray Disc DVD titles had outsold rival HD-DVD titles by almost two-to-one in the first nine months of the year in the United States.
Bob Dylan movie leads indie Spirit Awards
Film Independent supports moviemakers working outside Hollywood's major studios or within the studios' specialty film divisions. The awards have become an important barometer for which low-budget and art films might compete for Oscars, Golden Globes or other honors in Hollywood's annual awards season.
Angelina Jolie was nominated for best leading actress playing Pearl's wife in "Mighty Heart" and relative newcomer Ellen Page earned a nod for "Juno." Joining them were Sienna Miller for "Interview," Parker Posey in "Broken English" and another newcomer, China's Tang Wei, in drama "Lust, Caution."
In the category for best leading actor, Don Cheadle was nominated for his role as a radio disc jockey in "Talk To Me" and Philip Seymour Hoffman earned a nomination playing one of the siblings in "The Savages."
Other best actor nominees included veteran Frank Langella in "Starting Out in the Evening," Tony Leung, a veteran of Hong Kong movies, for "Lust, Caution" and Pedro Castaneda portraying a migrant worker in "August Evening."
Joining Blanchett for supporting actress were Jennifer Jason Leigh for "Margot at the Wedding," Anna Kendrick in "Rocket Science," Tamara Podemski for "Four Sheets to the Wind" and Marisa Tomei with "Before the Devil Knows You're Dead."
Supporting actor nominees with Franklin were Steve Zahn in "Rescue Dawn," Chiwetel Ejiofor for "Talk to Me," Kene Holliday in "Great World of Sound," and Irrfan Khan in "The Namesake."
Foreign film nominees included Romania's "4 Months, 3 Weeks and 2 Days," winner of the Cannes film festival's Palme d'Or, Israeli film "The Band's Visit," Irish drama "Once" and two French films, "Lady Chatterley" and the animated "Persepolis."
The Spirit Awards will be given out February 23 in a ceremony that will air on the Independent Film Channel.
(Source: Reuters)
Literary works and movie deals
It's high season for Oscar bait, and multiplexes are filled with literary adaptations, including the Coen brothers' bloody take on Cormac McCarthy's "No Country for Old Men" and Mike Newell's film of Gabriel García Márquez's "Love in the Time of Cholera." Coming later this fall are big-screen versions of Ian McEwan's "Atonement," Philip Pullman's "Golden Compass" and Marjane Satrapi's "Persepolis," among others.
(Source: New York Times)
Making a Movie About Killing God Is Not as Easy as Pie
Their faces covered with elaborate tattoos, the Gyptians look fierce and deadly. Their sleeves bulge with muscles; their belts sag under the weight of their swords. Huddled in a tight formation, they wolf down bowls of rhubarb crumble.
The fantastic and the realistic brush against each other on many movie sets, but at the lunch canteen for The Golden Compass they collide head-on. In this London alley, the film crew is nearing the end of a four-month shoot in which they've created a quasi-Victorian world of witches, shape-shifting animals, and armored polar bears. It may sound like child's play, but it's not: New Line Cinema will spend $180 million on the film, an adaptation of the first novel in Philip Pullman's acclaimed fantasy trilogy, His Dark Materials. The pressure — to get it made, to make it good, to please the series' cult followers — is wearing out director Chris Weitz. "It's really hard to make a movie," he says. "It's hard enough to make a small, bad one. Trying to make a big, good one is definitely a challenge."
(Source: Wired)
Filmmaking technology allows films to finish faster
Five-time Oscar nominee Roger Deakins is grabbing a lot of attention these days, having served as director of photography on three recent high-profile features: Joel and Ethan Coen's "No Country for Old Men," Paul Haggis' "In the Valley of Elah" and Andrew Dominik's "The Assassination of Jesse James by the Coward Robert Ford."

Like most studio features, all three films went through a digital intermediate, or DI, process -- a method of digitally color timing and finishing a motion picture. But while DI has relatively quickly become the norm for finishing features in Hollywood, Deakins says that it still is very much misunderstood.

"It actually saves time and money on-set -- I don't think they realize that," he says. "I also don't think they realize why it's so important that the cinematographer sees the project through. (The latter) is a really important point, and it hasn't been argued enough by the different guilds and societies, and it's not being discussed. I think it's absolutely crucial. I will not go into a movie unless I know that I'm going to have some sort of input or control over seeing the image in the DI process."
(Source: Hollywood Reporter)
2 Stuntmen Burned on Sandler Movie Set
An accident on the set of Adam Sandler's latest comedy burned two stuntmen, officials said Monday.
One person was burned on his hands and legs and another on his back during filming on the Universal Studios back lot, said Los Angeles County Fire Inspector Sam Padilla. Both victims, whose identities were not released, were taken to a hospital in moderate condition, he said.
No fire was reported, and officials were investigating, Padilla said.
The injuries occurred during the filming of a scene for "You Don't Mess with the Zohan," said Steve Elzer, a spokesman for Columbia TriStar Motion Picture Group, which is distributing the movie.
"Our thoughts right now are with the stuntmen and their families and we hope that each recovers swiftly from their injuries," Elzer said in a statement.
(Source: The Associated Press)
BEHIND THE SCENES TV: The Writer's Guild on why they're striking
Jerry Seinfeld hopes 'Bee Movie' will sting terrorists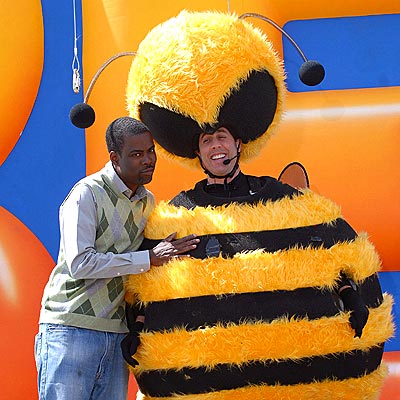 He's taken on the Soup Nazi, an annoying Chinese maitre d' and even an uncooperative puffy shirt, so when comedian Jerry Seinfeld faced the Israeli media Sunday in Tel Aviv, he was ready - ready with some one-liners and even a promise that the man from the show about nothing could perhaps even do something about terrorism.
In Israel to promote his new Bee-Movie, Seinfeld - who worked in a kibbutz banana field when he was last seen in these parts - explained that while "I don't think I can do much about terrorists, a successful movie by [Steven] Spielberg, [Jeffrey] Katzenberg and Seinfeld is annoying to terrorists. If we can't stop them, we can annoy them."
(Source: Jerusalem Post)