MOVIE OPENINGS – Nov 30
THE SAVAGES

Director: Tamara Jenkins
Stars: Laura Linney, Philip Seymour Hoffman, Philip Bosco
Studio: Fox Searchlight Pictures
The Plot: Estranged siblings Wendy (Linney) and Jon Savage (Hoffman) reunite to weigh the long-term care options for their mentally deteriorating father (Bosco).
READ REVIEWS FOR 'THE SAVAGES'
THE DIVING BELL AND THE BUTTERFLY 
Director: Julian Schnabel
Stars: Mathieu Amalric, Emmanuelle Seigner, Marie-Josée Croze
Studio: Miramax Films
The Plot: At the age of 43, Elle France editor Jean-Dominique Bauby (Amalric) suffers a stroke that paralyzes his entire body, save his left eye. Using that eye to blink out his memoir one letter at a time, Bauby describes the aspects of his interior world, from the psychological torment of being trapped inside his body, to imagined stories from lands he only visits in his mind.
READ REVIEWS FOR 'THE DIVING BELL AND THE BUTTERFLY'
AWAKE
Director: Joby Harold
Stars: Hayden Christensen, Jessica Alba, Terrence Howard
Studio: Weinstein Company, The
The Plot: A wealthy young man (Christensen) experiences "anesthetic awareness" during his heart surgery. Aware of the complications -- and conspiracies -- that develop while still under the knife, he's left helpless as his new wife (Alba) is forced to make life-altering decisions.
Frank Darabont on adapting Stephen King
As I sit across a small table from Frank Darabont in an upscale hotel suite, it becomes apparent that the talented writer and director of The Mist not only excels at translating Stephen King's other literary works into Oscar nominated films (Shawshank Redemption, The Green Mile). Additionally, he brings bits of King's supernatural tendencies to his own life, evident by his knocking on the table when mentioning that he's on the verge of wrapping up a deal to adapt Ray Bradbury's classic science fiction masterpiece Fahrenheit 451 to the big screen. Adapting has become an increasingly lucrative profession for Darabont.
(Source: Paste Magazine)
BEHIND THE SCENES TV: Producers expose writers as scabs
The 20 Best Nude Scenes of 2007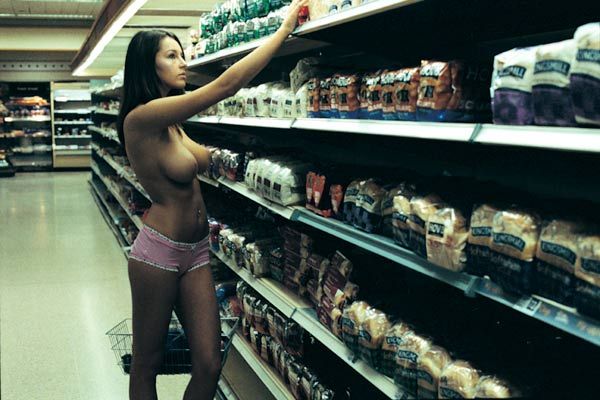 You might not have heard of Mr. Skin prior to 2007, but once Knocked Up hit screens, Mr. Skin became a household name. And who better to throw together a top 20 nude scenes of 2007  list then the dude whose job it is to spot, record and gain access to each and every piece of big-screen nudity. It may not be the most intellectual year-end list, but it's certainly one that grabs a lot of attention. So who made the list? Who came in at number one? And would Mr. Skin throw a bone to the film that catapulted the site to nekked super-stardom?
(Source: Cinematical)
No love for indie movies from US moviegoers
In all the coverage of the writers' strike in Hollywood, and the beginning of the annual soothsaying frenzy about which films are likely to win Oscars, one potentially very alarming trend in US cinema-going has been largely overlooked: the indie market has been in freefall. The most challenging and often the best-reviewed films of the autumn have all – almost without exception – done lousy business.
It is an instructive, if dispiriting, experience to compare the reviewers' glowing quotes with the grim box-office grosses. Start with Andrew Dominik's $30m The Assassination of Jesse James by the Coward Robert Ford. According to many pundits, this is the greatest Western since Clint Eastwood's Unforgiven, way back in 1992. "A ravishing, magisterial, poetic epic... a magnificent throwback," enthused Variety of Dominik's slow-burning drama about the killing of the legendary cowboy. The film had Brad Pitt (in theory, one of Hollywood's cynosures) in the title role, and the might of Warner Bros behind it. None the less, it has barely made $4m (paltry takings for a film of this stature) at the US box-office.
In the case of The Assassination..., there may be some mitigating circumstances. Rumours abound of spats between the director, star and studio. The film was shot two years ago and has had an immensely uncomfortable gestation. Clearly, not everybody wanted it to succeed. Dominik can at least console himself that his film is likely to acquire classic status, even if its commercial performance has been catastrophic.
What is worrying is that The Assassination... is not an isolated case. There have been several other equally highly praised movies that have been shunned in the same way by American cinemagoers. Take Sean Penn's Into the Wild. Again, the film has sent certain reviewers into raptures ("spellbinding" proclaimed the influential Roger Ebert) without luring audiences into multiplexes in meaningful numbers. The film, released by Paramount Vantage, has now stuttered to around $15m at the US box office.
(Source: The Independent)
10 questions with Roger Ebert
On the occasion of Roger Ebert being honored by the IFP/NY Gotham Awards, the first Pultizer Prize winner for film criticism agreed to answer MCN's 10 Questions.
(Source: Movie City News)
Paul Giamatti – your average, ordinary movie star
With his receding hairline and nervous mannerisms, Paul Giamatti is not exactly your average leading man. And yet, in the three years since he wowed critics with his role as a melancholy, middle-aged wine aficionado in Sideways, he's swiftly risen to become one of Hollywood's most bankable actors.
At 40 years old, he's actually younger than Hollywood hunks like Brad Pitt, Tom Cruise, George Clooney or Johnny Depp, but his appeal has little to do with looks or youth; it's his very ordinariness that makes him a director's favourite. "Let's be honest about this. I'm limited by my looks so I'm a tough sell," he says, smiling apologetically. "But there's plenty of folk out there who look just like me, and someone has to play them. "
(Source: The Independent)
Laura Linney shines at the peak of an already excellent career
Two-time Oscar nominee Laura Linney says she is the happiest she has ever been in her 43 years — quite unlike the character she portrays in her new movie "The Savages."
The film, which debuts on Wednesday, is on many lists of must-see holiday movies due to performances by Philip Seymour Hoffman and Linney as siblings forced to place their father in a nursing home.
Since her breakout role in 2000's "You Can Count On Me" — also about siblings in a time of crisis — Linney has become one of the busiest and most sought-after actresses in film, television and theater.
(Source: MSNBC)
Carson Daly wants to defy writers strike
NBC's "Last Call with Carson Daly" is about to become the first late-night talk show to defy the writers strike and resume production.
Daly, who is not a member of the Writers Guild, will begin taping new episodes of his Burbank-based show this week for airing next week, an NBC spokesperson confirmed Tuesday.
The half-hour "Last Call" airs at 1:35 a.m. EST weeknights, but whether Daly's first new episode would air next Monday or Tuesday was initially unclear. No guests were disclosed.
"The Writers Guild of America, East joins our colleagues of the Writers Guild of America, West in expressing our profound disappointment with Carson Daly's decision to return to work," the guild said in a statement that also commended other late-night talk show hosts for showing solidarity with their writers. "We thank them and hope that Mr. Daly will reconsider his decision, including the soliciting of scab writers to provide material for his program."
Daly is not the first talk-show host to go back into production. Ellen DeGeneres, who is a member of the union, has continued taping her daytime syndicated talk show after shutting down the first day of the strike. But "Last Call" becomes the first to break ranks among the late-night shows, which all had chosen to air repeats rather than tape new shows without their striking writers.
It was unclear what effect, if any, the return of "Last Call" would have on other late-night talk shows, which include NBC's "The Tonight Show with Jay Leno" and "Late Night with Conan O'Brien," CBS' "Late Show with David Letterman" and "Late Late Show with Craig Ferguson," and ABC's "Jimmy Kimmel Live!" Comedy Central's late-night news-and-commentary spoofs, "The Daily Show with Jon Stewart" and "The Colbert Report" with Stephen Colbert, have also been in reruns.
There was no immediate word on when any of those shows might follow suit and return with new episodes.
On Monday, contract talks with the studios resumed for the first time since movie and TV writers went on strike Nov. 5. The Writers Guild is seeking more money for material distributed over the Internet and cell phones.
The economic impact of the writer's strike
A UCLA economist is throwing cold water on estimates that the writers strike will have a $1 billion economic impact if it lasts as long as the WGA's five-month work stoppage in 1988.
"As it turns out, a close examination of the economic dynamics of the 2007 WGA strike suggests a much more modest and transitory impact on the Los Angeles economy," said Jerry Nickelsburg of the UCLA Anderson Forecast. "The impact, even if the strike runs as long as the record 1988 strike, will be about one-third or less of the currently accepted $1 billion estimate."
Nickelsburg issued his report Wednesday as the strike entered its 24th day with negotiators meeting for the third consecutive day amid a news blackout.
The Los Angeles Economic Development Corp. recently issued the estimate of the strike resulting in $1 billion in damages to the local economy. But Nickelsburg noted that such initial forecasts may be out of whack since strikes are predictable events and those affected try to mitigate their impacts through such steps as stockpiling.
(Source: Variety)