Ed Burns to distribute his new movie exclusively on iTunes
Ed Burns is a filmmaker, so it's not surprising that he likes to see his work on the 40-foot screen of a movie theater. But for his eighth independent film, "Purple Violets," Burns is forsaking the silver screen in favor of flat panels and iPods. Burns, an actor-writer-director-producer whose credits include "The Brothers McMullen" and "Sidewalks of New York," is pioneering what may be a new business model for independent filmmakers.
The first stop for "Purple Violets" will be on Nov. 20 at Apple's iTunes Store, where people will be able to download a copy for $14.99. Apple will have the exclusive rights to the film for a month, after which it will be available on DVD through retailers and rental outlets. 
Filmmakers have traditionally sent most of their features to theaters first because it makes sense economically as well as aesthetically. Having at least a limited theatrical release is the best way to get a film reviewed. Good reviews and decent ticket sales can persuade cinema owners to put the film on more screens. The same factors help determine whether stores stock the video, how many copies they carry and how prominently they display them. 
(Source: LA Times)
3 Pablo Escobar movie projects in development
As "Entourage," television's fictionalized Hollywood chronicle, wrapped its season last month, the agent extraordinaire Ari Gold saw his client's dream movie about the Medellín drug cartel hammered by the audience and would-be buyers at the Cannes Film Festival. Maybe Mr. Gold was working the wrong market. 
At the American Film Market, which begins here on Wednesday, no fewer than three prospective movies about the cocaine cartel and its kingpin, Pablo Escobar, are expected to vie for attention. 
(Source: New York Times)
High-def DVD battle heats up
Walt Disney Studios Home Entertainment worldwide president and Blu-ray Disc proponent Bob Chapek on Tuesday blasted the rival HD DVD camp for prolonging the format war when it is clear that Blu-ray is the odds-on favorite. 
"Blu-ray's competition's attempts to sell less than the best will inevitably be trumped by what we stated from the very beginning: That the Blu-ray technology is not a half-step format that will sell consumers short, but rather it is a revolutionary technology that will change the way we view movies for the long term," Chapek said near the conclusion of a two-day Blu-ray Festival in Hollywood. 
"And we firmly believe that revolutionary technology, my friends, is indisputably, undeniably and inevitably Blu-ray." 
(Source: Hollywood Reporter)
The art of acting your own age in Hollywood
WHATEVER happened to Tom Cruise? Yes, I know there was somebody impersonating him in London last week at the premiere of Robert Redford's new film Lions for Lambs - a chubby, cheesy, eager-to-please labrador puppy, eternal student type, with a bad haircut. That's not the real Tom Cruise.
The real Tom Cruise is the broody, moody, Top Gunner; the sexy, smart Charlie Babbit in Rainman; the scary, stunning killer in Collateral. 
Except, of course, that isn't the real Tom Cruise at all. Those are the parts he's played. His acting skills, the script and the stuntman have convinced us all that he's eternally young, vital, desirable, indestructible. And that's the trouble. He believes it himself and is loath to move on. 
(Source: The Sydney Morning Herald)
BEHIND THE SCENES TV: Interview with Kevin Smith on CW's 'Reaper'
MySpace ventures into reality TV
MySpace begins airing its first original scripted production today. "Roommates" is a faux reality series designed to mimic the success the company had with "Prom Queen."
Unlike Michael Eisner's "Prom Queen," which debuted on MySpace but was not exclusive, MySpaceTV is co-producing "Roommates," airing it exclusively and will retain creative control to respond to plot suggestions from MySpace users. 
"Users can suggest storylines, and we will take input from viewers from Seattle to Stuttgart who will have a say on where the show should go," said MySpaceTV G.M. Jeff Berman. 
(Source: Variety)
Persian Gulf getting into filmmaking
While much has been made of the competition between the two emirates of Dubai and Abu Dhabi to establish themselves as regional and international film hubs, the rest of the Persian Gulf has stepped up its own cinematic activities.
The likes of Saudi Arabia, Qatar and Kuwait all have hefty coin at their disposal with the booming oil and gas prices, and even smaller states such as Oman and Bahrain, not to mention other emirates in the U.A.E, are all getting in on the filmmaking act.
Sharjah, for example, a fellow emirate alongside Dubai and Abu Dhabi, just wrapped production on its first full-length feature, "Jumaa and the Sea," which received its world preem at Abu Dhabi's Middle East Intl. Film Fest (Oct. 14-19).  Elsewhere Oman ("The Dawn), Bahrain ("The Barrier") and Qatar ("Threads Beneath Sands") have all produced their first features. 
(Source: Variety)
CASTING COUCH
Naomi Watts will star and Martin Campbell is in negotiations to direct Universal's new version of "The Birds."

Steve Buscemi and Daniel Bruehl ("Good Bye, Lenin") have joined the cast of "John Rabe," Florian Gallenberger's true story about a German businessman who saved more than 200,000 Chinese lives during the Nanjing massacre carried out by Japanese soldiers during their occupation of China in 1937-38.

One day before shooting began, Mark Wahlberg stepped in to replace Ryan Gosling in "The Lovely Bones," the Peter Jackson-directed adaptation of the Alice Sebold novel for DreamWorks.

Angela Bassett and Noah Wyle have joined the cast of Yari Film Group's "Nothing but the Truth," a thriller from writer-director Rod Lurie.
INTERVIEW: 'Cane' creator Cynthia Cidre
The new CBS drama series Cane centers on the Duque family, the Cuban-American owners of a sugar and rum business.  Created by Cynthia Cidre,  the show features many elements of her personal experience and unique writing trademarks, such as her father's experience in the sugar industry and her inclusion of adopted characters in large Cuban-American families.  Cane stars an impressive Latino cast, including Jimmy Smits, Nestor Carbonell, Hector Elizondo and Rita Moreno. 
Cynthia Cidre spoke to BuddyTV about how the show initially came into being, the comparisons between Cane and Shakespeare's King Lear, and the overall attractiveness of her show's cast.
(Source: Buddy TV)
The race for Oscar heats up with 'The Kite Runner'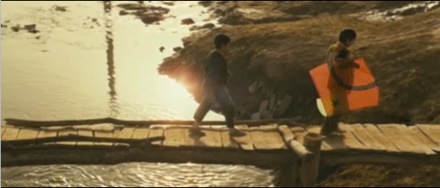 Heads up, Oscar watchers.  I've just seen the movie that has, to my mind, the best shot at WINNING Best Pic.  I'm not, nor would I ever say it WILL win but it has the right stuff TO win.  Longer review coming but I'll say this much: you won't see another movie like it.   Hopefully audiences will get over the idea that it's a movie about "them" and will see that it's themes are universal.  It's also Marc Forster's best film to date.   
The Oscar years I love best are the ones that offer a variety of different types of films that do different things.  If you just take Into the Wild, The Kite Runner and No Country for Old Men, that is quite a lineup if they are nominated for best pic, and then you add Michael Clayton (maybe), Charlie Wilson's (maybe), and There Will Be Blood (maybe), Sweeney Todd (maybe), this won't be a year for complaining about how there are no good movies anymore.   It is shaping up to be one of the best in a good, long while. 
(Source: Awards Daily)