Comic-Con San Diego unveils new updates for Star Trek, Indiana Jone 4 and Iron Man
The halls of the San Diego Convention Center were abuzz with the news that came pouring out of the panel today hosted by Paramount Pictures, DreamWorks Pictures and Nickelodeon Movies.  
Exclusive footage and major casting announcements included: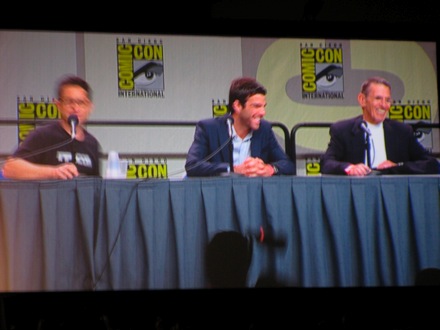 Director/Producer J.J. Abrams revealed his first casting for the "Star Trek" adventure: Zachary Quinto (Sylar on "Heroes") will step into the ears of the young Mr. Spock and veteran Leonard Nimoy will return to the role he made famous. Both Quinto and Nimoy made surprise appearances and were greeted with wild applause. Abrams, producers Damon Lindelof and Bryan Burk and writers Roberto Orci and Alex Kurtzman answered questions from the audience. The new "Star Trek" film will be released on Christmas Day in 2008.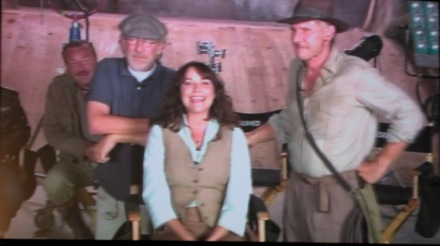 Appearing live via satellite from the set of the new "Indiana Jones" adventure, director Steven Spielberg and three of his cast members Harrison Ford, Shia LaBeouf and Ray Winstone discussed the film, and Spielberg revealed that Karen Allen, the co-star of "Raiders of the Lost Ark," will be returning for the fourth installment, which debuts over the Memorial Day weekend 2008.
In another surprise, director Jon Favreau shared world premiere footage from his upcoming "Iron Man" starring Robert Downey Jr., Terrence Howard, Jeff Bridges and Gwyneth Paltrow. The action/adventure based on the Marvel Comic launches the summer season on May 2, 2008.
Producer Judd Apatow and director Steven Brill sent a taped greeting to introduce the first-ever viewing of the trailer for the Owen Wilson comedy "Drillbit Taylor," which opens nationally on March 21, 2008.
Neil Gaiman also presented a clip from the film version of his graphic novel "Stardust," which opens August 10, 2007. The film was screened at Comic-Con Thursday evening.
A trailer from the upcoming "The Spiderwick Chronicles" was followed by a Q&A with the film's director Mark Waters, Oscar(R)-winning special effects whiz Phil Tippett and Tony DiTerlizzi and Holly Black, authors of the "Spiderwick" book series. "The Spiderwick Chronicles" opens February 15, 2008.
And the first poster art was revealed for Tim Burton's "Sweeney Todd: The Demon Barber of Fleet Street" starring Johnny Depp. "Sweeney Todd" opens December 21, 2007 in exclusive runs and nationally on January 11, 2008.
Internet hype fuels JJ Abrams movie
The greatest film trailer ever made - that was what Americans saw when they plopped down to watch Transformers over the July 4 weekend. In just under two minutes it blends together the best bits of The Blair Witch Project, Independence Day, Godzilla, Planet Of The Apes and ties them together with the neat bow of post-9/11 anxiety.
So what's the film called? Well, erm, it doesn't have a title yet - instead, it's currently being referred to by multiple studio codenames: Cloverfield, Slusho and 1-18-08 (the film's slated release date). We'll just call it Cloverfield for convenience's sake.
(Source: Guardian UK)
Comic-Con convention revs into full swing
Zach Snyder, the sandy-haired 41-year-old of 300, who was at last year's Comic-Con convention, arrived this time to a triumph worthy of Xerxes. All of PetcoPark, the city's Major League Baseball stadium, was reserved for a Friday night screening and celebration of "300," which became a surprise global hit for Warner Brothers in March.
Earlier in the day fans packed one of the convention center's enormous halls (capacity, 6,500) to glean Mr. Snyder's thoughts about "Watchmen," the movie he expects to make of the famous comic series, written by Alan Moore and illustrated by Dave Gibbons, about the underbelly of super-hero life. To hoots and hollers of approval, the director promised to keep faith with the comic, sticking with its setting in the 1980s, as the cold war was nearing its end. Mr. Snyder added that he would deliver an R-rated film, something unusual in the super-hero genre.
"We're not going to make it accessible to teenyboppers for marketing reasons," he said. Viewers, he predicted, would ultimately say: "He didn't just do that, did he? That looks like sexual assault to me."
(Source: New York Times)
Westerns riding back into theaters?
In the summer of 2003, Laramie Street, the western-town studio set that had been on the Warner Bros back-lot since the 1930s, was torn down. The rough wooden cantina, the railroad track and the hotel, with its swing doors and hitching rail, where Errol Flynn, James Stewart, Henry Fonda and other heroes of the Hollywood western of yore had smacked their dusty chaps and tied up their tired horses, were bulldozed to make way for yet another suburban American street. Warner Bros had little choice. With fewer and fewer westerns being produced, the set had been used for only nine days in the previous five years.  
Yet now, as if galloping into town dusty and bedraggled from a long trail ride, the western is being welcomed by Hollywood again. Just 12 months after HBO's critically acclaimed series Deadwood finished, the annual Emmy nominations, which reward the best television programmes of the year, were last week dominated by two new western mini-series, Bury My Heart at Wounded Knee, which had 17 nominations, and Broken Trail, which had 16. And the theatrical distributor Lions Gate Films recently announced that it was bringing forward to early September the release of its new western, 3:10 to Yuma, starring Russell Crowe and Christian Bale, for which it has big Oscar hopes.
It wants to get a jump on other westerns being released before the year's end that are expected to be in the running for Oscars, including The Assassination of Jesse James by the Coward Robert Ford, which stars Brad Pitt as James, and No Country for Old Men, Joel and Ethan Coen's adaptation of Cormac McCarthy's more contemporary western, starring Tommy Lee Jones and Javier Bardem. Other westerns set for release in the next few months include September Dawn, with Jon Voight and Terence Stamp, and Seraphim Falls, starring Liam Neeson and Pierce Brosnan. 
(Source: Times Online)
INTERVIEW: Director Paul Greengrass on creating an ultimatum for Jason Bourne
Director Paul Greengrass follows up his superior Jason Bourne sequel The Bourne Supremacy with The Bourne Ultimatum this weekend.  Greengrass kicked it up anotch with his direction of the last Bourne movie and earned his director cred with United 93, which earned him an Oscar nomination. In this interview with Collider, he speaks about the challenges of making a Bourne movie and what makes a good action scene. 
(Source: Collider)
CASTING COUCH
Vince Vaughn and Reese Witherspoon are in final negotiations to star in New Line Cinema's upcoming comedy Four Christmases , it was announced today by New Line Production President Toby Emmerich.

Susan Sarandon has joined the cast of Peter Jackson's The Lovely Bones , based on Alice Sebold's novel, for DreamWorks.

Eddie Izzard has replaced Jeremy Piven as the insane Schadenfreude in the Weinstein Company's Igor , and producer Exodus Film Group has signed a deal for a series of comic books based on the film with IDW Publishing.

Actor Val Kilmer will reunite with director Tony Scott, with whom he worked on the features Déjà Vu , Top Gun and True Romance , in the season premiere of "Numb3rs," to be broadcast Friday, Sept. 28 (10:00-11:00 PM ET/PT) on the CBS Television Network.
INTERVIEW: Director Scott Hicks makes 'No Reservations'
Ten years ago, Australian filmmaker Scott Hicks got caught up in Oscar fever when his movie Shine received five nominations including one for Hicks' direction. It was a huge breakout for the director and the film's star Geoffrey Rush, who won an Oscar for his first featured film role. Hicks went on to direct movies based on David Guterson's Snow Falling on Cedars (a movie hailed for its cinematography) and on Stephen King's novel Hearts in Atlantis starring Anthony Hopkins.  
The latter movie came out in 2001 and it's been over six years since Hicks' name was seen on a feature film, but now he's back with No Reservations, a considerably lighter film based on the German Mostly Martha, starring Catherine Zeta-Jones as a New York chef whose professional life gets sidetracked when she has to take care of her late sister's young daughter (played by Abigail "Little Miss Sunshine" Breslin) and deal with a hotshot chef (played by Aaron Eckhart) who's interested in Kate for more than her cooking secrets. 
(Source: ComingSoon.net)
BEHIND THE SCENES TV: Behind the scenes of 'The Bourne Ultimatum'
INTERVIEW: Writer Michael Goldenberg on adapting 'Harry Potter and the Order of the Phoenix'
Thus far in the history-making run of the Harry Potter franchise, one man, screenwriter Steve Kloves, has adapted all of J.K. Rowling's spell-spinning, ticket-vanishing yarns to the screen. With Harry Potter and the Order of the Phoenix -- the fifth of an eventual seven books and films -- the streak has ended. Though he has already taken on the sixth script and is presumed to be doing the seventh, Kloves took a voluntary respite on five, opening the door for another scripter to have the keenly rarified opportunity to adapt a Potter. 
This screenwriting Charlie Bucket (keeping in genre) is Michael Goldenberg, a former New York playwright and Carnegie Mellon drama graduate whose screen credits include 1997's alien contact drama Contact. Though he fell short in a bid to win the Potter job at its outset, he had impressed and befriended David Heyman, one of the franchise's main producers. So when Kloves stepped aside, Heyman rang Goldenberg and that was that.
"The truth was it was a bit of a complicated reaction," says Goldenberg of the initial phone call. "At first I was just stunned, then excited of course, and then simultaneously relieved and dismayed that I'd just lost control of my life for the next couple years. And then I sighed, looked around my kitchen and thought, 'Well, now I know what the first thing in my obituary will be.'"
(Source: WGA)
Aaron Sorkin opens up about the disappointment of 'Studio 60 on the Sunset Strip'
WHEN Aaron Sorkin was a young nobody in New York in the 1980s, working as a bartender while writing his Broadway hit, "A Few Good Men," on cocktail napkins, he found himself observing the media darlings of the moment. The threesome, Jay McInerney, Bret Easton Ellis and Tama Janowitz, were all as well known for their off-stage antics as they were for their literary work. "I remember saying to myself, 'These guys aren't doing themselves any favors becoming known for all those other things instead of for what they wrote,' " Sorkin recalls with a wag of his head. "And then look what happened. To me!" 
Sorkin's much-touted NBC series, "Studio 60 on the Sunset Strip," whose last episode aired just a few weeks ago, was canceled before the end of its first season, a victim of bad ratings and mediocre reviews. But it was also ambushed by nonstop sniping between Sorkin and the media, much of it even before the first episode aired.
(Source: Los Angeles Times)