PREVIEW – Tom Hanks and Julia Roberts in 'Charlie Wilson's War'
Charlie Wilson's War is a movie that comes packaged with Oscar pedigree. It stars Tom Hanks as the titular Texas Congressman who for the most part did not have much going for him in Washington except for an active social life revolving around booze and women. However, when he latches on to the mujahideen struggle in Afghanistan against the Russian invasion during the early 80s, Wilson becomes a man reborn with a mission to help the mujahideens by supplying them with arms.  
Together with a rogue CIA agent named Gus Avrakotos (played by Philip Seymour Hoffman), he begins to garner the support of Congress and enlists the help of a Texas socialite, Joanne Herring (played by Julia Roberts) and then Pakistani president, Zia-ul-Haq (Om Puri) to set his plan in motion. What transpires is the largest covert CIA operation in American history, one that quite possibly laid the groundwork for today's network of world terrorism.
The book on which it's based, written by George Crile (who sadly passed away in 2006), is a massive tome of dense backstory and backroom politics. But it scores high marks for being heavily researched and thoroughly engrossing. Aaron Sorkin adapted the screenplay for Charlie Wilson's War, quite possibly the best choice given his previous work from The West Wing and The American President. 
Mike Nichols directs Charlie Wilson's War and with a smashing cast of three Oscar winners, the film is expected to headline the awards season by year's end. During production, an effects crew person was listed in critical condition when a mortar exploded during shooting at Downey Studios in Los Angeles. The picture has finished production and is currently in editing. Charlie Wilson himself had a few words about the movie version of his life and some of his favorite shows.
Nicolas Cage is the busiest actor this year?
Life is in the fast lane for Nicolas Cage, who stars in no less than four films this year. All of them are set to be released before the end of the year which quite possibly earns him the moniker of the busiest actor of the year among the echelons of A-list stars. Cage is not one to slow things down as he's always had projects lined up one after the other. Recently married with a new baby (named Kal-el), he's plain dogged when it comes to moviemaking. Here's a rundown of the four movies that has Cage blazing the screen this year: 
There are about 5 other projects listed in IMDB for Cage in 2008 and those include producing duties. Often times, I'm almost sure that the projects that Cage chooses fall between mediocrity and excellent but they rarely jump the vault beyond that. On the surface, they appear to have all the elements going for them but more often than not when realized they hardly stay with you. Here's to hoping Cage has a banner year.
SHORT TAKES
DVD SPECIAL FEATURES REVIEW: The Prestige
Starring: Hugh Jackman, Christian Bale,  Michael Caine, Scarlet Johansson and Rebecca Hall.
Directed by Christopher Nolan
130 mins 
The Prestige is a visually striking and psychologically interesting movie with a kind of sly narrative trickery up its sleeve. Like its two rival protagonists, it doles out its red herrings the same way a magician unspools his trick for an audience. And I mean to the very end. The story pits rival stage magicians Robert Angier (Hugh Jackman) and Alfred Borden (Christian Bale) against one another stemming from a tragedy to the former. As they try to one up each other in a game to uncover each other's secrets, their obsession to unseat the other becomes deadly for both men.  
Adapted from a novel by Christopher Priest which was written in journal entries, the resulting screenplay is a layered piece of dual point views and sleight of hand. The direction by Christopher Nolan is stout and the film is above all else visually dense but understated. There are winning supporting performances by Michael Caine, Rebecca Hall and Scarlett Johansson while the imagining of the period doesn't feel stale but rather alive. 
Special Feature #1: The Director's Notebook: The Cinematic Sleight of Hand of Christopher Nolan  
19 minutes 5 seconds 
Nolan narrates this piece which is divided into chapters about the many aspects and people that brought about the film's vision to fruition. In particular, he discusses the challenge of making a period movie timeless and non-genre specific. He also delves into the power of the Victorian era and the relationship between scientists and magicians, specifically how the latter held sway over a public with secret séances. Nolan syas:
I didn't want the film to feel too much as if it were set in the past. I really want to try and emphasize the aspects of that world that are exciting to a modern audience
In the section titled Conjuring the Past, the design and the look of the film is discussed where the synergy between production designer Nathan Crowley and cinematographer Wally Pfister (who worked with Nolan on Batman Begins) work to hold up a unifying mood. Crowley gives us a tour through the set on the Universal backlot, which was converted into a scummy Victorian London street. What's unique here is the challenge of pulling out the modern aspects in a period film. In a little aside, Scarlet Johansson spends some time pointing the unique features on design of her costume. 
In The Visual Maze, the filmmakers explain using natural light to get a sense of immediacy and shooting everything handheld for shifting points of view. The Prestige is a film rich in its visual design right from the opening image of top hats and in Metaphors of Deception, Nolan delineates the movie's internal rhythms and how employing visual metaphors reinforce the intricacies of the storytelling. Nolan's brother, Jonathan Nolan, steps in to shed some light on the screenplay. 
One of the inspirations of the story is Nolan's interest in Nikola Tesla and in Tesla: The Man who Invented the Twentieth Century, the mystery and aura of this scientist is explored and David Bowie was Nolan's one and only choice to play Tesla. Throughout this special feature, there are also interviews with Christopher Priest, Hugh Jackman, Christian Bale, Rebecca Hall and others.  
Special Feature #2: The Art of The Prestige 
This is a quick and fast little section of still images divided into:
Film (26 images)

Behind The Scenes (23 images)

Costumes And Sets (27 images)

Poster Art (10 images)
All in all, this is a commendable disc but it's sorely missing a few needed extras to make The Prestige indeed prestigious like:
A feature length commentary by Nolan (with his brother Jonathan)

An extensive look into the magicians of the Victorian era

The contrasting approaches of both Jackman and Bale in creating their characters

A documentary on some aspect of post-production
Predicting the Top 10 Grossing Movies of Summer 2007
Everyone knows that there is so much anticipation riding on this summer's movies. The key number is 3 as movie franchises roll out the next beast in their marketing machines. The movies are as branded as Starbucks and Microsoft and the battle for box-office supremacy will be ugly. When the dust settles, there will be the inevitable losers and winners but moviegoers will ultimately decide the power of a movie franchise. So in the spirit of providing the uninitiated into the vagaries of the summer movie landscape, the editors at Behind the Scenes have employed a complex theorem to calculate the final tally of this summer's onslaught of movies.  Here is our top ten box-office predictions for this summer:
10. RATATOUILLE (Walt Disney Pictures – June 29) 
This delightful little romp from Pixar pits a rat against an eccentric chef in a Parisian restaurant. The trailer is funny and the killer team from The Incredibles led by Brad Bird will no doubt lasso in the sought after family demographic of kids and adults alike. The voices involve include Patton Oswalt, Jeneane Garafolo, Ian Holm, Brian Dennehy and Peter O' Toole. 
Final Tally:  $172 million 
9. EVAN ALMIGHTY (Universal Pictures - June 22) 
The sequel of sorts to Bruce Almighty finds Steve Carell reprising his riotous newscaster, Evan, who ends up in Virginia only to find God (Morgan Freeman) instructing him to build an ark to stop an impending flood. Carell, who hurt his ankle while filming the movie, is looking to repeat his box-office success from last year with The Forty Year Old Virgin. That would surely propel him to the top ranks of the funny men in the industry. 
Final Tally:  $175 million 
8. LIVE FREE OR DIE HARD (20th Century Fox – June 6)  
Can John McClane escape another death wish? Bruce Willis returns as McClane to prove his mojo in the fourth installment of the Die Hard franchise. Picking up 18 years after the last Die Hard, McClane, who now works for Homeland Security, battles a group of cyber terrorists with the help of a young hacker (played by Justin Long, the dude in the Apple ads). Nothing beats the pounding of the Fox logo followed by a slam bang action scene with McClane. 
Final Tally:  $190 million 
7. THE BOURNE ULTIMATUM (Universal Pictures – August 3) 
The dangerously cropped Jason Bourne (Matt Damon) finally returns home to the States. Still plagued by his amnesia, he has to fend off a group of highly trained killers, led by the CIA's own David Straithairn. Paul Greengrass (Oscar nominated for United 93) returns to direct with Joan Allen and Julia Stiles co-starring. 
Final Tally:  $217 million 
6. RUSH HOUR 3 (New Line – August 10)   
As the only bankable franchise for New Line (after retiring the Lord of the Rings trilogy), Rush Hour 3 reconnects Chris Tucker with Jackie Chan as they pursue the assassin to the Chinese ambassador. The trail ends up in Paris where both are really out of their element. Brett Ratner is directing traffic again. The main course here is a fight scene involving Tucker (cannot explain his inexplicable absence from the movies in the last 5 years) and the seventh tallest person in the world, a basketball player called Sun Ming Ming. 
Final Tally:  $244 million 
5. TRANSFORMERS (DreamWorks and Paramount – July 4) 
The fans are foaming at the mouth for this one. Based on the Transformers toys and franchise, in a world pitting rival robots that can transform their shapes, the effects-heavy movie is slated for the coveted July 4 opening and has the most pressure to deliver. Michael Bay directs a cast that includes Shia LeBeouf, Josh Duhamel, Tyrese Gibson and Jon Voight. But the robots are clearly the stars here.
Final Tally: $290 million 
4. HARRY POTTER AND THE ORDER OF THE PHOENIX (Warner Bros – July 13) 
The fifth Potter movies flies in on the eve of the final book in the series being released this summer, so anticipation and interest will be through the roof. Harry Potter, in his fifth year of the Hogwarts school, engages the resurrected Lord Voldemont (Ralph Fiennes) in a fiery battle. The usual stellar cast is back - Michael Gambon, Alan Rickman, Emma Thompson, Maggie Smith and Gary Oldman and the entire order of esteemed British actors. Which means you're not one if you haven't been cast in the Harry Potter movies. 
Final Tally:  $333 million 
3. SHREK THE THIRD (DreamWorks – May 18) 
The gentle ogre lumbers back to find a suitable heir for the throne of the kingdom of Far, Far Away. The only thing is the possible heir is as big a pest as Donkey. Mike Myers, Eddie Murphy, Cameron Diaz and Antonio Banderas are back to voice their characters. This is the little green giant that could and will topple most other live action films.  
Final Tally: $375 million 
2. SPIDERMAN 3  (Sony Pictures - May 4th)
It was easy when it was just boy sees girl, boy pines for girl and girl suspects boy is superhero. But then girl had to fall in love with boy. And now boy wants to marry girl. That sure throws a monkey wrench when that boy is Peter Parker (Tobey Maguire) masquerading as Spiderman. The stakes are higher as a darker force takes over Spidey and the arrival of two new villains, Sandman (Thomas Haden Church) and Venom (Topher Grace) only makes thing worse. And there's the New Goblin (James DeFranco), pitting and reinventing an old friend as a new nemesis. 
Final Tally: $394 million 
1. PIRATES OF THE CARRIBEAN: AT WORLD'S END (Walt Disney Pictures – May 25) 
The last we saw of Capt Jack Sparrow (Johnny Depp) was him being swallowed by a giant squid. We're sure he's going to emerge grimier and even grungier when he travels to the end of the world to fight off an alliance of pirates that includes Chow Yun-Fat. The big news is that of Keith Richards playing Depp's old man and it was reported that he filmed his scenes drunk. Either way, this tidal wave will knock out your summer sails. 
Final Tally: $412 million 
So there you have it. We don't know if this is a bold or safe prediction but we don't mind if you call in the bookies. However, this prediction is no substitute for sound, legal advice and we warned you. There are other films that almost made it to the list and will still break the $100 million barrier. They include Ocean's Thirteen, Fantastic Four: Rise of the Silver Surfer, Knocked Up and The Simpsons Movie. This is going to be a long, hot summer. 
BEHIND THE SCENES TV – Colin Farrell and Gong Li learn to salsa for 'Miami Vice'
[youtube=http://www.youtube.com/watch?v=hSg5LpUkJ-U]
Quentin Tarantino and Robert Rodriguez talk shop on their next projects after 'Grindhouse'
So I was breezing through channels, which I hardly ever do,  and I landed on The Charlie Rose Show where Quentin Tarantino and Robert Rodriguez were holding court.  It's really great to see these two guys bask in their friendship based on their love for movies. The laid-back and calm Rodriguez is the perfect counterpoint to the frothing and foaming Tarantino, who gets carried away by the minutae and verve in describing everything with a resounding climax. But what was interesting is what both of these guys had to say about their next projects when asked by Rose.
Rodriguez mentions that Sin City 2 will most likely go into production this June and could be followed by a television series. That's an interesting idea as the Sin City series of graphic novels could be expanded into a dark show, maybe on HBO or Showtime.
Tarantino, on the other hand, lays down the gauntlet on Inglorious Bastards, the WWII Dirty Dozen-type adventure movie, which he's described many times as his next project:
The only reason I hadn't done it yet is because it expanded into such a thing that I was literally writing a novel…at some point I almost abandoned it and like I'll just have to turn it into a book but now, I mean, I could do it as a mini-series, I could do it as anything.
Tarantino also notes that he hates the biopic with a passion and would be the one genre he would never do. Yet he insists he's always wanted to do a picture based on the life of John Brown. Tarantino even suggests that he would like to play Brown, a rebellious abolitionist, at some point. No word on a script but it sounds promising.
After the misfire of Grindhouse at the box-office (it's amassed about $20 million so far), there's no denying it's time to throw themselves quickly into something else to redeem themselves in the eyes of the money men. The deflated Harvey Weinstein pronounced that Grindhouse was better off split into two movies. The worldwide release of Grindhouse could most likely see it as two features shown separately. Looks like it's time to make papa Weinstein proud again.
DVD NEW RELEASES – Tuesday, April 17
FREEDOM WRITERS – WIDESCREEN
Special Features: 
Commentary by Director Richard LaGravenese and Hilary Swank

Deleted Scenes

Making 'A Dream'

Freedom Writers

Family

Freedom Writers

: The Story Behind the Story

Photo Gallery

Theatrical Trailer
THE LAST KING OF SCOTLAND – WIDESCREEN 
Special Features: 
Commentary by director Kevin Macdonald

7 Deleted scenes with optional commentary by Kevin Macdonald 

        

Documentary: Capturing Idi Amin

Forest

Whitaker: Idi Amin Featurette

Fox Movie Channel Presents: Casting Session- The Last King of

Scotland

 

 

Theatrical Trailer

International Trailer

 
NOTES ON A SCANDAL – WIDESCREEN
Special Features: 
SMOKIN' ACES – WIDESCREEN
Special Features: 
Audio commentary with writer/director Joe Carnahan and editor Robert Frazen 

   

Audio commentary with writer/director Joe Carnahan, Common, Christopher Holley and Zach Cumer

Deleted and extended scenes

Outtakes

Cowboy ending

The Line-Up 

 

The Big Gun

 
SPIDERMAN 2.1
Special Features: 
Audio Commentary by Producer Laura Ziskin and Screenwriter Alvin Sargent

Spidey Sense 2.1-Trivia Track with Integrated Pop-Ups That Take You On the Set During Key Scenes

Sneak Peak: Spider-Man 3

Inside 2.1. Featurette

Multi-Angle: Danny Elfman's Score

With Great Effort Comes Great Recognition Featurette

VFX Breakdowns - an In-depth Look at the Visual Effects of Spider-Man 2.1
SHORT TAKES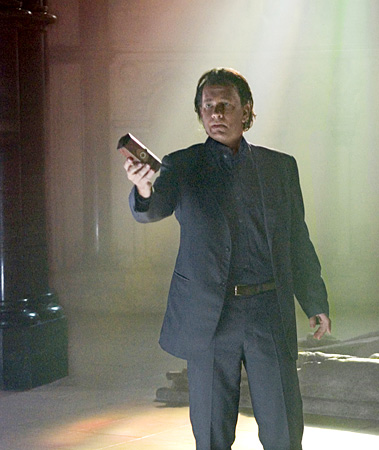 Tom Hanks is close to returning to reprise his Robert Langdon role in Angels and Demons, the prequel to The DaVinci Code. Akiva Goldsman is yet to turn in his adaptation which also has director Ron Howard waiting in the wings. Inside sources say the movie is slated for a January '08 shooting date.
Oscar

winner Forest

Whitaker is in final negotiations to star in The Great Debate with Denzel Washington. Washington is a professor who forms a small debate team and takes them to the national championships beating Harvard along the way. Oprah Winfrey is one of the producers.
Philip Roth's novella Dying Animal is lining up a stellar cast. Peter Sarsgaard, Dennis Hopper and Deborah Harry join the picture headlined by Ben Kingsley and Penelope Cruz about an erotic affair between a professor and a student with startling consequences. The film starts shooting next month in Vancouver.
David Mamet is delving into the world of Jujitsu when he starts shooting Redbelt in Los Angeles starting in May. Chiwetel Ejiofor is a jujitsu master conned by an underbelly of movie stars and show promoters and has to get back into the ring to regain his honor. Mamet has been running the show The Unit on CBS over the last year.
Only Blockbuster has exclusive content for 'Bobby' DVD
In what is working out as a skimpy deal for DVD consumers, Blockbuster is being granted exclusive content for the Bobby DVD from The Weinstein Company through which they have an exclusive deal. What that means for consumers is that they will not see a special feature on the DVD sold and rented outside of Blockbuster. The special feature in question is a 20-minute feature "The Life & Times of Robert F. Kennedy", and recounts the life and times of the late senator. Blockbuster has signed an exclusive deal with The Weinstein Company to release their pictures in order to carve out a niche opportunity in the competitive DVD market where Netflix and others have eroded Blockbuster's popularity.
Does that mean when Grindhouse is released there will be more special features on the Blockbuster Grindhouse DVDs than the rest? It surely won't make me run out and rent the DVD from Blockbuster when it's just a couple more special features. This exclusive partnership is a 4 year thing and we'll see how this pans out in the long run.